Celebrity News
10 Shocking Lies Nigerian Celebrities Have Told Their Fans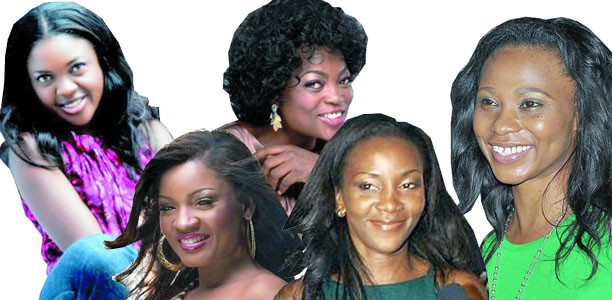 To these showbiz stars, speaking from both sides of their mouth is a thing of joy and pride.
Over time, these entertainers have publicly lied and deceived the media, their fans and the world at large, only to be found eating back their words and burying their heads in shame, especially when the truth surfaces and becomes unassailable.
The case of busty crossover actress, Foluke Daramola is not just one among many others, but also a clue to how our screen idols blatantly betray our trust in them.
For instance, many months after denying her romantic affair with Kayode Salako, Daramola finally tied the knot with same man, to the consternation of many.
However, while some have had to lie in order to save a situation, others have proved to be congenital liars who have constantly cajoled the public with inveterate lies.
This authentic list, showcases ten top entertainers and the many shocking lies they boldly told the public through the media. The list is arranged based on the gravity of the lies.
Foluke Daramola
Barely four months after debunking the reports of her romantic dalliances with Kayode Salako, describing it as "baseless rumour" and a "disservice from the Nigerian Journalists", busty crossover actress, Foluke Daramola on February 15, 2013, tied the nuptial knot with Salako at No.2, Gbeleyi Avenue, by Femifoam Oyemekun, College Road, Ifako-Ijaiye, Lagos.
In her earlier interview with Entertainment Express, the actress had denied having any romantic affair with Salako. Her words:
I work with this person they are talking about. We work together at Change Agents Network. If any journalist has caught I and Kayode Salako in an uncompromising situation and wrote the story, I wouldn't need to be told that he has done an investigative story. To just see me and him working together and conclude that there is something intimate is a baseless accusation. How can you tell me that I'm romantically involved with somebody I work with because his wife left? Does that make any sense?
she fumed during the interview.
The recent wedding did not only put an end to her many months of lies and denials, but also made her a subject of ridicule, for continuously lying to her fans, the media, and the entire public.
Doris Simeon
In March 2012, reports of marital turbulence centred on the family of crossover actress, Doris Simeon when her celebrated filmmaker husband, Daniel Ademinokan allegedly trod the path of infidelity with another top actress, thereby putting the couple's three-year marriage under tension.
The story made the cover of various newspapers and magazines and equally trended heavily online.
In reaction to the story, Simeon debunked the rumoured crack in her marriage, insisting it was a figment of the peddlers' imagination, a distraction and a product of idle minds.
Speaking with Entertainment Express via telephone, the award-winning English and Yoruba actress avowed:
It is all lies and baseless rumour; it is far from the truth
she maintained.
Today, Simeon has buried her head in shame, not only because the marriage irretrievably nosedived, but for initially lying and deceiving both the media and her numerous fans about the true state of her marriage.
The thespian who first hit fame with Papa Ajasco TV comedy series, is allegedly accusing Stella Damasus as the cause of her marital hiccups.
Shan George
She once accused married actresses in Nollywood of sleeping around at will without the preying eyes of the media getting hold of them. In her words:
Most married actresses in the industry sleep around like dogs and nobody is talking about it. These are people who have been lured to bed with whiff of money by top politicians and businessmen. These same people will be claiming to be happily married.
However, few days after this outburst, Shan George ate back her words. But instead of doing so honourably, and apologizing to those hit and hurt by her revelation, the actress went lying, and denying to have made such a comment.
Jesus! That is the worst mudslinging technique I have ever experienced. That is so crappy for someone to quote a childish caption like that on me
she lied.
K-Solo
Call him the greatest liar of the century, you would not be wrong. Solomon Oyeniyi, popularly known as K-Solo, did not only lie to the public, but also to his family members, and in-laws who sought to know the reason why he battered, extorted and cheated his wife.
The estranged wife, Christy Kikelomo Akinkunmi with swollen and blood-stained face had alleged thus:
K-Solo started beating me [up] immediately after our wedding and I lost the baby I was carrying when we got married on November 26. The marriage finally crashed in February 2012 when he called me and told me that Timaya just bought a Nigerian-used Range Rover Sport, that he wants me to buy him a brand new Range Rover worth 7.5 million and also put N10 million in his account. I told him that even if I had the money, I won't do it.
Instead of intelligently making up with his embittered wife and apologizing, K-solo blatantly told the media and everyone that cared to listen about how they staged the situation to attract media attention. Unfortunately for him, the big lie came back to haunt him, as the marriage finally collapsed barely one month after his failed attempt to deceive the world as a failed producer.
Tiwa Savage
At so many occasions, Tiwa Savage and her manager, Tee Bilz were found kissing and caressing each other. Even the social media was awashed with pictures suggesting some romantic dalliances between the duo. Yet the Kele Kele crooner denied, insisting they had nothing beyond work relationship.
I am not engaged and I am not dating Tee Billz. He is just my manager. The story that I am having an affair with him is mere rumour; we are not dating.
These were the exact words of Tiwa when she was confronted with questions about her romance with Tee Blizz.
Having grudgingly swallowed this lie and denial, Nigerians were recently dumbfounded when videos of their engagement began trending online.
Today, most people are not upset because they were lied to after the love birds recently got engaged, they are upset because from now on they would find it difficult to believe their much admired singer for denying what is already obvious.
Funke Akindele
So many white lies characterized crossover actress, Funke Akindele's wedding to her long-time lover, Kehinde Adeola Oloyede popularly known as Kehinde Almaroof. Apart from numerous verbal lies emanating from the star actress, she also lied in print, about the venue of the much talked about wedding.
While the ceremony was scheduled to hold at The Havens Event Centre, Oba Akinjobi Road, GRA, Ikeja, the invitation card she circulated carried different address – All Seasons Plaza, Lateef Jakande Road, Agidingbi, Ikeja, Lagos.
Apart from the media, so many other invitees, especially those from distant places, clad in Aso Ebi, also expressed regrets and disappointment on finding out they had been misled and lied to by their darling star. When confronted, Akindele, who spoke through her media aide, blatantly denied knowledge of the card with the fake address. But nobody believed her cock and bull story.
Zakky Azzay
With a voice dripping with pains, emotions and punctuated by throbbing flashbacks, the battered wife of Na Me Go Marry Am crooner, Zaaki Azzay recently sat down for over an hour with the editorial crew of Sunday Express, as she unearthed bitter memories of a turbulent eight-year-old relationship with her musician husband.
I have fainted more than two times after being beaten mercilessly by Zakky Azzay. I almost died in his hands. On so many occasions, I had packed out of his house after unbearable assaults and beatings from the man I call my husband. In fact, since our troubled marriage, I have packed out of his house a record eight times. Zakky has beaten me on the street of Gbagada before. He even bought cutlass which he said he will use to kill me!
She avowed.
However, when confronted with the poser concerning the wife battery allegations, Zakky not only lied, he claimed not to have raised a finger against his wife, let alone hitting her. Till date nobody believed Azzay's white lies, as the truth later surfaced.
Yvonne Nelson
Her recent outburst calculated at tarnishing the image of Kukere crooner, Iyanya came as a rude shock to many people.
In other words, when the going was good, the Nollywood actress not only savoured good moments of romantic relationship with the singer, she also denied having an affair with Iyanya. When the relationship crashed and became an open secret, all she could do was to bow her head in shame, and of course, she moved on with her life. Would she ever be believed again?
Tuface Idibia
Though Tuface might have meant the song, 'African Queen' for a particular woman but for long, he has been entangled in a love triangle involving not less than three African Queens who have given him, a record six children.
He did not find this situation funny, hence in his earlier interview with Entertainment Express, the international act stated thus:
The truth is that marriage is not in my plans. I will never marry. Let me put it that bluntly. I don't want to marry. I am angry.
Today, as you read this, the wedding bell is already jiggling, with date and venue fixed. The truth is, either he earlier lied about his decision never to marry or he simply had a rethink.
D'Banj
In 2012, when D'Banj premiered his first reality show, Koko Mansion, he made series of promises which till today has remained unfulfilled.
His promise to feature the adjudged winner – which turned out to be Bolanle Okhiria – in the official video of "Fall in Love" is one of those unfulfilled promises. The Koko master was either lying to all or deliberately reneged on the promise, as he ended up featuring Nollywood star, Genevieve Nnaji in the official video.
We would love to know your thoughts on this post. Drop your comment
NaijaVibe HoT DOWNLOAD
👇