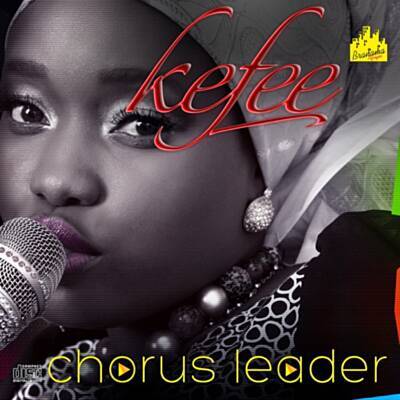 Artiste: Kefee
Features: Duncan Mighty, DC Envoys, Akpororo, YQ & LKT
Producers: Duncan Mighty, Tee Y Mix, K Solo, Phat E & Teekay Witty
Label: Branama Afrique (2012)
Branama crooner 'Kefe Obareki' is no stranger when it comes to hit singles and albums, that is why she prepared a double CD pack as her fourth studio album titled "Best of Both Worlds". The first part of this project unleashed on fans and lovers of gospel music is "Chorus Leader"; and the title implies, Kefee takes charge of the altar with catchy afro-gospel tunes including two medleys of gospel songs and calls on Duncan Mighty, YQ and company to help her praise the lord. Digest this revealing review as we enter into the world of the chorus leader.
1. Intro: A lady with a Delta accent introduces Kefee, raining her praises.
2. Praise Medley: Brilliantly arranged familiar praises songs given the first class treatment by Kefee. 'Body go dey sweet me when I think of the things wey God dey do for me, Tinrinrin' the power house says before she dives into the intense praise session reminding us why gospel music is timeless as she tackles familiar praise numbers in the local dialects; Yoruba, Igbo, Hausa, Urhobo etc. supported by an amazing band orchestrated by the phenomenal Phat E, who is the brain behind J'odie 'Kuchi Kuchi'. On a Sunday morning when circumstances beyond you power prevents you from crashing the chapel; this track would bring the praise to you.
3. Worship Medley: Kefee was raised in the church and shows us again with this 'Worship Medley' produced by Tee Y Mix. Efficiently using her lower register yet effortlessly soaring with soulful ad-libs hit high notes like it's no man's business. Kefee treats us to 9:52 seconds for moving worship. *raises hands to the heavens*
4. Congratulations (featuring Duncan Mighty): Kefee ventures into the Port-Harcourt sound carved by Duncan Mighty with the 'Na God' maestro himself. It might not be as successful as the Timaya-assisted 'Kokoroko' but the song about congratulations and celebrating the blessing for God has crossover appeal and will have fans of both parties pleased.
5. Who Get Ear (featuring DC Envoys & Akpororo): 'This is the day that the Lord, who no wan rejoice na him get problem' Comedian Gordons (of DJ Envoys) hilariously opens the up-tempo ministry produced by Tee Y Mix which also features ace comedian Akpororo. The title is obviously derived from the book of Relevations but Kefee and her companions is set on causing a frenzy with this cut, in the Niger-Delta to be exact. 'Who Get Ear' is song that will make you clap, break your back and you dance up a storm while passing a delicate message. Kudos to Tee Y Mix for he knows the Delta sound well.
6. Igbunu: 'The 6th track first appeared in Kefee's second video compilation album but was re-vamped for 'Chorus Leader'. Personally I prefer the original version nonetheless 'Igbunu' is a solid thankful praise song that shows Kefee's chops. Bring out your handkerchief (preferably white) for this one because producer Teekay Witty and the band mean business.
7. Celebrate (featuring YQ & LKT): Definitely the most mainstream song in the bunch, 'Celebrate' see the Branama queen' collaborate vocalist YQ and street-hop titan LKT on a classic Tee Y Mix production. 'Celebrate' has the ability to get the party on and off the chapel, might be the Kokoroko of the LP. Watch out the YQ and LKT's verse and Kefee's 'somebody'.
8. Skit: 'On a futuristic beat, Kefee declares that she is serving a living God'. The one who doesn't do drugs but is still the most high. 'This one no be Sapele water'.
9. No Be Sapele Water 'K-Solo Mix: 'Sapele Water' which can be found on Kefee's third album 'A Piece of Me' makes another appearance on 'Chorus Leader' as 'No Be Sapele Water' K-Solo Mix'. K Solo is still talented and this mix is the same way we left it, with Kefee's signature stellar vocal work and comic lyrics intact.
10. No Be Sapele Water – Tee Y Mix: He produced most of the albums cut and lastly tries his hands on 'No Be Sapele Water'. Tee Y Mix tones down the temperature a little with his mix of the track.
11. Congratulobia – Duncan Mighty Mix: A Duncan Mighty mix of the 4th track 'Congratulations' which he appeared on as the guest artiste. 'Congratulobia' is just okay and we prefer the original.
Reviewed by Ogaga Sakpaide [@Ogagus_]
NaijaVibe HoT DOWNLOAD
👇