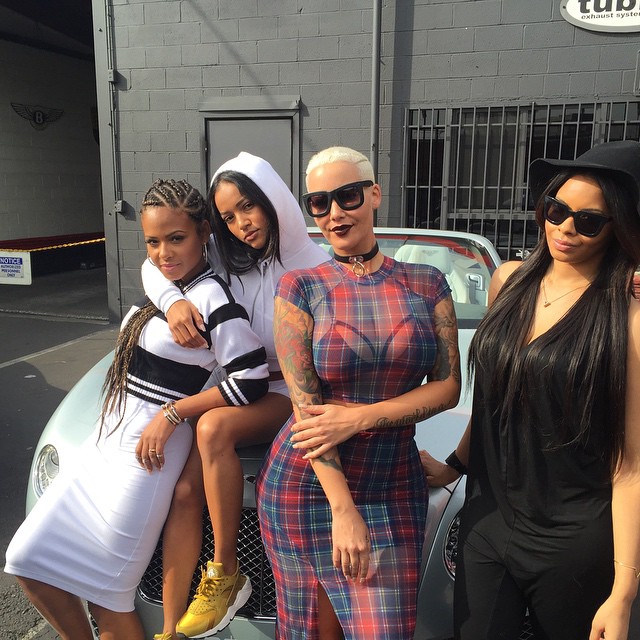 Everyone deserves a second chance, according to Amber Rose – even Chris Brown!
The model, who just reconciled with her rapper hubby, Wiz Khalifa, is now trying to tell Karrueche Tran to take her ex back.
Amber Rose, who is a model, has another title to add to her resume: relationship therapist to Karrueche Tran! She married and then almost divorced Wiz Khalifa, 27, so the 31-year-old mother is no stranger to the high and low of dating a hot hip-hop artist.
Amber is urging Karrueche, 26, to follow her heart and forgive Chris Brown, 25, following his baby mama drama!Amber, who was devastated by Wiz's alleged infidelity, absolutely understands the pain that Karrueche went through after learning that Chris cheated and fathered a daughter (Royalty) with another woman named Nia Guzman-Amey.
Amber's no stranger to this game and has given Karrueche lots of advice on dating industry dudes, most importantly telling her that Chris loves her with all his heart and if she feels the same way, to be with him
She also explained to Karrueche that even the most famous hip-hop singers are human.
Amber's close to Chris and knows how much he adores Karrueche. She told Kae 'nobody's perfect. Everybody makes mistakes, but look at how this man is trying so hard to be with you. He's calling out for help and trying to tell you he loves you. Let him love you – he's a good dude at heart
The Philadelphia native isn't just playing peacemaker by touting Chris' commitment to win Karrueche back! Amber is also leveling with Karrueche, woman-to-woman, by having candid conversations about Chris and Wiz's respective mistakes. Amber likes Karrueche and feels bonded to her because they're both women who've been hurt badly by rappers.
They have an interesting connection. Amber knows Karrueche is sensitive but Amber isn't going to sugarcoat anything, adds the insider.
In fact, the typically tough as nails model, who is mother to Sebastian, 2, with Wiz, showed her vulnerable side to Karrueche. Amber also told Karrueche that first and foremost, she needs to forgive herself. Amber told Karrueche that when she and Wiz broke it off, she felt guilty and had all this bottled up anger inside.
She somehow felt that it was her fault for their breakup and that she ruined her relationship with Wiz, a source tells HollywoodLife.com EXCLUSIVELY.
In many ways, it seems like Amber wants to rewrite her own bumps with Wiz by helping Karrueche navigate the obstacles ahead with Chris. This is so sweet. She told Karrueche how she'd be out in the clubs, fronting like she's having a good time but all the while she was hurt inside.
Amber told Kae how she just sat in the house one day, listening to music and doing some self reflection and it dawned on her to forgive herself.
She did and it helped her see Wiz and their situation in a new light and allowed her to feel the love she really had for Wiz, adds the insider. Yet, it seems that Karrueche's longtime best friend has quite a different out look on the situation.
Also singer Christina Milian, we learned that she just wants Kae to "focus on hersel".
NaijaVibe HoT DOWNLOAD
👇