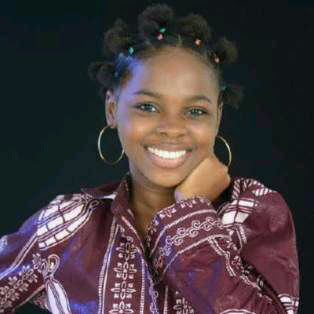 Her performance at the season three of Project Fame West Africa spotlighted the petit but mightily endowed songbird, Chidinma Ekile to music pundits across Africa. And her name has since resonated everywhere African contemporary music matters. Chidinma's single, 'Kedike' earned her the Best West African Female Act award at the KORA Awards held in Abidjan, Ivory Coast last December. The wonder girl talks to LANRE ODUKOYA about the Kora award and her rise to fame
WINNING KORA
It feels really great judging by the fact that it's still very early in my career. This kind of achievement is actually overwhelming. I must confess, I never thought all this will come this soon. Suddenly, I started getting enquiries from other African countries about my works. Prior to that time, I never knew I had so many fans out there who love my music this passionately. Winning The Best Female West African Act shows Africa loves me already and we are working so hard to conquer more grounds across the continent. I thank God for this privilege but it also had placed that onerous task on me to deliver more to Africa. Kedike, the song which won me the award was produced by Ultima Limited as part of my recording contract as the winner of PF3. Since then I have become a host on a popular MTV Base show and successfully toured across the African continent performing to fans from Republic of Benin to Sierre Leone, Cote D'ivoire, Kenya, Cameroun, Equitorial Guinea, Niger, and Ghana. I won MTN Project Fame season 3 and blazed the trail like several other award-winning and chart-busting Project Fame acts like Iyanya and Praiz who have established themselves as some of the most popular artistes in Africa. I enchanted the audience with an electrifying performance of 'Kedike' on the same stage as international superstar Chris Brown (with Rihanna) and P-square. Didier Drogba, former Chelsea footballer and Captain of the Ivorian national team, was on hand to present me KORA award, how can I find an exact word to describe the feeling? It was overwhelming.
MY FINGER IN ALL MUSIC PIES
I realized that I'm a complete singer and can do whatever I want with my voice. I'm sure you saw the rap song, In the Air with Tesh Carter, a rapper. When she was to produce that song, she just almost grudgingly said, "Chidinma come and join this" and by the time we were done, it turned out very okay. By and large, my voice is that one asset that I can do whatever I want with. When I came out with Emi Ni Baller, people didn't believe that was me.
COPING WITH CAREER
It's very crazy to be honest with you. It's tough, but I thank God for the inner strength. I'm an undergraduate of Sociology, in my 100 at the University of Lagos. It's very possible because people are doing it. For my first week in school, it was like; "Hey, that's Chidinma of Project Fame" and I became the cynosure of all eyes, so much that people didn't concentrate in the class. But I got used to it because it's part of my life right now.
MEN'S ADVANCES
It's not a problem for me, this happens a lot but it is not out of place for it to happen. Thank God for the wisdom to be able to handle it. I just try to let everyone have a clear understanding of the relationship so that no one misconstrues things to mean what they are not. And I've always been like this because I had a very strict upbringing and I've always been strict with issues like this. I mean every word of it when I say that I don't have a boyfriend.
2013 OF MY DREAM
A whole lot of things have to be done especially with this award coming in now, the expectations are really high. I have some songs that will be dropped and it has to be coming up to the end of the year. My album is in the pipeline, but that will be much later in the year because I don't intend to rush it. It's a busy year. I don't have an idea of how many songs will be on that album yet. I'm working with Clarence Peters and Tochukwu Ejiafor at the moment.
SACRIFICE FOR MUSIC
It was to drop out of school for project fame, but I have no regrets. It was the best thing I should do according to God's plan for my life. I was just fulfilling a divine agenda and didn't even know it at the said time. I thank God that everything ended in praise. I got admission into the University of Lagos to study Mass Communication but had to return to school to study Sociology. Mass Communication is in me, so I can return to school to study it anytime, but I'm cool with what I'm doing for now. I just want to do what I never knew before, I've heard people say, "you should have gone to study music" why should I study music in the university when I can as well attend a music school?
MEMORIES OF PROJECT FAME
The memories travel everywhere with me, sometimes it feels like the whole thing is just happening. I remember how it felt for 18 of us to share the same toilet; the lessons of tolerance; the steadfastness of the instructors and the human relations. The experience compelled us to learn. Sometimes I used to ask myself "why is this instructor making my life miserable?" All that ended being what actually shaped my life and my career.
MY DREAM
With music, I want to travel as far as I can go. The eagle flies on amazing altitudes but it sees every tiny substance on the surface of the earth. My business in music is to travel as far as I can dream and see. I will never stop dreaming because I'm going as far as where the dreams take me. The bible says I can have as far as my eyes can see.
FASHION AND STYLE
I practically see to this myself for now, but I still have a stylist who's in charge of how I look when I'm up for occasions. Her name is Jane Michael. She's in charge of all my photo shoots, videos, my outings, apart from that; I choose what I wear and how I look every other day.
NaijaVibe HoT DOWNLOAD
👇