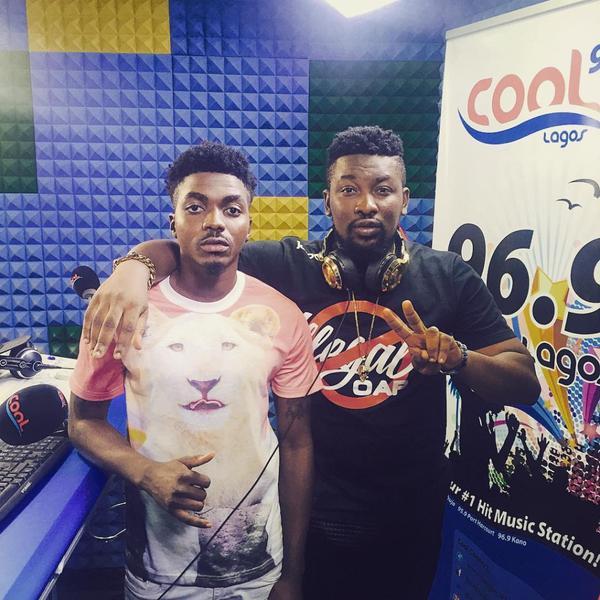 Cool FM OAP, Dotun has shed light on how he was molested at age 11 by his father's housegirl.
The Radio presenter revealed that it was an experience that had a negative effect on him years later.
He said the event occurred whenever his mum and dad were out of the house, and when the housemaid exited the house, it took its toll on him as he was already addicted.
His words, "Yall see Kings, Mentors & Queens in a Regalia wit crowns filled with stars. U all see tough people who are meant to be robots to you, meant to walk around with armors, save their faces no matter what, not meant to share what you all see as a show of weakness .. I laugh coz you all sometimes don't know what it takes to be the king of your soul. A soul that can be snatched by a person's filthy hands, bad habits, unprincipled mind & devious mind. I come from a very religious background where I attend church, Monday bible study, Thursday miracle revival, Sunday worship service, go to Ayobo for retreats on Easter, days before Christmas, Gbagada for combined services as a routine for a better part of my life, 20 years of my life. I was a Deeper life member and so if you want to speak to me about religion, think again cos I have seen it all. I got all the spiritual training, physical upbringing but one question is what happens when daddy and mummy decides to go to work? or hustle? drops you off at school or in church or the mosque.. who is in charge? The maid, the gateman, your uncle, your aunty, your brother, siblings, your pastor, your imam, your teacher etc .. who is in charge when they are not there? Folake was our maid for over two years who completely adored me way more than my siblings, serves my meals specially, never beats me when I do wrong, never reports me and sometimes makes my mum wonder as much say things like "sho fe like omo mi ju mi lo ni" meaning (do you want to like my child more than me) .. it was a fun gesture and we all would laugh it off but the price and adverse effect of whatever those advances were had a cost that would linger for a long time. Folake would want me to bath with her all the time, in the process asked me to fondle her breast, stick my fingers in her vagina, sometimes when she isn't satisfied, she gives me things to stick in countless times, pulls my peepee, she will masturbate and make me watch and after the whole process, she will threaten never to tell anyone or else she will kill me. I started to get fond of it so much that I'll refuse to take a bath with my siblings, refuse to eat any food except she serves it."
"I didn't know what it all meant to me but I started to get fond of going through that process. She eventually left, I became very withdrawn from other kids in school, I was very angry, I started to struggle with getting along. In my JSS especially, I developed a defensive mechanism of lashing out almost before anything was altered cos I felt in my head I was bigger than anyone coz I had done what they haven't done before. Sex conversations was a taboo and so they were not in my league. I lived through school as a pretty stubborn one, not so bad in my studies but could have been better. my parents went through the hell of correcting me for everything, I and a few other kids started to love porn books like Lolly, Nackson, Hints & hearts. I actually paid a guy (Seun surname withheld).. if you attended Mayflower School Ikenne, you all will know who that is. At some point I became so withdrawn, I couldn't talk to women that were my age, I just wasn't fitting in and then I only subscribed to only women who liked me and told me anything else.. naaah!… Folake was all was in my head and I rode with this till my university days then I started to masturbate a lot, I had a withdrawal mechanism, I wanted to be loved so badly, I started to lose my self confidence In relationships I managed to have, nothing mattered, I was always seeking for validation, I was too hard on myself, I had to question myself many times if I am normal or not, I came across as a confident kid for those who know me but it was a front hence why I started to get too loud so I can be noticed, or too crazy so I would be the cheer of the moment but deep inside I still wasn't fine. I built walls so much that you have to be as clean as snow for me to believe or trust you. I knew something wasn't right and so I masked it with dance for starters. I knew I could swoon any woman who didn't to hear me speak but loved the way I dance. I never told a soul. I started to read about these things, I was privileged to date women who recounted their stories of rape and you will be amazed the sort of traits they've developed as a result of this. I started to learn & read a lot on these things."
"I started to probe people i date and pay more attention to details & their emotions. If you know you've dated me before, comment.. they know.. 😂.. I'll probe on that level so much that I am almost quick to offer solutions, counseling and advice on what to do even when I see someone trying to be that way. I was very curious. Rape & molestation alters your sense of reasoning, increases your level of paranoia, anger issues, mood swings, disregard for your body, withdrawal tendencies, affects your self esteem, self confidence, you seek validation all the time, you are empty no matter how full, you will mask a lot, you will be suicidal, you will be unhappy, you will have no love for even the most precious things, you might be very promiscuous or you will totally hate sex .. very very withdrawn from a loved one, start investing your happiness in the wrong things or wrong people. I started to channel my energy into my work, my everyday activities. I am very passionate. I grew into a more defined person cos I was more aware and I saw what it did to others. I met Mrs Ibru of @warif_ng and she gave me a more concrete basis of what these things causes in our lives. She said "if you don't speak up, speak to someone or get therapy, it will continue to alter a better part of your life. I started to get therapy from @emotionsdoctor cos something else triggered the flashes I always had and it just stuck to me that you might think these things go away, it doesn't except you speak up and fight it. I fight now for every Tom dick and Mariah. "THIS IS A FACT" all my colleagues and friends and the true fans know that "OLADOTUN OJUOLAPE KAYODE" WOULD FIGHT TILL HE GETS BURNT FOR ANYTHING, ANYONE, ANYBODY and lose his earnings as long as that person gets justice or stays happy. This is who I am. I got sacked twice from work only coz I spoke up and fought for people. You all think Busola is crazy or stupid? The system have grown so many myopic men and women who ask questions "why now" "why did she take this long" "touch not my anointed" bla! bla!!… listen women are wired to take their secrets to the grave and for her to come out, she did what most of you can't."
"Some will say "don't show weakness" Some will say to themselves "it will go away" .. some will say "it didn't happen" my gee, it did and please fix it. It never goes away. Start loving & recognizing those who truly love you and tell you the truth cos one of the adverse effects is you only will start looking for satisfaction instead of fulfillment. The reason why you see so many crazy men and women out there is cos they are so unaware that this is their issue. I am still healing, I am never scared of repercussions of living my truth anymore and I am in a much better place. As for the Pastor, listen this whole story might even be a lie but I wanted to see a better handler. I don't know Biodun Fatonyibo and I can swear I have never taken a dime from him but as a man of God, he is in the highest position of knowing what he stands for and the mantle he holds to be a better handler. It is all I wanted to see and maybe meet someday. I don't fight for any reason. When I fight for something, know that it is only coz I am in the best position to and it would even carry more weight for others to learn from. Who celebrity help? It is only a bloody title. I AM A HUMAN BEING. I don't do it for money or clout. I love kids that I met over my lifetime, Fiore, Fifemayo, Lapo, Kalhani, Dapo Jnr, Mofe, Timi Jayden, Josh etc that I have grown to love so dearly. They are make my heart leap when I see them. They are the ones I think about all the time when i am on stage doing my thing. I will do it for anyone or any child. I have been there and done that. For all who now know the philosophy of the Energy gAD, this was created out of my love for MY type of ENERGY, David in the Bible, Sango methodlogy as a god and Raiden as a peacemaker. One thing you should all know "they are all powerful, still very weak, they are an embodiment of strength, loving and will die for the truth and even when it is lie, humanity still comes first" that is who I have become. I love you all and happy new month."
Follow NaijaVibe


HoT DOWNLOAD
👇