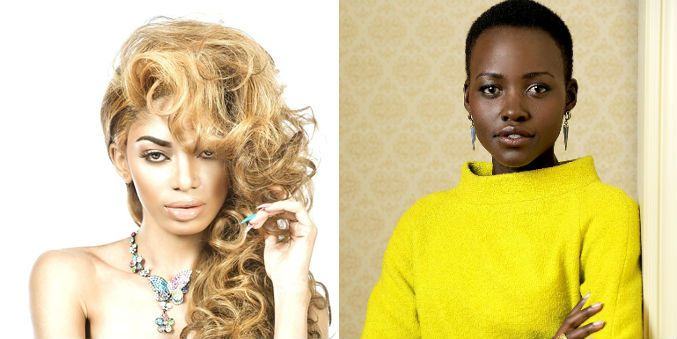 BET published an article titled "DENCIA'S FUTILE FIGHT WITH LUPITA NYONG'O".. They mentioned both twitter handles & that of the author, Dencia as usual jumped in on another opportunity to blast Lupita Nyong'o, meanwhile Lupita is still silent on the matter.
This is the article.
They say beauty is both a blessing and a curse. Right now, Lupita Nyong'o can probably attest to how true that is. There's the upside of being one of the most gorgeous women alive: she just signed on as the new face of Lancôme, the first Black woman to do so. Then there is the downside: Nigerian-Cameroonian singer Dencia has gone on a Twitter rampage against Nyong'o, taking it so far as to say that the actress is "owned" by the white man.
It seems that Dencia has likely been waiting for this chance to publicly bash the Oscar winner. Back in March during a speech, Nyong'o told the audience about a letter she once got from a fan that said, "Dear Lupita, I think you're really lucky to be this Black but yet this successful in Hollywood overnight. I was just about to buy Dencia's Whitenicious cream to lighten my skin when you appeared on the world map and saved me". The actress went on to explain that her "heart bled a little when I read those words". Though the actress did not seem to be throwing shade against skin bleacher Whitenecious, Dencia took it as shots fired. And so when the Lancôme contract was announced, she tweeted, "Oh @Lupita_Nyongo cln't talk abt the bleaching creams white people (Companies) make cuz the white man pays her, they own her!!."
It goes without saying that telling a person – a Black person, and extra particularly a Black person who just won an Oscar for playing a slave – that they are owned by someone is the lowest of the low blows. But Dencia, who also implied that Nyong'o is a hypocrite because Lancôme makes skin lighteners, has recently made her name in the U.S. for her crazy talk and unwavering defense of Whitenicious. And if you were bold enough to go on Twitter to challenge her for making money off of selling bleaching cream, then she likely would have let you know that you could kiss her much-lightened ass.
Yet even with her past antics, this latest is threatening to become the one that will get the most attention, for two simple reasons: 1) The entire world loves Lupita and no one feels like hearing you say otherwise. 2) Are you expecting a lot of popular support for attacking a woman who made a speech about her insecurities and vulnerabilities as a very dark-skinned woman, one who hopes her own popularity will remind other girls and women that it's not just light-skinned Black that is beautiful?
In the speech, which Dencia so clearly hated, Nyong'o revealed an honesty that few celebrities put out there, and at the same time, giving women everywhere a needed reminder that they don't suffer alone with their beauty anxieties. When was the last time you heard an actress say that they once "prayed" to look a different way and you believed them – and didn't think they were doing it for PR? Nyong'o has not bothered to respond to Dencia's attack because aside from being a stellar talent, she is also especially good at taking the high road.
Follow NaijaVibe

NaijaVibe HoT DOWNLOAD
👇