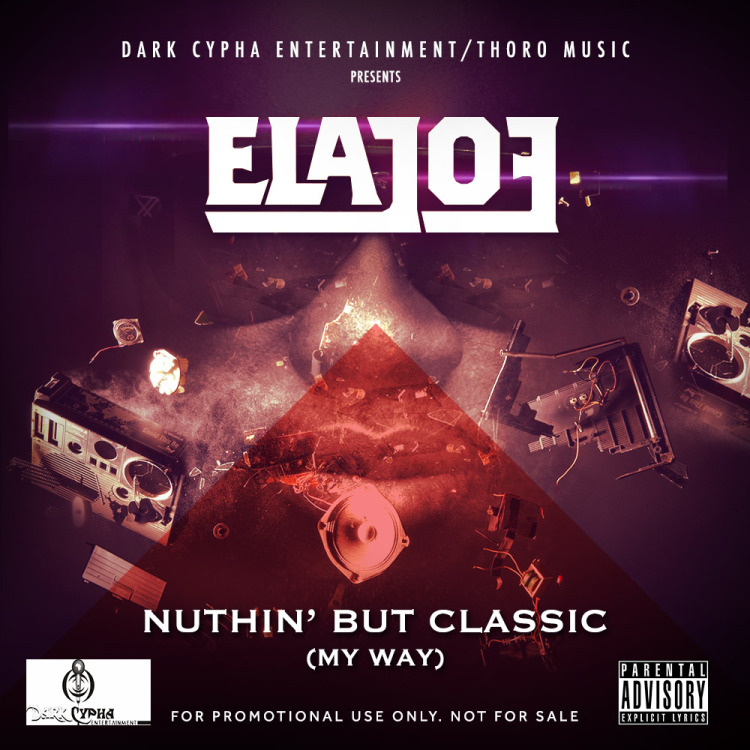 HipHop legend, entrepreneur Elajoe has been behind the scenes actively involved in different facets of the industry providing via his company, Dark Cypha Entertainment, numerous services such as being a Compere for Events, Music Production, A & R, Talent Management, Online PR, Media Coverage/Publications, Events Consultancy/Production, TV Content Provision, Promotion, etc, for numerous artistes, record labels, multimedia houses, advertising agencies, corporate/multinational companies, etc.
This is one of the many reasons that make the man/brand Elajoe very respected within the industry in Nigeria & Africa. Speaking musically, he has been within industry circles since his first demo, 'Make Room' in 1994 and been active since then till this very day in different capacities. After winning awards from 'StreetHop' by Thoroughbreds (which he produced and promoted) and 'Stylee' by Dj Jimmy Jatt featuring Modenine, 2Face Idibia and himself, he released two singles 'Where Dem (Boom Bap Party)' and 'Mr Power Moves' featuring Dj Jimmy Jatt strictly for his fans in 2010/2011, which were only promoted online due to yearnings from his fans.
The year is 2015 and as promised, after releasing the artwork and snippet, he has finally released his new monster single aptly titled "Nuthin' But Classic (My Way)", produced by Venomous of Micworx Productions and co-produced by Elajoe. This is the official single from a project called 'Elajoe's Micworx/ The Audio Book', which will be released under the stables of Dark Cypha Entertainment/Thoro Music.
This is a song aimed at showing the recent state of the industry, given that it's nothing that's been heard of in this part of the globe, plus it's completely against the norm of what is being aired online, radio and TV presently. The full song dropped yesterday for many reasons. Firstly to reaffirm Elajoe's status as a colossus and pioneer in HipHop and also to commemorate on the memorial of the late icon, DaGrin and is also dedicated to Fleet Militant, a HipHop activist who was well-respected within the Nigerian HipHop community, but was fatally shot down by hoodlums some years ago, after returning from a mini tour of West Africa.
This is a build up to what is one of the biggest, plus most anticipated projects in the history of Nigeria and indeed Africa!
Stay tuned people, history is about to be rewritten!
Listen Up & Share Your Thoughts!
DOWNLOAD Nuthin' But Classic (My Way)
Follow NaijaVibe


HoT DOWNLOAD
👇