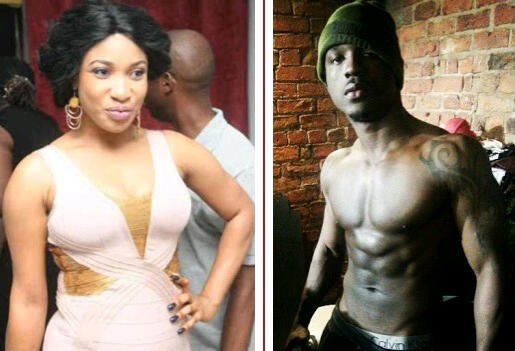 Rave of the moment, Iyanya Mbuk, aka Iyanya, speaks about his career and love life.
About my transformation
It is all about giving the people what they want at the right time. That is what makes a person an artiste. It was hard for me because I had faithful fans and I still have them. I still have fans that tell me everyday that if my album comes out and I don't sing, they would not follow me anymore.It is really crazy; I just have to see how I can manage to satisfy both parties. That's the reason why I had to change the game. I had to step it up a little. The whole idea was to change everything about me. A big thanks to my team and my manager, Ubi Franklin. He has really inspired me. There were times when I wanted to give up but Ubi kept pushing me to go on. First, this working out that everybody is talking about, I used to do it when I was bored. I did not do it because I thought it was going to be part of my transformation. I was just working out and keeping fit. Any time I'm bored, I work out. When I'm angry, I work out. I just put everything in work out and I thank God things turned out this way.
Why I have lots of semi nude pictures online
That is really 20 per cent of me because I do not even know how most of those pictures got there on the internet. These days, it is very bad because when I perform, the crowd would tell me to take off my shirt. I try not to show off but they say it is my selling point and I have to do it. They paid me so I have to do it. I think taking off my shirt is part of the payment they make to me.
My issue with Opa Williams
Opa Williams is like a father to me and till today I am still very sorry for everything that happened. I do not handle negotiations. My manager tells me what show we are doing. If they have paid, I go to do my thing. My manager told me about Opa's show and I agreed to do it because he is my boss. I told him that we should do it to pay our dues because these guys are our fathers. Unfortunately, we could not make the first show because we missed the flight. It is just one of those unfortunate situations. It is just one of those things that happen and you are sad because it keeps happening. We were in Port Harcourt. There was traffic everywhere and before we got to the venue, the show was over. Till today, I am sorry to Opa and all of my fans that I did not make it. The next morning I was sleeping, he (Ubi) called me and told me the police had picked him up. Immediately, I called Opa; I said boss, I am very sorry but this is what happened. I pleaded with him and told him we could settle and he agreed. He cut the call; my manager came back and said the Commissioner of Police said we had to return Opa's money. We went to the bank and withdrew the money and paid him that same day. We still apologized to Opa and said to ourselves that we had to make it up to Opa. He has shows coming up this year. Any show he is doing in Lagos, we will just go there; we will not even tell him. We do not even need his money, at least let us just make it up to him. It is very painful. It is unfortunate that it is already in the press. We actually thought it was settled. All of a sudden people just started calling me and asking if my manager was arrested. They said the police were looking for me and I asked why. I did not kill anybody, I did not do anything. I did not steal anything. It is just one of those things that happen; unfortunately, it was just a coincidence. It isn't like we planned to mess Opa up. If we did we would not apologise to him. He gave us his word and said it is fine. The next thing we saw it in the press.
My songs are not meant to corrupt youths
I do not know how bad I have been but when I sang 'Your Waist', it was not sexual. I was talking about a beat playing and all you have to do is move your waist. If you listen to the song, you will know I am talking about dance. We are Africans, what do African women use to dance if not their waists? If I was passing a wrong message I do not think that song would be a hit. If I do not sing about the female body I would still sell. My album is coming out and it is not all about the female body.
The story about Kukere
I never liked the song 'Kukere'. It took me three months to do my second verse. People were begging me to do it. I said that when we release it I would not put my name on the song so that people would not mock me. They still mocked me. We played it for some girls in my car and they ran out. They said it was trash. We did not tell them that I was the one who sang it. When they heard it, they said it was a crappy song. When my manager told them that it is Iyanya's song, they said we should stop the car which we did and they ran out because they were ashamed. But today, that song is big all over the world. It is big in Italy, Portugal; I have fans from all over the world.
Sustaining the momentum of Kukere
It is all about consistency. The first cut is always the deepest. R Kelly can never have a song that is going to be bigger that I believe I can fly because that was the first cut. I believe what makes you last, what makes you a legend is consistency. So, after that, you are still giving them something nice so they would be like, this guy knows what he is doing.
My early days
I was extremely calm and quiet. I hardly talked. Even now, I do not talk that much. The Iyanya that people see in videos and on stage messes with them a lot because they think that is how my life is. I jump a lot on stage, I remove my shirt, and they think I am crazy but in real life I am quiet. In my house I am always in my room. I come outside only when there is something serious. Uby has to come into my room to talk to me. I am always on the reserved side but when I get the microphone, I am a different person. Growing up I played a lot. My white uniform was always brownish from playing.
Why I wriggle my waist
I keep doing it because people like it.
About Yvonne Nelson and Tonto Dikeh
I am not doing anything with them. People might say my preference is for actresses but I do not know anything about that. Actresses, are they not human beings? I do not know anything about who the next actress I would date would be. If anybody I like comes my way I would probably date the person. If it is meant to happen, she may be an actress, musician, banker, normal girl, whoever. This is a mix up, it is because they are popular that is why everybody is mentioning it. Before the Kukere song came out, I was dating popular girls but nobody said anything about it.
Sleeping with them and dumping them
How do people know I slept with them? In my song where I said Yvonne Nelson, I have your medicine, what if I say I was just rhyming? It is the mind of people that is working that way. It is not me, not that I slept with them. Anything that everybody is thinking is what they are thinking; it is not me. When I said Yvonne Nelson, I have your medicine, it was just a rhyme; Nelson, medicine. I just rhymed. What if I say I was just making music and rhyming? It is just people's mindset. I did not have sex with them and dump them. Who am I to do that? Am I Brad Pitt? How come everybody is saying I broke up with Yvonne Nelson when we never announced to them that we were dating, in the first place. How come tweets surfaced when we never said we were dating? Funny enough, none of us said that we were dating, it is the break up that everybody knows. Have you ever heard that best friends break up? Best friends just go their way. We did not even say we are best friends in the first place, so I do not understand the whole break up story.
My forthcoming album
My fans should expect to get all of me. You would hear me sing reggae, RnB, pop, everything. It is an 18 track album.
Follow NaijaVibe

NaijaVibe HoT DOWNLOAD
👇