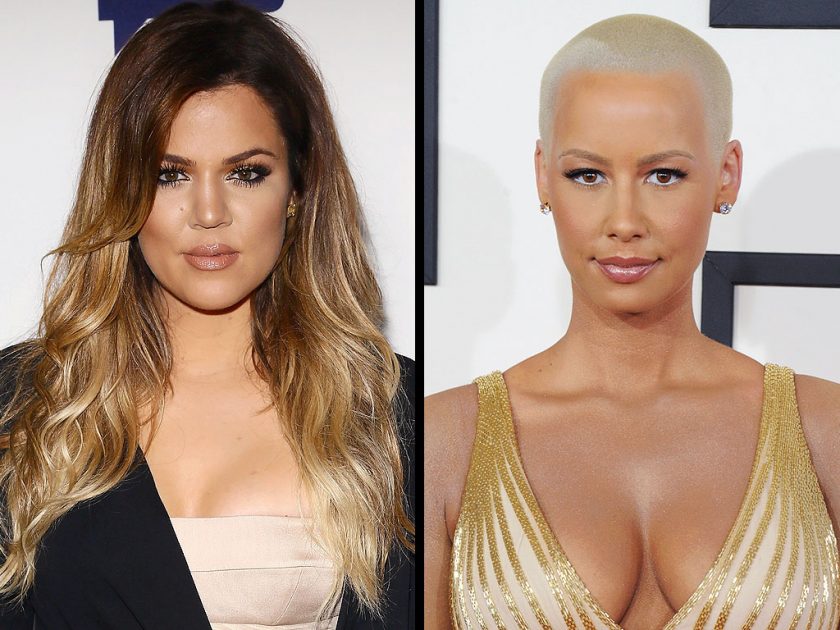 The pair got embroiled in an ugly war of words online after Amber criticised Khloe's half-sister, Kylie Jenner's rumoured relationship with Tyga, saying the 25-year-old rapper should be 'ashamed' of himself for dating 'Baby' Kylie, who is only 17.
30-year old Khloe chose to defend her sibling on Twitter by mocking Amber for her 'stripper' past and telling the model not to 'worry about my sister who has a career & her sh*t' together and urging her to stop commenting on the Kardashian family. Amber, who was in a two-year relationship with Kanye West before he went on to marry Khloe and Kylie's sister, Kim Kardashian, insists she can understand why Khloe was upset but claims she only spoke out about the romance because she has genuine concerns about it. In an interview with 'Entertainment Tonight', Amber said: 'I don't hate Khloe. I don't hate her. I could have totally minded my own business when it came to her sister. But, me, being a dancer at such a young age, dealing with older men gave me the humility and knowledge to speak on such a subject. [But] I can understand why it came across the wrong way to her. I get it. But, that's a phone call she could have had with me .. She didn't have to tweet 11 times and try to humiliate me.'
The 31-year-old model is disappointed that Kanye West decided to get involved in the feud and 'sl*t shame' her, insisting they were 'happy' when they were a couple. Although, Amber has no issue with Khloe or Kylie, the outspoken star couldn't resist taking a swipe at the Kardashian clan, suggesting the only reason any of them are famous is because Kim became the unwitting star of a sex tape when her ex-boyfriend, Ray J leaked X-rated footage of the pair.
She said: The only reason why these girls have careers is because their older sister had a little fun on tape. Let's be realistic. Which I never ever hated on. I'm all for a woman making something out of nothing. You know what I mean? If you can do something and bring your entire family on and make millions of dollars, that's dope to me. I love that.'
NaijaVibe HoT DOWNLOAD
👇