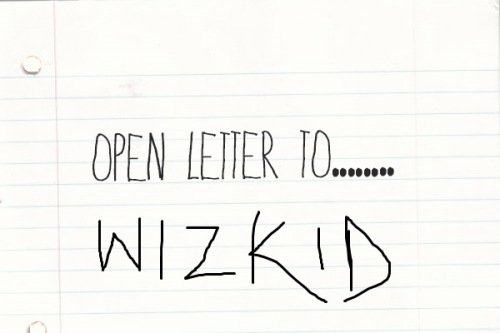 Following the recent scuffle between Wizkid and a fan and his negative reaction of 'broke people always think they have an opinion' – which sparked a lot of reactions including that of Artiste, J Martins, a concerned reader has taken his time to pen down this letter with hopes that Wizkid will have a read.
Read on below..
Dear Ayo,
I am writing this letter not because I know you will read it anyway, because celebrities give us the impression that they are always busy 24/7 and they hardly have time to defecate, but just to put the spotlight on some of missteps in recent times. Yes! There is no manual that comes with being a celebrity and I understand how the burden of stardom might be too heavy for your young neck, but you have to simmer down.
I am calling you Ayo because in reality that's who you are. You need to always reconnect to your humble beginnings and small starts; it will help keep your attitude in check.
Your story is an inspiration to young Nigerians that its possible to profit from your passion and be a 'Starboy', but you made the news for the wrong reasons when you attacked a fan's financial status on Instagram because he dared to correct your grammatical expression. I don't want to dwell on the issue because it has become stale news, but the statement you made: "Broke people always think they have an opinion" is an indication that you are getting high on stardom.
What you need to understand is that it is the so called broke people who buy your CDS, download your songs, support you, get the word out about your brand, and become your brand ambassadors. I know it's difficult for celebs to have people who can look them in the face, damn the consequences, and make them swallow the bitter pill called truth, but you need to recruit individuals who are not boot lickers, who can tell you the truth at all times. In a country where poverty and squalor has eaten the part of the brain meant for the right judgment, the truth is fast becoming a scarce commodity.
You don't insult your fans because you have extra bucks in your bank account. Having more money doesn't make you better than anyone. Money is a tool for achieving your goals. Talent without character is catastrophic. The likes of Don Jazzy, Banky W, P square, Tuface, have been bashed and criticized on the social media and they didn't insult anyone. They are your 'big bros' in the industry you can take a cue from them. You are not on the social medias just to push your brand, you are also on the social media to connect and establish relationships with your fans. Stay humble!
I know Nigerians are opinionated and can take it to the extreme at times, In the midst of the criticism you need to stay calm and maintain your positive attitude (This comes with being a celeb. No be beans.) Looking forward to seeing a 'New' you. #Nuff said.
Yours Truly, Kenni
A concerned young Nigerian"
We would love to know your thoughts on this post. Drop your comments
Follow NaijaVibe

NaijaVibe HoT DOWNLOAD
👇