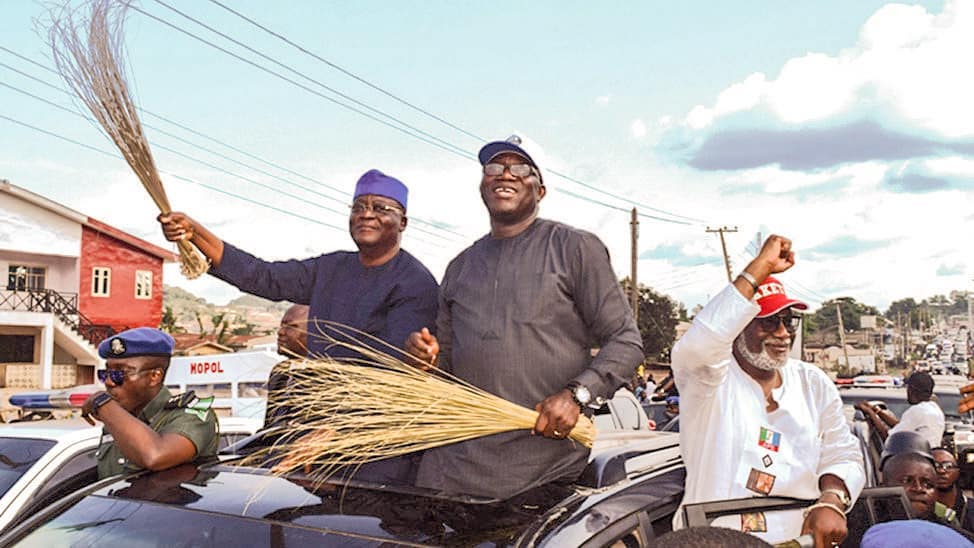 The Ekiti State Governor, Dr Kayode Fayemi, has come out to say that his regular trips out of Nigeria were to make sure the people of the state live a better life, especially with the little funds he has at his disposal.
Dr Kayode, who revealed that had good stories to tell from the trips, said, "God has answered our prayers. I have seen enormous resources to work on our rural roads."
The governor spoke at Ikere Ekiti, the headquarters of Ekiti South Senatorial District, during a town hall meeting with representatives of all the six local governments in the district, to get their inputs into the 2020 budget.
His words, "It is because I know I don't have the resources to work on the roads that I have been looking for funds. There is no community that will not benefit in the RAAMP rural roads project."
He also disclosed that the World Bank gave him funds "to tackle the flood menace and work on the waterways."
Do you believe him?
John Olukayode Fayemi, (born 9 February 1965) is the Governor of Ekiti State and a native of Isan-Ekiti in Oye Local Government of Ekiti State, Nigeria. He previously held the office of the Governor of Ekiti State between 2010 and 2014. He resigned as the Minister of Solid Minerals Development on 30 May 2018 to contest for the Ekiti State governorship election for the second time, an election perceived to be a battle between himself and his political rival, Fayose.
Fayemi attended Christ's School Ado Ekiti from 1975-1980 and received degrees in History, Politics and International Relations from the Universities of Lagos and Ife now Obafemi Awolowo University in Nigeria and his Doctorate in War Studies from the King's College, University of London, England, specializing in civil-military relations.
Kayode Fayemi is a former Director of the Centre for Democracy & Development, a research and training institution dedicated to the study and promotion of democratic development, peace-building and human security in Africa. Prior to his establishment of the Centre, he worked as a lecturer, journalist, researcher and Strategy Development adviser in Nigeria and the United Kingdom. He was Strategy Development Adviser at London's City Challenge; research fellow at the African Research & Information Bureau in London, UK, reporter with the newspapers, The Guardian and City Tempo, editor of the political monthly, Nigeria-Now, management consultant at Development and Management Consultants and lecturer at the Police College in Sokoto, Nigeria.
Kayode Fayemi has lectured in Africa, Europe, the Americas and Asia. He has also served as an adviser on transitional justice, regional integration, constitutionalism, security sector reform and civil-military relations issues to various governments, inter-governmental institutions and development agencies. He was the main technical adviser to Nigeria's Human Rights Violations Investigation Commission (Oputa Panel), which investigated past abuses and currently serves on the Presidential Implementation Committees on Security Sector Reform, NEPAD and the Millennium Development Goals. He was technical expert to the Economic Community of West African States (ECOWAS) on small arms and light weapons and United Nations Economic Commission of Africa on governance issues. He is also a member, Africa Policy Advisory Panel of the British Government. At other times he has served as a consultant to the OECD on Security Sector Reform and chaired the Commonwealth Human Rights Initiative's Committee of Experts on developing guiding principles and mechanisms of constitution making in Commonwealth Africa.
Kayode Fayemi is a Fellow of the Centre for Peace and Conflict Studies, University of Ibadan, Adjunct Professor of Security Studies at the African Centre for Strategic Studies, National Defense University, Fort McNair, Washington, D.C., USA. He was also a Visiting Professor in the African Studies Programme at Northwestern University, Evanston, USA in 2004. Dr Fayemi serves on numerous Boards including the Governing Board of the Open Society Justice Institute, Baobab for Women's Human Rights, African Security Sector Network, and on the Advisory Board of the Global Facilitation Network on Security Sector Reform and on the Management Culture Board of the ECOWAS Secretariat.
NaijaVibe HoT DOWNLOAD
👇