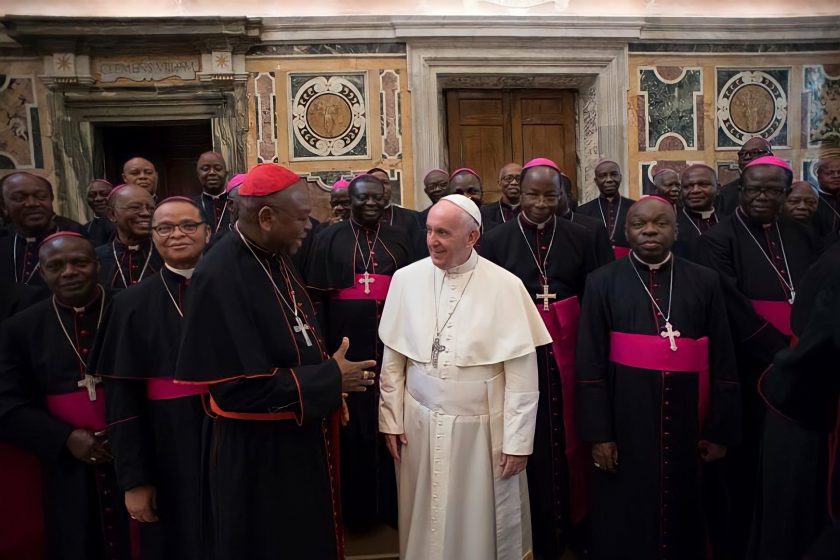 THE ENTIRE GLOBE WAS IN SHOCK AND DISMAY WHEN THE CURRENT POPE announced to THE WORLD OF HIS INTENTION TO RESIGN DUE TO ILL HEALTH RECENTLY. SMARTING FROM THE SHOCK, THERE came THE BUZZ OF WHO NOW BECOMES THE NEXT POPE. INTERNATIONAL MEDIA threw UP MANY NAMES INCLUDING THREE CARDINALS FROM NIGERIA. THEY are FRANCiS ARINZE, Anthony OKOGIE and JOHN ONAIYEKAN WHO ARE presumably QUALIFIED FOR THE CATHOLIC HIGHEST SPIRITUAL OFFICE. A NIGERIAN AS A POPE? WHY NOT. AFTER ALL AFRICA HAS one of THE LARGEST CONCENTRATION OF CATHOLICS IN THE WORLD. HOWEVER, SINCE THE CURRENT POPE HINTED OF HIS RESIGINATION AND THE POSSIBLITY OF AN AFRICA CARDINAL GETTING A LOOK IN, OUR CORRESPONDENTS LOOK AT THE LIFE AND CHARACTER OF THESE NIGERIAN CARDINALS WHO could BE POPE, THEIR WORKS AND THEIR STANDs ON SOME BURNING ISSUES AS WELL AS WHAT THEY STAND FOR..
OKOGIE: THE ENIGMATIC CARDINAL FROM LAGOS
ANTHONY OLUBUNMI OKOGIE, FORMER ARCHBISHOP OF LAGOS, NOW EMERITUS ARCHBISHOP OF LAGOS, IS ONE OF THE 209 CARDINALS OF THE CATHOLIC CHURCH WORLDWIDE. OF THIS NUMBER, 118 ARE UNDER 80 YEARS. THESE ARE THE CARDINALS ELIGIBLE FOR ELECTION AS POPE. OKOGIE ALSO FALLS UNDER THIS CATEGORY. HE WILL VOTE AND CAN BE VOTED FOR. SIMPLY PUT, CARDINAL OKOGIE COULD EMERGE THE NEW POPE WHEN THE COLLEGE OF CARDINALS MEET IN ROME LATE MARCH TO ELECT A REPLACEMENT FOR POPE BENEDICT XVI WHO ANNOUNCED HE'LL RESIGN ON FEBRUARY 28. YEMI ADEBOWALE WRITES ON THE LIFE AND TIMES OF THIS ENIGMATIC CARDINAL FROM LAGOS
Last year, on the eve of his departure from the pastoral governance of the See of Lagos, having reached the age limit of 75, Cardinal Olubunmi Okogie met with some journalists in his office on Catholic Mission Street in the heart of Lagos. The principal motive was to look at his tenure as the Catholic Archbishop of Lagos and his 42 years of priesthood.
The forum also provided an opportunity for the Cardinal, who is also a social critic, to speak on contemporary national issues. This is one area Okogie has never been found wanting. At about midday, this writer and two other journalists were ushered into the Cardinal's inner office. At 76, he did not look one bit his age. Very jovial and unassuming, Okogie spent the first few minutes apologising for arriving late for the interview.
He had gone to look for a new house because he was due to vacate the accommodation on Catholic mission Street for the new Archbishop. Okogie has no house of his own anywhere in Nigeria, no wife and no children. While the interview lasted, his humility and simplicity were striking, even in the face of "provocative" questions. He spoke on his achievements as Catholic Archbishop of Lagos; gay marriages and then extensively on corruption and leadership crisis bedeviling the nation.
His experience during the civil war was quite interesting. Okogie was posted to the war front during the Nigerian civil war, not as a soldier but as chaplain for the federal troops. This is one assignment he said has remained evergreen. "I remember the first time I was asked to go to the war front, I nearly died. I said 'what for' and my Bishop then, Archbishop Aggey (God rest his soul) said 'yes, you think you were made a priest to come and sit down and be talking to people? Come on, go and do what you are told.' He also felt it, but like a meek man he didn't show it, but I could see that this man was not too happy with this kind of assignment. But I just had to go; so that is one of the joys of priesthood. Another thing is that I am not afraid of death. I remember when I was in the war front and the Third Marine Commando was under the Black Scorpion. There was nothing that they did that I didn't do except to shoot and kill people."
When the question of same-sex marriage came up, the cardinal adjusted a bit: "My view is like every other sensible person's view. In the scripture, they say that when God made man, he made them male and female and then he said increase and multiply. If I am married to a man, can he produce issue? Let's take it from that angle. And watch one thing, those same sex people when they find out that you have another person, lets say a girl, they can kill you; they are as vicious as anything. The moment they find out that you are in love, or you are moving away from him to another person, you are in trouble.
"The good Lord that has made this law or created the world and made his law to rule the world knows what he is doing. And we human beings, we now try to destroy it; you can't destroy God's creation. Impossible, you end up destroying yourself," he emphasised.
He was unshaken when the "provocative" questions rolled in. Did women or money tempt him throughout his career in priesthood? "Of course. Am I an angel? I told you before that I am not an angel. I am not a holy man and I am not a saint. If you are not tempted, you will not overcome and you will not go near God. Everybody must be tempted. It depends; temptations can come either way. For example, looking at you like this and I say 'this glasses are so good, how I wish I can have them'. That is temptation; it can come from anyway, any angle."
Did such temptations come in the way of testing his celibacy oath through women? Surprisingly, Okogie acknowledged that some came: "They were there but this is where you show God that you love him by saying no to temptations. Like the Pentecostals say, 'say yes to God and no to Satan."
He holds strong views on condoms, celibacy and western society. In 2007, he condemned Federal Government's approval of a condom factory. He has also used every opportunity to defend celibacy for Catholic priests. Cardinal Okogie has equally been very critical of Western culture, especially same sex marriage and priestly vocations: "Those people there, in the US, they don't value anything anymore. And how do you want priests to come from a place like that?"
He was born Anthony Olubunmi Okogie on June 16, 1936 in Lagos. He is from a royal family of Uromi, Edo State. His father was Esan and his mother was Yoruba. Okogie was ordained as a priest on December 11, 1966. He holds a licentiate in sacred theology, and had planned to study in Rome, but was called to Nigeria where he was a pastoral assistant at the Holy Cross Cathedral. After another period of service at Holy Cross Cathedral, he was an instructor at King's College.
In 1971, he was ordained titular Bishop of Mascula and Auxiliary of Oyo, and in 1973 named Archbishop. As Archbishop, Okogie was the President of the Christian Association of Nigeria (CAN) and, from 1994 to 2000, headed the Bishops' Conference of Nigeria. Okogie was proclaimed Cardinal by Pope John Paul II in the Consistory of October 21, 2003, and holds the title of Cardinal Priest of Santa Maria del Monte Carmelo a Mostacciano (Blessed Virgin Mary of Mt. Carmel of Mostacciano). He is a member of the College of Cardinals, the body of all cardinal of the Catholic Church. During his cardinalate, Okogie was one of the Cardinal electors who participated in the 2005 Papal Conclave that selected Pope Benedict XVI.
The function of the college is to advice the Pope about church matters when he summons them to an ordinary consistory. It also convenes on the death or resignation of a Pope as a Papal Conclave to elect a successor. The college has no ruling power except during the sede vacante (papal vacancy) period, and even then its powers are extremely limited by the terms of the current law, which is laid down in the Apostolic Constitution – Universi Dominici Gregis and the Fundamental Law of Vatican City State.
Arinze: Still Going Strong at 81
Cardinal Francis Arinze was born November 1, 1932. He was named a Cardinal at the Consistory of 25 May 1985. He is Prefect Emeritus of the Congregation for Divine Worship and the Discipline of the Sacraments, having served as prefect from 2002 to 2008. Cardinal Arinze is the current Cardinal Bishop of Velletri-Segni (succeeding Joseph Ratzinger, who became Pope Benedict XVI) since 2005. Arinze was one of the principal advisors to Pope John Paul II, and was considered papabile before the 2005 papal conclave, which elected Benedict XVI.
A convert from an African traditional religion, he was baptized on his ninth birthday (1 November 1941) by Father Michael Tansi, who was beatified by John Paul II in 1998. His parents later converted to Catholicism. At age 15, he entered All Hallows Seminary of Onitsha from which he graduated and earned a philosophy degree in 1950. His father was initially opposed to his entering the seminary, but after seeing how much Francis enjoyed it, he encouraged him. Arinze stayed at All Hallows until 1953 to teach.
In 1955, he went to Rome to study theology at the Pontifical Urban University, where he ultimately earned a doctorate in sacred theology summa cum laude. On 23 November 1958, at the chapel of the university, Arinze was ordained to the priesthood by Grégoire-Pierre Agagianian, pro-prefect of the Sacred Congregation for the Propagation of the Faith and future cardinal.
After ordination, Father Arinze remained in Rome, earning a master's in theology in 1959 and doctorate in 1960. His doctoral thesis on "Ibo Sacrifice as an Introduction to the Catechesis of Holy Mass" was the basis for his much used reference work, "Sacrifice in Ibo Religion", published in 1970. From 1961 to 1962, Arinze was professor of liturgy, logic, and basic philosophy at Bigard Memorial Seminary. From there, he was appointed regional secretary for Catholic education for the eastern part of Nigeria. Eventually, Arinze was transferred to London, where he attended the Institute of Education and graduated in 1964.
Francis Arinze became the youngest Roman Catholic Bishop in the world when he was ordained to the episcopate on 29 August 1965, at the age of 32. He was appointed titular bishop of Fissiana, and named coadjutor to the Archbishop of Onitsha, Nigeria. He attended the final session of the Second Vatican Council in that same year along with the 45 year old Archbishop of Krakow, Karol Wojtyla, the future Pope John Paul II. Following the death of the Archbishop of Onitsha in February 1967, Arinze was appointed to the position a few months later, on 26 June 1967. He was the first native African to head his diocese, succeeding Archbishop Charles Heerey, an Irish missionary.
The new Archbishop did not have much time to settle into his office before the Nigeria-Biafra War broke out. The entire archdiocese was located in the secessionist Biafran territory. As a result of the war, Archbishop Arinze had to flee his see city of Onitsha and to live as a refugee, first in Adazi and then Amichi, for the three years of the war, which lasted from 1967 to 1970.
Despite his own refugee status, Archbishop Arinze worked tirelessly for refugees, displaced persons, the sick and the hungry, offering support to priests and religious, and giving the faithful hope for the future. With the help of foreign missionaries, he supervised what one international relief worker called one of "the most effective and efficient distributions of relief materials" in history. He also took care to keep the Church separate from the ongoing political conflict, gaining the respect of all factions in the country.
Pope John Paul II in 1979 appointed Arinze pro-president of the Vatican's Secretariat for Non-Christians, later renamed the Pontifical Council for Interreligious Dialogue. Archbishop Arinze continued as the ordinary of his archdiocese, and was the unanimous choice of his brother bishops for President of the Nigerian Bishops Conference in 1984.
Cardinal Onaiyekan: From Kabba to Vatican
YEMI AKINSUYI LOOKS AT THE MAN CARDINAL JOHN ONAIYEKAN, ONE OF THE NIGERIANS THAT COULD BECOME A POPE
His Eminence, John Cardinal Onaiyekan was born on January 29, 1944 in Kabba, Kogi State. He had his primary education in Kabba between 1949 and 1956 after which he proceeded to St. Michael's Secondary School, Aliade in Benue State for his secondary education between 1957 and 1962. Here, he made distinctions in all his registered examination. This academic feat he achieved has ever remained historic, as no student of that school has obtained such an academic result till date.
His journey to the Catholic Priesthood began in January 1963 when he enrolled to study Philosophy at SS Peter and Paul Major Seminary, Bodija, Ibadan and completed his Philosophical Studies in June 1965.
Between September 1965 and June 1969, he had his Theology Studies at the prestigious Pontifical Urban College of Propaganda Fide, Rome.
He was consequently ordained to the Catholic Priesthood at Kabba, his hometown on August 3, 1969. Cardinal John Onaiyekan still relentlessly pursued his further studies after his priestly ordination. Between September 1971 and February 1973, he studied Scripture Studies at the Pontifical Biblical Institute (Biblicum), Rome.
Similarly, from February 1973 to January 1976, he did his doctorate programme at the Pontifical Urban University, Rome in Biblical Theology where he graduated with a First Class Honours.
He has held some strategic appointments. In January 1966, he was appointed the Rector of the St. Clement's Junior Seminary, Lokoja; a position he held till August 1977. In September 1977, he was assigned to the Major Seminary of SS. Peter and Paul, Bodija, Ibadan as Vice Rector and teacher of Sacred Scripture with Fundamental Theology. In the same vein, in February 1978, he was appointed the substantive Rector of the Seminary.
In November 1982, he was appointed Auxiliary Bishop of Ilorin and was ordained Bishop in St. Peter's Basilica, Rome on January 6t, 1983 by His Holiness, Pope John Paul II. Similarly, in October 1984, he was appointed Residential Bishop of Ilorin. Shortly after the Abuja Ecclesiastical Mission was created, Cardinal Onaiyekan was appointed the Coadjutor Bishop of Abuja in July 1990. He then became the substantive Bishop of Abuja in November 1992. In March 1994, he was promoted to an Archbishop with the elevation of Abuja to Archdiocesan status.
Cardinal Onaiyekan has received some special Holy See (Vatican) appointments. These include: member of the International Theological Commission, member of the Methodist/Roman Catholic International Dialogue Commission, member of Council of the General Secretariat of the Synod of Bishops in the Vatican and member, Standing Committee of the Faith and Order Commission of the World Council of Churches.
He also received a distinguished Nigerian National Honour – the Commander of the Order of the Niger (CON) conferred on him on December 18, 2001, by the then president, Olusegun Obasanjo. Furthermore, Cardinal Onaiyekan received an Italian Honour in May 2003 as; Grande Ufficiale (1 Classe): Ordine della Stella della Solidarieta Italiana, conferred on him by President Carlo A. Ciampi.
Other key posts held are President, Catholic Bishops' Conference of Nigeria, from March, 1999 to March, 2006; President, Association of Episcopal Conferences of Anglophone West Africa (AECAWA); President, Symposium of Episcopal Conferences of Africa and Madagascar, (SECAM) – from October, 2004 to January, 2007; Member of the Nigeria Inter-Religious Council (NIREC) – since September, 1999; Co-President, African Council of Religious Leaders, (ACRL) since June, 2003; Vice-President of the Christian Association of Nigeria (CAN) from 1996-2003; President of the Christian Association of Nigeria (CAN) and Co-President of the Nigerian Inter-religious Council between June, 2007 – June, 2009
His special areas of interests are Sacred Scripture and fundamental questions of Theology in particular; the Theology of non-Christian Religions in the Nigerian context and the theological evaluation of African cultures, history and contemporary socio-economic issues as these affect the role of the Church in the society.
Also for obvious reasons, he has had much to do with Islam, its relationship with Christianity and the challenges of peaceful and fruitful co-operation in the promotion of justice, peace and national development. His experience of dialogue with Muslims in Nigeria has been on the whole very positive.
The Nigerian Church as a whole is engulfed in a wild and joyous celebration for the elevation of Onaiyekan as a new Cardinal of the Catholic Church. This joy is evident in the eulogies expressed on this great development.
President Goodluck Jonathan, many eminent Nigerians and even foreign nationals have all congratulated Onaiyekan on his glorious elevation as a Cardinal of the Church.
The spokesperson of the Catholic Church, Abuja Diocese Rev. Father Tom Nsem has said for God to have allowed any of the three Cardinals in Nigeria to emerge as the next Pope, will show that God loves us more in the country.
The three Nigerian Cardinals are Olubunmi Okogie, Francis Arinze, and John Onaiyekan. Nsem, who spoke with THISDAY on phone, said God could decide to choose a Pope from any part of the world. "The post of a Pope is choosen by God. Since all the Cardinals are qualified for the post, any of them can emerge according to God's plan and purpose.
"Since God is impartial, He can decide to appoint Pope from any part of the world regardless of the colour or language. If God could choose any of the Nigerian Cardinals, it will show that He loves us more. God loves us, no doubt, but with the appointment of a Nigerian Pope, it will show that He loves us the more."
The Catholic spokesperson said all the Cardinals will soon converge on Rome to pray and after the prayer; the next Pope will be elected. He said apart from the fact that the Church of God will benefit immensely from a Nigerian Pope; the country's image will be positively affected.
MONSIGNOR OSU: A NIGERIAN COULD EMERGE THE NEXT POPE
MONSIGNOR GABRIEL OSU IS IN CHARGE OF COMMUNICATION AT THE LAGOS ARCHDIOCESE OF THE CATHOLIC CHURCH. HE CONFIRMED THAT THERE ARE THREE NIGERIAN CARDINALS – FRANcis ARINZE, ANTHONY OKOGIE AND JOHN ONAIYEKAN AND THAT THE LAST TWO ARE ELIGIBLE TO BE ELECTED POPE. ARINZE MIGHT NOT BE CONSIDERED ON ACCOUNT OF AGE. HE HOWEVER INSISTED THAT ELECTION OF POPE WAS A SPIRITUAL EXERCISE DEVOID OF ANY FORM OF HUMAN MACHINATION. HE SPEAKS TO AHAMEFULA OGBU
What is your view on the resignation of Pope Benedict XV1?
They say Roma lo cuta causa finite. When Rome speaks, case closed. You don't add, you don't subtract and even from the Supreme Father himself, the Supreme Pontiff who enjoys that rare freedom and by his rights he doesn't need to consult. He does not need consent to take the step. The church won't die, so we believe with prayers everything will continue.
Don't you think that the resignation is going to create a spiritual vacuum in the Vatican?
There is no vacuum at all. He is still on till February 28, when they will call a conclave. There is no vacuum. There are people acting and working until we get a new Pope. The replacement is going to come from the College of Cardinals.
What are the chances of a Nigerian emerging as the new Pope?
It can be any of them. Any of them who the spirit chooses will be there. If he chooses our Nigerian man, beautiful, if he chooses a Ghanaian, beautiful; if he chooses from Sudan, beautiful; if he chooses from name it, America, beautiful. The last two Popes had been wonderful too because they were least expected. Late John Paul II of blessed memory was 58, Polish, quite young. He found himself there and you could see how his pontificate lasted till he went off.
This present Pope, I don't think he was the most brilliant; it's just the way the spirit works, nobody knows even though he came at a very old age, which is now telling. So, whoever the spirit gives us, we will take. Any Nigerian there has a chance, he can be chosen to be there too. It is God the spirit who anoints and gives this.
Does global politics play any role in the selection of the Pope?
In the church? No. If it is global politics, then America should be there. If it is global politics, then somebody from a rich nation should be on the seat. To come and carry the burden of Peter our Lord. What kind of politics is that? Is it for enjoyment? Don't you know what the demands of that office are? Brother, it is not like the Nigerian kind of thing where you start third term or hundred terms. No.
How many Nigerian Cardinals are eligible to vote and be voted for?
Well, I am certain of Okogie and I am certain of Onaiyekan; Arinze I am not too certain. His age is 80 plus. What I have said is subject to correction. But I know that Okogie and Onaiyekan are within the range.
Are there only two Nigerians eligible?
They are the two. Arinze, with 80 plus, I doubt it; I doubt it. I am subject to correction, but I doubt.
You worked closely with Cardinal Anthony Olubunmi Okogie. What qualities did you observe in him that could make him perform well if elected as Pope?
Well, Okogie is a very forthright Cardinal; too forthright. Call a spade a spade, very prayerful and is not easily swayed or distracted by events around him. He is a man of unshaken faith. I am not saying he is a Pope. I am just responding to the question on his qualities. Don't go and have it in your headline that Okogie is the Pope; don't let them excommunicate me.
All you are saying is that he is eminently qualified?
Yes. To get to Cardianete, you know what it takes? Bishop Onayekan is qualified too.
Nostradamus predicted that there would be a black Pope. Do you think the time is ripe now?
I don't want to give credence to whatever Nostradamus says. The world is very dynamic and we have seen the dynamism of the world within church, politics and other spheres. America is the clearest example. Obama is a black man and rules America. He got a second term? Then everything is possible. We don't need to go to Nostradamus at all, as long as we are all living in this world, anything can happen and we have blacks too in the race. Why not? America has not scattered because a black man is ruling.
Since the Pope made public his intention to resign, have you contacted your former boss about his chances?
I have contacted him.
And how is he feeling about it?
In his usual open mind. He said 'Gabriel what can we do, what can we say? It has happened, so all roads lead to Rome again.' They don't go there often, so this type of time, all roads lead there and the mission is straightforward. That is election but that will be after our present Pope formally bows out. All of them will go.
When you spoke with the Cardinal, was he enthusiastic about continuing serving the Lord in such capacity assuming he is elected?
What else would he say he wants to do? As long as you enjoy good health of mind and body, you are a priest forever. Even if the Pope goes out of the public eye for now, he will spend his life on nothing less than prayers, masses and executing duties in a very quiet place. As long as you enjoy good health of mind and body, no one will say he won't serve.
You are saying the election of the Pope is entirely a spiritual exercise?
Yes.
Without manipulation and input of man?
What manipulation do you want to do? When you are there you are with your God. You have gone through retreats, prayers, and intensive ones. So, when you are there you are alone. Your vote, your prayers and you are alone. It is not a bandwagon thing. Chances of manipulation are difficult. In fact, is not there.
If you were asked to assess the chances of Cardinal Okogie making it as a Pope, what would you say?
Brother, I leave that to God. These are not what we should be commenting on at all. I am not part of the system there. These are between the College of Cardinals and that one is beyond my competence.
What process does it follow? Is it that every member of the College of Cardinals will be nominated?
I am not really competent to talk on this. I am not a cardinal but I know that not all cardinals can vote. Not all can be voted for due to reason of age; there is the age you get to, even sickness you can't even function. But I know there is age limit to those who can vote or be voted for.
Would you be going with Cardinal Okogie to Rome?
To go and do what now? To go and start voting or to go and carry bag? Or what should I go there for? Thank God the world is a small, global village. Whatever they are doing there, we will hear the news we want to hear in one second.
Even the Pope's intention, was it not Monday around 11 o'clock; immediately all over the world, all over they heard. So if I go to Rome, I am going there purely on my own interest, not that I am going for the election. Can I get near them? I can't smell where they will be.
NaijaVibe HoT DOWNLOAD
👇