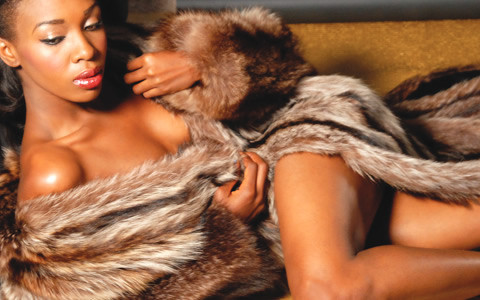 Controversial ex-beauty queen, Sandra Iwu bears it all in an interview
The star model vividly defend all her actions and responds to a question that there is nothing in posing semi-nude for fashion out and magazines.
How did modelling start?
My modelling career began in Lagos at Catwalk Studio, Ikeja. That was where I was groomed and I began runway modelling.
Before now, the profession was frowned upon. How were you able to convince your people that you wanted to be a model?
I was already in gymnastics before I became a model. So my parents felt that it was one of those extra-curricular activities that keep children going. So, I had no problem with them.
You were once a beauty queen, tell us what made you participate in in that pageant.
I had watched several beauty pageants and I felt that one day, it could become my turn to show the world what I have got. The interest and courage of stardom made me to contest and I did. Starting from my days at Lagos State University where I became the Most Beautiful Girl in LASU in 2006 and Miss Galaxy in 2007/2008.
It is believed that most beauty queens and models date prominent men? How true is this?
It is true and not true. True in the sense that a lot of prominent men do go out of their way to date a beauty queen just to prove to their friends that they can do it. They will spoil the girl with lots of gift, cars and money. It is also not true because not all models want to be seen with society men, especially married men.
Did the number of your admirers increase when you became a model?
Definitely yes. Even when I do not know them, yet they know me. Sometimes, it's embarrassing, and at times, it's fun.
Are there challenges attached to being a model?
Yes, so many. Starting from changing what you wear, to places you go to and things you do at events. Moreso, the kind of people that you go out with will also change. There are several changes that one may not be prepared for so soon.
Can you pose nude as a model?
Yes and no. It all depends on the job and scenario. I might pose semi-nude more likely, but not outright nude.
You are into fashion as well. Can you tell us the most expensive fashion item you have?
The most expensive fashion item I have is a wristwatch, a Rolex wristwatch and it cost me so much money. I bought it for N170, 000 or thereabout.
What can we never see you wear?
I can never wear a G-string on stage.
What do you love to wear?
I love short gowns and I wear them a lot.
Which part of your body do you see as your best asset?
I love my smile and I've got great legs.
How many pairs of shoes do you have?
I should have more than 50 pairs of shoes and still counting.
Is it a big deal to undress and change into another outfit at a fashion show where male models are?
Of course, it is not a big deal. We are used to it. It's part of the profession.
Would you say being a model has been profitable?
Yes, it has given me fulfilment, exposure, connections, interactions, global tours and many more.
How come Nigerian models are not really appreciated like the ones abroad?
The nation's economy is not the same as in Europe and America. So, the remuneration is not the same.
Do you intend to stay slim all your life in order to remain a model?
I can't really say so; everything will change as I grows and the general changes of life which come naturally.
Do we see you having kids soon or do you think it will affect your shape?
I'm not having kids any time soon. It will come as God gives me the grace to finish with what I am into now and settle for life.
How much were you paid the first time you worked as a model?
It was an MTN campaign 2004 BY TBWA ad agency. We were paid N200,000 for a year exposure.
How come you decided to be a part of Gulder Ultimate search?
It was for the adventure, exposure and with a view to proving that I'm still sporty, strong and flexible.
Culled from Punch
We would love to know your thoughts on this post. Drop your comments
NaijaVibe HoT DOWNLOAD
👇