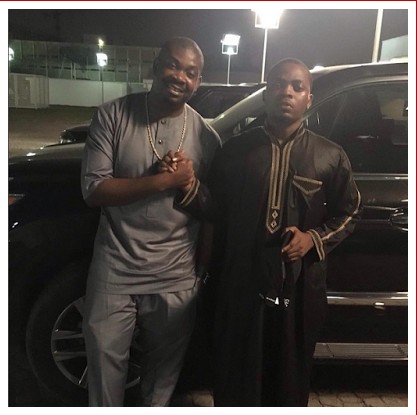 The battle line between two record label bosses was drawn at the last HEADIES award in Lagos. Ironically the organisers tagged it Flip The Script and indeed the whole script was flipped because for the 1st time there was so much tension in the atmosphere especially around the NEXT Rated category which had Lil Kesh (YBNL), Kiss Daniel (G Worldwide), Reekado Banks and Korede Bello (Mavin Records). This was undoubtedly the most keenly contested Next Rated category since its introduction. The car price attached to it has over the years made the category for promising talents in the industry. I read an article by a DJ saying Next Rated is a non-voting category. I guess he missed it. Every category for Headies are voting categories except the special recognition category. The Next Rated category is not about how big your song is or how many hits you have whether back to back or not. If it were about the hits then the artiste should be nominated for Artiste of the year and not NEXT Rated category.
If it were about how big the song was then I guess Korede Bello should have just been gifted the award because he had the biggest song amongst them and even made more money from his song than others. So it goes beyond songs, it's about the talent and the prospect which Reekado Banks clearly fits.
I took time out to ask a lot of people who felt Lil Kesh should have won if they voted and out of over 20 people, 19 didn't know they had to. So how did you expect your favourite to win. If Reekado Banks had the highest votes then he deserved to win.
Olamide YBNL
It was obvious that Olamide was over confident that his protégé would win the award, cause the YBNL crew came to the venue with Lil Kesh the centre of attraction. The YBNL boss walked away with three awards but the most priced was the NEXT RATED for Lil Kesh. In my opinion if he had focused more on voting than the fame, then they would have walked away with the prize. Then came his curses on stage after Adekunle Gold won the Alternative Song category
At this point I would like to digress a bit; Adekunle Gold was nominated with his 1st official single under YBNL, SADE. In the first place, SADE shouldn't have been nominated for any of the categories it was because it is not an Original song. Many do not know that SADE is a cover of One Direction's 'Story Of My Life'. The only difference is the African percussion added and the Yoruba lyrics. I stand to say No Where in the World is A cover song Nominated for an award, so the organizers goofed and well that didn't seem like OJORO to YBNL and winning the same Category that had ASA, Bez, Simi's lovely track Tiff and classic Rain on me by Ugovina.
So back to the matter, Olamide's acts during the headies and after shows he's not mature enough to handle a competition. His PR team didn't advise him good, I heard from a close source that the act was planned, he didn't come up with it on stage. The team knew they would do that at the slightest opportunity, which presented itself with Adekunle Gold. TBH Olamide was a disappointment to people that respected him so much, he said stuffs that he shouldn't have in his tweet which might haunt him for a long time. Street ain't about being a Tout, it's about being smart and precise.
Don Jazzy
It is normal Don Jazzy responded to Olamide. Well the YBNL Boss didn't call his name but he disrespected and discredited Reekado Banks with the outrage. Don Jazzy had the right response for Olamide except for his Egbon Olamide line. He shouldn't have offered Olamide the Car; he should have walked into the audience and given out the car to a random person in the hall or even given it out on Twitter like he does recharge cards. Like the boss he is, he ignored Olamide's plenty tweets and funny enough no Mavin crew member tweeted anything about the incident. That shows that even though Don Jazzy goofed, he was able to get back to his senses as soon as possible.. That's maturity at its height.
Wrong step in right Direction
Although bad blood was spilled, I feel this would further open up the Music industry in Nigeria. Everyone would have to work harder. Also the organizers of the Headies need to put their house in order. Also songs that have been supposedly banned by NBC shouldn't be considered in the future.
Don't hate me for this truth..
Forward your responses to @tundedaniel on twitter or email [email protected]
NaijaVibe HoT DOWNLOAD
👇