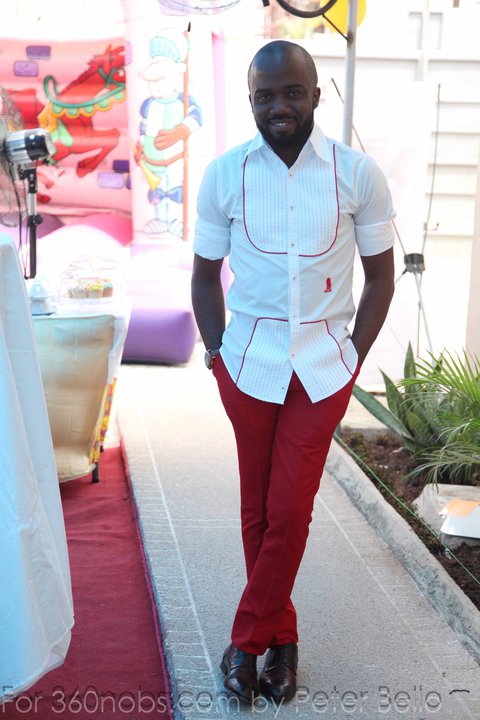 Ok a few days back, Noble Igwe blasted Nigerian Designer, Emmy Collins over the way he critiques celebrity outfits including him on his blog. Won't explain because his tweets are self-explanatory.. (Emmy Collins replied with a stinker) And oh my! The guy sure backs his words with facts and pictures.. Lol
It all began here……………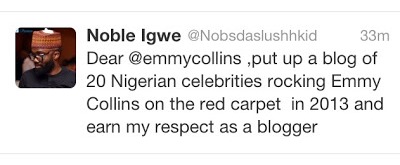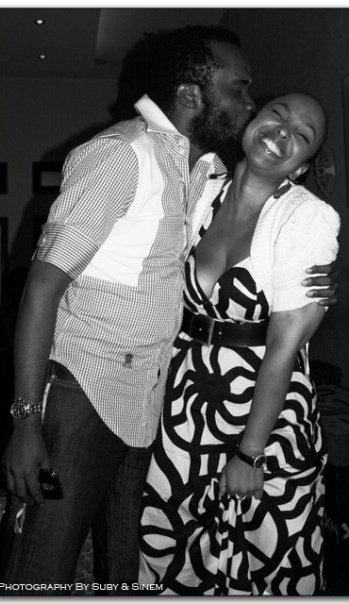 Emmy Collins Replies
FOREVER THE LOSER.. Noble Igwe
I was actually leaning towards letting this slide as there is no dividend in exchanging words with Noble. Honestly, there was never gonna be a rebuttal; I was just toying with Noble's little ok, big ignorant head. Everything changed when I received these images of Noble PROUDLY rocking his Emmy Collins pieces and feeling so cool in them from a reader who must have felt our bearded little pal was unfair and spoke from both sides of his mouth with those rants of his last weekend.
I must remind Noble that he was so desperate to own one of these Emmy Collins London pieces that he grovelled for over two hours for huge discount and when I finally gave in because I wanted him out of my hotel, the rogue showed some weird sort of appreciation by issuing a DUD CHEQUE, yes, A DUD CHEQUE, yup.
Perhaps, I should have taken that cheque to EFCC as it is a criminal offence to do that in Nigeria.
This is Noble Igwe wearing an Emmy Collins piece (Pic above). This vintage top has been copied by countless fake designers in Nigeria but if it ain't Emmy Collins, it ain't Emmy Collins and it can't fit like Emmy Collins.
I must agree Noble looks good on this white pintuck/bib top. That is what Emmy Collins represents; great fit and tailoring.
Why Noble had to pick on me a few days ago knowing perfectly well that the best pieces he ever wore in his life were Emmy Collins London beats me. Was he high on crack or palm wine aka tombolikwo? My offence recently was to ask him to do some sit ups because a big man with pot-belly passes as cuddly and some women like their men cuddly loll but a little man with pot-belly looks like overfed Akpi (bedbug) or skinny rat and it isn't a great sight. AND OH, I FORGOT, I RUBBISHED HIS MASTER, BANKY'S GOOD GOOD LOVING VIDEO WHICH HE (NOBLE) FORWARDED TO ME TO CRITIQUE (Na him forward am to me o when I dey my own je je o probably because he was on the video.I no even sabi say that video dey exist before o) BUT HEY, EVEN BEFORE ME, AN INDEPENDENT CONTRIBUTOR TO diarybyemmy.com, Chichi also FELT THAT VIDEO WAS A PILE OF RUBBISH AND 98% OF THE READERS AGREED WITH US. IT IS WHAT IT IS. I DON'T LOOK AT FACES WHEN I CRITIQUE.
On a different occasion, to own another Emmy Collins top, he (Noble) promised to lobby for a sponsorship deal for my brand, Emmy Collins and in return, he will receive a top as he was working at Virgin Nigeria at the time and I was planning a fashion show but guess what? He got the top and disappeared because he had already left virgin or has already been sacked. Basically, our friend 419end me lol. I know say una go laugh me but me I was just a JJC (Johnny Just Come) who hadn't been visiting the country for a longggg time and therefore had forgotten how stuff function around here. Such would never happen to me now. Anyway, the nmechi okwu (conclusion) be say I was Noble's mugu, hahahahaha. But Noble wait o, if you have to do 419, shouldn't you go for something bigger than a shirt? How does it feel to be feeling cool in a top you know you didn't pay for? This is exactly what happens when people desire a lifestyle they can't afford.
At the risk of been tagged as arrogant,I like to communicate this fact to Noble, as far asmenswear is concerned in Nigeria today, EMMY COLLINS LONDON WAS THE LABEL AND IS STILL THE LABEL TO BEAT.WE OFFER QUALITY THAT WE CAN DEFEND ANYWHERE AND I MEAN ANYWHERE IN THE ENTIRE UNIVERSE AND I CHALLENGE ANY MENSWEAR DESIGNER TO SAY THE SAME ABOUT HIS LABEL WITH A STRAIGHT FACE. A HUGE PERCENTAGE OF EMMY COLLINS PIECES ARE MANUFACTURED AT THE SAME FACTORY AS VIVIAN WESTWOOD AT ALGATE, LONDON AND WE PAY GOOD MONEY TO PRODUCE THEM HENCE THEY DON'T AND CAN'T COME CHEAP.
Where does one begin to educate someone like Noble who believes success translates to a designer loaning out his pieces to WANABE CELEBS to be worn and returned? If Lenny Kravitz has paid for Emmy Collins pieces, then I expect all to pay for them. These are my babies and I guard them ever so jealously just like a loving mother would guard her children. I wonder how saying stuff like Noble Igwe, Iyanya, Wizkid, Karen Young, Toni Tones, Karen Igho, Toolz, Don Jazzy, M.I, Banky et al wear my pieces is gonna elevate the career of a designer of my calibre to the next level. If I ever sell to any of these individuals, I shut the hell up about it because NO top business executive or authentic fashion aficionado in Nigeria that happens to be my targeted audience will ever purchase even a single piece from me simply because he saw it on these people.
If one doesn't make the first 20 top designers list in Nigeria as Mr Noble Igwe said then Nigeria must indisputably rank No 1 in the world when it comes to fashion. Joker. Abegi, no more pictures, am done with this. Can't believe I spent this much time on this arrant nonsense.
My pieces are expensive and I know it, everyone knows it so I have to target the right clients and not the fake celebs who live on blogs.
Before, I get off I must opine that in a country that Noble Igwes of this world are recognised or recognise themselves as a celebrities, I am so not interested in getting these so called celebs into my pieces; they are not my clients. Noble, a celeb? Why? Maka gini? Warrom? What talent does he have? What impact does he make in the society to earn the celebrity status? This dude must be believing in his own hypes. Sometimes, you see people like this on front row at fashion shows and I am wondering what exactly do they bring to the shows? This dude is so back row or even standing if he is lucky to get in.
BY THE WAY I MUST STATE CATEGORICALLY THAT I DON'T RECOGNISE 99% OF THE SO CALLED NAIJA CELEBS AS ONLY A FEW THAT I CAN COUNT ON MY FINGERS HAVE PASSED MY "CELEB ACID TEST". Noble requires recommendation from Jesus Christ to pass that test.
Noble, really needs to take a course on how to pick on someone his size before nkee ya ezigbo okpo na isi. Umuazi adi enwe respect. Olijugo afo dachie uzo.
THIS MATTER IS OVER AS FAR AS I AM CONCERNED. I WILL NEVER RESPOND AGAIN.
Follow NaijaVibe


HoT DOWNLOAD
👇