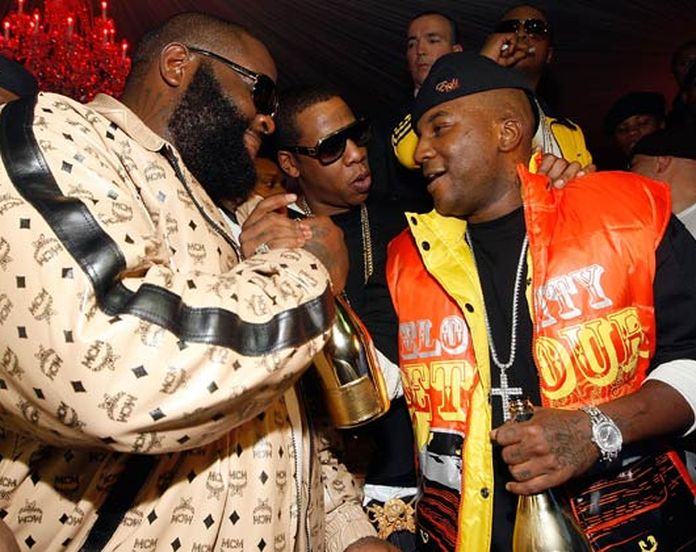 But before we proceed, here's the set up:
Rick Ross is not just a rapper, he's CEO of Maybach Music Group, which has a roster of talent that has gotten him mentioned in the same sentence as Lil Wayne's Young Money and Kanye's G.O.O.D Music group when it comes to 'who's running the game'. Aside from a few successful albums under Def Jam, Young Jeezy seemed to be following in the footsteps of Jay-z when he was recently named Senior VP of A&R at Atlantic Records. When there are folks in a room with those type of titles associated with their names, the one thing you don't expect for them to do is engage in activity such as fighting at an Awards show. You leave that type of behavior to people who have a lot less to lose.
Unfortunately, last night, during the BET Hip Hop Awards, both Ross & Jeezy were involved in an altercation that almost threatened to shut the show down when the two came face to face backstage. According to DJ Drama, (who was on his way out of the building to host his radio show), both artists were walking in the corridor backstage when the two stopped next to each other and exchanged a few words. He told his listeners on air:
Some words got exchanged. There were some 'What's ups'. Security got hostile. [There was] some interesting conflict between Ross and Jeezy and it just went bad backstage. I'm assuming that there is no way BET thought that these guys were gonna run into each other. Definitely not. All parties walked away unscathed that's for sure. One party went one way, one party went the other. All this stuff about shots getting fired. Ican't confirm any of that. I left.
According to the Atlanta Police Department, they responded to an altercation in the parking lot between two groups and used OC Spray to break up the melee. There were no arrests or reports of serious injuries and they claimed that reports of gunfire appeared to be untrue. (Depending on who you ask, someone from Rick Ross' entourage allegedly fired some shots).
Interesting enough, Rick Ross and Young Jeezy have pretty much stayed clear of each other since their beef started gaining momentum back in 2010. It all started when Rick Ross released the 'BMF [Blowing Money Fast]' record which made Jeezy feel some type of way since he was close to BMF [Black Mafia Family]. He later released a track titled 'Death B4 Dishonor' (a freestyle over Ross' BMF beat) which contained the line, 'How you Blowin' Money Fast?/ You don't know the crew/ Oh, you part of the fam?/ Sh, I never knew.'
Although the internet was buzzing that the line was directed at Ross, Jeezy downplayed it in an interview with MTV shortly afterward:
It's not a diss. First of all, I'm not gonna get nothing out of dissing that guy. I think sometimes people can read into things too deep. They trippin', man. They crazy out there. Basically, if homie takes that as a diss, he's insecure.
When Funkmaster Flex sat down with Rick Ross at Hot 97 and inquired if there was a beef, Ricky responded:
From my point of view, [the tension with Jeezy stemmed from] a freestyle done on the BMF track where some things were said, and I attempted to address it like a real G would [I reached out], but I never got a direct answer. So there were some things being said on record, which perpetuated that there may be pressure, that there may be beef. I always did business with homie, so if it was, it would have felt sideways

When you talk about this street life and being one hundred and being solid, it's certain things that you bring to a person and that never happened. But everyone who want to talk about being gangster, we were just at the BET awards and I sat in the front row. He performed. If there's any pressure, handle it right then. That's the person that I am. So if we not gonna handle it right then, if you see me and you keep walking [Jeezy] and Gucci Mane had a problem and one of his homies lost his life behind that. And they squashed that. We don't play like that. If you feel a certain way, you gotta stand by it. This ain't the kind of game where you just utter what you want, tweet what you want, blog what you want, and then when you run into somebody, it's love.. it don't really work like that.
A month after that interview (November 2011), Young Jeezy brushed off talks of a beef with Ross in an interview with DJ Whoo Kid and there hasn't been much mentioned about it since then:
I don't think there's a conclusion to it because it was really nothing to me in the beginning. I don't do beef. If there's a problem, let's get into it. Let's get it done. There ain't nothing to talk about.

The sad part, is that when you have a network like BET who has been dedicating themselves to better programming over the last few years, when something like this happens, it blows up in the press and continues to taint the perception that people have of 'Black Entertainment Television' and Hip Hop culture as a whole. BET could have made the decision to scrap the Hip Hop Awards show a long time ago, when they decided to focus more on scripted and family friendly programming, but out of respect and their appreciation for the genre, they continue to celebrate Hip Hop by giving it it's own show every year. It's so disappointing when things like this takes place.
This morning, the network released the following statement:
Tonight during a taping of the BET Hip Hop Awards 2012 (not the BET Awards which went down without incident two months ago) an altercation between two rap entourages broke out backstage. Atlanta police and BET security quickly defused the altercation.

According to the Associated Press, police spokesman Carlos Campos said officers responded to the scuffle at around 7:30 p.m. EST Campos says there were no shots fired.

More drama unfolded as two men were involved in a fistfight in the parking lot of the venue.

BET Networks works very hard to bring the best in entertainment to the city of Atlanta. For the past 7 years BET has celebrated the true art form of Hip Hop. Due to some misjudgment of select attendees, it is unfortunate that certain incidents took place. BET Networks does not condone any type of violence. Local authorities are working to resolve the situation as quickly as possible.

Despite the actions of a few the 2012 BET Hip Hop Awards embodied the true spirit of hip hop and was not impacted at all by any incidents. Tune in on Tuesday, October 9, 8P/7C to watch the 2012 BET Hip Hop Awards
Another day, another senseless fight
NaijaVibe HoT DOWNLOAD
👇