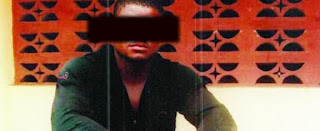 A 33-year-old man, Nkemakonam Nwoke is in trouble because he molested female minors. Nwoke who lived at 7, Chief Nwatu Street Emene, Enugu is said to have defiled eight female kids of ages ranging between 3 and 6 years at his neighborhood.
Nkem's molestation of the eight minors was unnoticed until one of the girls who could no longer cope reported to her mother that the man was doing 'bad-bad' things with them. With further probing, the said parent was able to get the truth from her daughter who confessed that the man was molesting eight of them one after the other. Consequently, parents of the victims contacted Mediating for the Less Privileged and Women Development and the man was arrested. Please click to continue.
Narrating the story to our reporter in Enugu, Dr. (Mrs.) Betty Agujiobi who runs the NGO recalled how she got involved in the matter. Said she: "I received a distress call from Emene, so I rushed there and it was a case of a 33 year-old man defiling minors in his area. One of the children was no longer comfortable with his lewd tendencies and she had to report to her mother and that was how the community knew.
The man had been defiling the children for over one year. "When I got there I had to interview the man and he admitted doing it. Asked why he molested the children he said he didn't know, that he takes delight in having sexual relationship with children. He said he's shy and can't talk to mature girls. I probed further to find out if probably he used his fingers or his manhood and he told me he didn't use his fingers but his manhood. The oldest amongst his victims appeared to be very shy to say what the young man had been doing with them.
Others told me what happened and they spoke in Igbo saying Nkem na eme anyi ihe aruruala (Nkem does bad-bad things to us). I asked further to find out the type of bad things he was doing to them and they explained what he had been doing with them and I had no option than to contact the police. The police came and arrested the man and he also told them the truth. He said he would not deny it and that probably God wanted to expose him."
Agujiobi said further "But the man called me and said there was one thing he wanted to find out. He said he wanted to know how long he would spend in prison if he's convicted. I told him it would be about 7 to 14 years and he said if the jail term is multiplied by the number of children it will be too severe that he would prefer if it would run concurrently. I said okay, that we would see what we can do but that he has to maintain his story." The risk of HIV/AIDS Agujiobi said further "After they were tested for HIV/AIDS and the results were negative I asked their parents to take them for tests for other sexually transmitted infections and they went.
They all tested positive and were placed on drugs. Before then, one of the parents told me that her three-year-old girl was experiencing vaginal discharge which was abnormal and that she never knew why until this thing came to light. All eight children live in a cluster settlement in the same vicinity at a low income settlement at Emene where anyone who owned a television is seen as a lord. This young man entices these children with his television which he tunes to the cartoon network. Parents didn't know why these children ran to him anytime he was around. Whenever he wanted to molest them he would send some to go and buy biscuits and probably tell them the place to go which was normally a distance from his home.
They complied and he molested them one after the other. He told me that he would spray his towel and lay the children on the towel and do whatever he wanted to do with them. "I wanted to know the background of the young man who looked very healthy and bulky and I was told how he came to live with a woman with his mother. He used to go around with his mother washing plates for the woman who was an hotelier and who would also give them food. After a while, when he was of age the hotelier asked the mother to let him stay with her and that was how he came to live with her.
The hotelier expressed shock that they lived under the same roof and she never knew something like this was going on. When the man told me "..this is not the first time", the woman was like, "shut up, are you mad? Why should you have to tell her that this is not your first time; do you want to die?" He said "no I want to stop it; if this is the way God wants me to stop it, I will be happy." They asked him how he felt now and he said he's ashamed and that he wished he would just die to avoid the shame. A sense of guilt has overcome him and he never raised his face but was always bowing to hide his face. He said "I am so ashamed; if the parents of these children killed me I won't blame them because I really offended them. "Poverty you know is a problem and initially parents of the victims thought my organization's intervention would be like every other intervention.
They never knew we meant business. At a point they delegated two of the parents to meet me and they came to my house and said they were happy with me for my commitment but that they wanted to withdraw from the case. I asked them why and they said the man would settle them and that he has agreed to settle each of them so that they would withdraw the case. The two parents said they would gain nothing from going to court or sending the man to jail and that the best thing was to settle out of court. I told them this is a case of defilement and that this man had said that he didn't start with your children, but had been doing it with other children.
If you withdraw this case who knows who would be the next victim? I said as far as I am concerned if they collect anything from the man I will sue them for trading with their children. There and then I called a lawyer. I told him I had a case and this is what the parents were trying to do. I asked him to prepare a case against the parents so we could go to court and he said okay that I should come. Nkem shouted and asked if that was how I behaved. I said yes, that I will even go beyond that and he promised to go back to the others assuring that they play along.
I asked him if he realized the kind of infection those children must have contracted. It wasn't as though my NGO was doing it alone. I contacted the vice president of FIDA Enugu State, and also Child Protection Network and got all of them involved. I called the Director, Citizens Rights and told her about the case and she offered some advice. Agujiobi revealed that three of the victims are from the same parents.
The suspect who was arraigned at an Enugu East Chief Magistrate Court was remanded in prison custody and the file transferred to the Director of Public Prosecution. Agujiobi told our reporter that her NGO is still expecting the case to come up. "We have not been invited but I still go to see the children and I interact with their parents", she added.
NaijaVibe HoT DOWNLOAD
👇