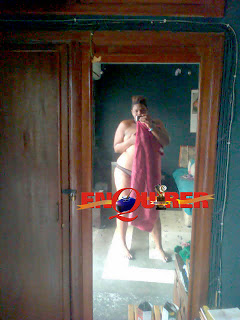 Before you read, this is culled from National equirer. Oya read the gist below:
If you've heard of this cliché, "The rich also cry", then what you're about to read will tell you more that, not all that glitters is gold. It is a shocking story of one of the grand daughters of the fabulously rich billionaire businessman, Olorogun Michael Ibru whose reckless lifestyles is second to none.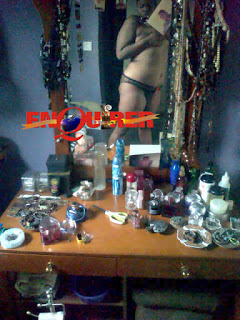 The fatty 19 year-old girl, Alula is the gift of the love-gone-sour relationship between Gloria Ibru, a.k.a Mama G – the first daughter of Olorogun Michael Ibru and actor cum popular gospel singer, Sammy Okposo.
According to sources, Alula Okposo by her status in the society is one of the luckiest girls on earth, the grand-daughter of Olorogun attends one of the most expensive schools in the United Kingdom where she pays Ten Thousand Pounds (British Pounds Sterling) about N2.5m per term. And people close to the Ibrus confided in National Enquirer that, the spoilt brat was expelled for spending her school fees for a whole term (N2.5m) partying, drinking, smoking and enjoying life to the fullest.
Alula, 19 who's a chain smoker is presently in the center of a marriage break-up between one of her school mates, a British girl, Clea Carl and one Tim Bode Idowu Jnr., a London based high profile music promoter, CEO of Pattern Entertainment and co-founder of SN1 Group who coincidentally happens to be her (Alula) father's friend.
We gathered further that Tim 37, who schooled and lives in the UK with his parents and other siblings has been dating Clea Carl, Alula's school mate for a while and the duo had already chosen August 2013 date to seal their liaison before Alula came in.
The well connected Tim has worked with the likes of Giggs, (Nathaniel Thompson) who won the BET Awards for Best UK Rapper in 2009 and Nigerian born Tiny Temper who was the only rapper that performed at the 2012 London Olympics.
His mother, Grace Idowu who we gathered is one of the most influential Black Women in Peckham area of London runs David Idowu foundation in honour of her son stabbed about 5 years ago and also won Tesco Mother of The Year, 2012.
Family sources squealed that, in what looked like a planned script, Tim got invited to the Ibrus' Apapa residence sometime last year in one of his journeys to Nigeria for a get-together and the rest has been history since then
Alula and Tim fell heads over heels in love, going to places together including clubs and they were conspicuously seen during Alula's birthday celebration at Liquid Lounge on Victoria Island, Lagos, Encomium Black & White Ball and so on where her father Sammie Okposo who didn't know anything posed with Tim in a photograph.
Alula, kept bombarding Tim's blackberry phone with different unclad pictures until Clea who was Alula's Friend in school got wind of it when she saw Alula's several unclad pictures in her fiancé's phone and fainted on the spot, with the phone in her hands when she saw it.
When she was revived, she immediately cancelled their wedding plans, which was why she was in Nigeria in the first place, and jetted back to the UK, leaving a devastated Tim.
The unsuspecting British girl practically broken down emotionally that she had to call-off the wedding plans, shocking enough was that, Clea saw different text messages and voice mails of their love affair, heart breaking unclad pictures and the monies Alula had demanded from her man. In one of the messages, Alula was said to have asked Tim for N500,000 to rescue her from being expelled from school but no one knows if she got that before bubble finally burst recently.
Alula's parents, Sammy Okposo and Gloria Ibru we gathered are fully aware and are making sure they stop the relationship even though it's almost too late.
Sammy, the source told us scolded Alula at a function that he almost slapped her, but it is not known if it was in connection with the shameful affair.
ALULAS SIDE OF THE STORY
In our facts finding mission, we put a call through to Alula to ask her about the request for over half a million naira from Tim, and if really she truly squandered her tuition fee on booze at the clubs back in her boarding school at Reddington in the UK, and to our amazement, she flippantly told this reporter,
yes o! I spent all my school money at the club, with my brothers, we were just flexing and honestly, I did not know how it got finished, I was just having fun! But wait o, who told you? Tim never gave me that money I asked from him, if he did, then why am I still in Nigeria? I was expelled from school because I couldn't raise the money on time, which is 2.5 million naira. Is he saying he gave me? Is he crazy? Does he know who my parents are?
When she was asked about Clea, and if she's aware that the pictures she sent to Tim had shattered their wedding plans, she laughed out sarcastically, and said, "Look the only Clea I know, is Clea Blackwood, and she was my junior, back in school and I have no idea what pictures you are talking about!
Why would I send unclad pictures of me to someone who is married, or engaged, or whatever? And by the way this Tim, you are talking, about, I don't know him! The person I know, that came to our house is called Bode, who says he runs pattern music or so, and yes we had something, I just loved his accent, the way he talks to me at night and all that, but then my parents said they didn't want me to have anything to do with him, and I stopped seeing him! I even deleted him off my BB contacts. Look I know you are just making up these stories, because I didn't send any pictures to anybody. So you can do what you like, I don't care. And please don't even call me again. In fact I dare you to do anything!"
MR TIMS RESPONSE
When we called Mr. Tim Idowu Jnr, to react to the story, after several messages he refused to reply, all we could hear on the other end of the phone, was a thick British accent raining swear words on us and Alula!
He said a lot of unprintable things.
NaijaVibe HoT DOWNLOAD
👇