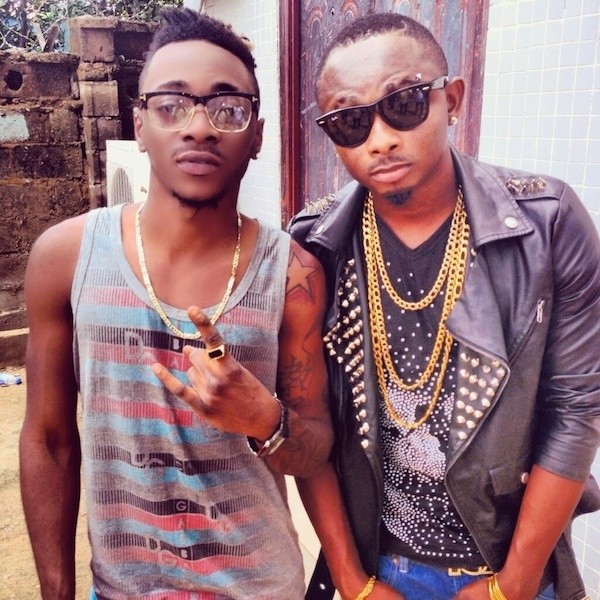 An up and coming musician based in Ibadan, Oyo State has accused Sean Tizzle and his producer, D'tunes of sampling his hook on one of the songs in Sean Tizzle's debut album.
Johnson Oluwadamilare Michael a.k.a Portah, said the song in question, 'Perfect gentleman' and in an exclusive chat with NaijaVibe, has stated that he had recorded his own version of the song about two years ago but gave the song to D'tunes in January 2014 while he was seeking for his help in helping to promote it.
Portah said he was however shocked when he heard the hook of the same song in Sean Tizzle's 'Perfect Gentleman' without anybody having sought his consent.
Narrating his story to NaijaVibe, Portah who is an undergraduate at Lead City University where he is studying Economics, explained that D'tunes had promised to help him get a record deal but betrayed him.
Last year, around July 2013, I went for an interview at Star Fm in Ibadan with Vector, myself and Sean Tizzle, then he just started promoting his 'Sho le' song, they just shot the video for the song. That day, Sean Tizzle was with D'tunes, so while I was trying to make my way to greet D'tunes, he recognized me and was like wow. Portah, what's up? I was surprised that he (D'tunes) knew me, he said he was on my BBM before, so he asked about my record label and I told him I don't have a label yet, so he was like wow, he thought I had a record label, if he had known I wasn't under any record label, he would have signed me before he signed Sean, so he said it's not too late, that he'll get me on the label.

So we agreed to hook up the next day in Lagos. The next day I came to Lagos to meet him, we met at The palms in Lekki, that day, he came with Sean Tizzle and Rico White, we watched a movie, he paid for it and from there we went to his house, so he was like, right now he can't sign me, but if I can give him sometime, he'll get me a record deal because he knows a lot of people looking for artistes to sign. So since last year we didn't see or talk, he didn't call me till January 2 this year when he left a message for me on Instagram that I should call him urgently.

So I called him immediately and he asked where I was, I told him I was in Ibadan, and he asked if I could come to Lagos and I was like 'sure I can come. So he told me to bring my songs so we could talk about my project, he asked how many songs I had and I told him I have about 21 songs, so he said I should bring everything so he can listen to them and we'll talk. When I dropped the phone, I was very happy so I burnt the songs on two CDs then I came to Lagos. When I saw him, he took me to his studio; he copied all the songs to his system including my released and unreleased songs. Then he was like, actually he's not the one that wants to sign me, that he has a friend in UK that wants to start a label, but he wants him to be the front man for the label, so he said when the guy comes back he'll call me over so we can all meet and make a deal. That day, he told me Sean Tizzle was dropping his album in April and he even played all the songs for me because at that time the album was already set but the song 'Perfect Gentleman' wasn't recorded yet, I remember very well that Soundcity's DJ Shabsy was with us that day at his studio in Lekki, around Osapa London area. Then he asked if I have any song I could write for Sean Tizzle so he could include it in his album, and I was like sure, I can do that. So, since that day he didn't get back to me at all, and whenever I call him, he doesn't pick up my calls, if I send him texts, he won't reply.

Then the next thing, Sean dropped his album, and I didn't even buy the album because I've heard all the songs on the album before, so I wasn't really eager to listen to the songs. Later I just heard one of my friends singing 'Omo dada lomo yen o', and I was like 'na my song be dat o, shey you don remix am ni', and he was like no, it's a song from Sean Tizzle's album. So I went online and downloaded the song and I heard my hook on the song. When I heard it, I called D'tunes immediately and I was like: "Baba how far, you no even get back to me, I con dey hear my Lamba for Sean album", he was like Portah, wetin you talk, he was stammering, you know say I no fit do that kind thing for you now. He now asked if I was in Lagos so I could come see him. So I said I'll come, but I didn't go, then the third day he called me to ask why didn't I come again and all that, he even said what do I want him to do, I was very surprised because he has never called me before in his life. After that day, I didn't hear from him again, then a few weeks later we chatted on Twitter and he was like 'Portah I no tiff your song o, even Sean has never heard my own song before' so he started changing it for me, and I was like this is not fair.
I felt really bad, stupid (actually) because, it's foolish of me for at my age to take all my songs to you and copy on his system, I'm very well known in Ibadan, Oyo State as a whole and its environs. To be honest, I actually thought he wanted to work with me and help me, but he just changed everything. Initially, I didn't want to say anything about it but people around me that knew the whole story and process were like no, I should voice out because if I let it go, he still has 21 of my songs and he can still use others whenever he likes.
When asked what's next for him, Portah said, 'For me, I don't think (about) D'tunes. He's been on my BBM for almost four years but we became close about 2 years ago and he's been talking about deals and getting me a record deal but it didn't happen. The sad part is that D'tunes knows me very well, he knows that I sing, I write and even produce, he could have just told me that he wanted to sample it for Sean and honestly I won't object.
D'TUNES Reacts..
Notable music producer, D'tunes whose real name is Adesanya Doyinsola, has over the years been responsible for producing several hit songs like Iyanya's 'Kukere', Sean Tizzle's 'Sho le' and others.
In his reaction to the allegations against him, he spoke to NaijaVibe through his manager, Johnson saying:
The guy is fabricating all these, because the song 'Perfect Gentleman' was done with me and a lot of other people in the studio.
NaijaVibe HoT DOWNLOAD
👇