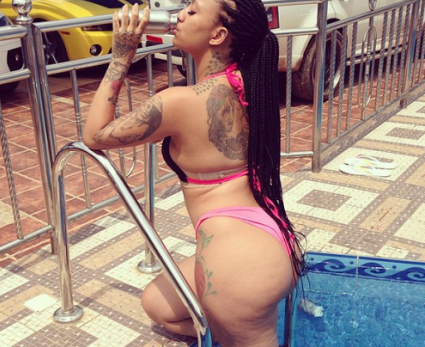 COLLINS:
I looked at Funke and couldn't imagine why this beautiful, sexy lady would turn down the offer of the most handsome and strongest guy on campus, a guy every lady on campus would give anything to sleep with even without much stress, and that's what kept me intrigued about Funke, because she wasn't like other ladies on campus and wasn't even scared that I could harm her, in as much as it intrigued me, it also frustrated me because this was the first time in my life that a lady was actually turning me down..
I watched as Funke was trying to get into a bum short and a crop top, DAMN! she got a** mehn, her a** was big and the way she tried to get the a** into the short sent different kinds of thoughts running through my head and my heart started to beat fast, with every move she made my d**k grew, even while she tried to unstrap her bra from behind with free hands, and shit those ni**les, Funke had a body any man/woman in their right frame of mind would not wanna have a look twice..
While I was still salivating Funke came close to and sat on my leg.. baby what is the matter you sounded really worried on phone when you called me, I hope everything is alright, I was actually busy trying to get some thing at the super-mart when you called me..
I couldn't remember what brought me there any more, as all I could think of was the juicy big b**bs pressing against my body, I just took her face in mine and kissed her with so much passion in the world, she returned the kiss to my surprise and kissed me even more deeply while she let out a little moan, that was the only invitation I needed, I found my way down into her crop top and shit, her ni**les were rock solid, I rubbed it against my fingers and transferred my mouth to where my fingers were, she let out another sound like a little cry for me not to stop, and that drove me crazy.
This is surely my lucky day because the highest we've ever gone was just kiss and that was all, I wasn't going to miss this opportunity that was offered to him on a platter of gold, so I quickly removed her short as fast as I could and started to finger her pu**y, mehn her clits were as big as my index finger and she was wet and dripping, and her pu**y smelled so nice.
I went down and started to suck her clit while finger f**king her pu**y, she just kept on screaming 'oh baby, don't stop, shit, oh god, honey, yes that's it aaaaarggh.. I could not take it any longer as this was my chance to f**k the shit outta her and make her never forget when we heard a knock at the door.. I didn't care this was my chance and I wasn't going to let anything or any one spoil my show for me, I was about standing up to insert my d**k into her pu**y when I heard her scream and dug her nails into my skin, 'Am cuming, oh f**k, am cuming, baby, yes yes yes.. ooooh and she pushed me off her while she rushed into the bathroom and I had no choice than to quickly get dressed and opened the door for her roommate Naomi..
Naomi:
I got into the room and was irritated when I saw Collins, I greeted him without looking at him and walk straight to the kitchen because I was really hungry, I never liked this Collins guy and I knew he could see it that I was not even trying to hide my disgust, what is this stupid Funke still doing with this guy sef, tot she said she was a lesbian, yes I knew, you probably are may surprised that I know Funke is a lesbian or maybe bi-sexual, but it never bothered mi, by the way I never liked this Collins because he always feels he was every ladies dream and that alone made him a proud fool.. I got out of the kitchen and Collins had gone, hmm, good radiance, mtscheeew, class was hectic today and that my course adviser was beginning to get on my last nerves, what was his problem, am I the only lady in that class? well from what I heard he sleeps with anyone he feels like on the campus, and felt he could try the same with me, he must be sick upstairs.
Funke came out of the bathroom and damn! This girl's ass sha.. mind you am not a lesbian in fact I love d**k so much I could die for one but there was something about funke that intrigued me, maybe because she is half cast, or maybe because she had the most amazing skin I had ever set eyes on, and her b**bs..
In all my life I've always imagined that big b**bs don't look attractive when it's not packed with a bra, but Funke's b**bs needs no bra to make them stand out, her b**bs were big and firm and it gave me a run for my average small b**bs anytime any day..
I was so carried away with my thoughts that I dint know Funke was watching me with her eyes wide open and had called my name more than 3 times before she touched me..
NaijaVibe HoT DOWNLOAD
👇