Read Previous Episode (Murder She wrote?)
"Case adjourned to the 7th of November" the Judge announced
"All rise, court.." The Court secretary shouted.
It was so irritating, why do they always do that part? COURT!!!
I still managed to feel irritated even though today didn't go well.
The court hearing had started with the prosecuting council calling the witness to the stand. It was Miss Agedo. This was after I pleaded 'not guilty'.
The state prosecutor looked scary and talked so fast and aggressive; it was as though Miss Agedo had been well prepared for everything she said.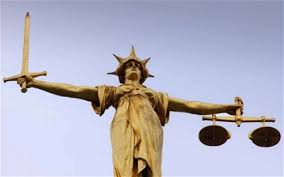 She told the court she overheard me telling Daniel about how I was raped by Gbolahan Williams and how I was going to deal with him. She also said she witnessed the deceased and I arguing and that I promised to kill him. She said maybe I was going to do that before she stepped out, but when I saw her, I froze. The prosecuting counsel kept repeating "so you heard her say she was going to kill the deceased?"
She screamed yes over 5 times.
He continued "what was the deceased reply?"
"He told her he would tell his brother what she was up to, she really went mad when she heard that"
"Why was she mad?" The prosecuting council moved closer to Miss Agedo.
"Because she had been trying to seduce the deceased brother"
"Oh!" The prosecutor exclaimed.
Shio! As if they had not rehearsed it.
I looked around the court and saw Daniel, he looked so unkempt and was staring at nothing.
I looked at Lydia who was sitting beside him, she had dressed up to come to the court. Silly girl. In the midst of all this, I still managed to keep my sanity, I tried not to show how I really felt inside, especially because I needed to stay strong for Omoyeni. Aunty Nike has said I was intentionally putting my life on the death row by choosing Omoyeni to represent me.
My attention drifted back to Miss Agedo. The prosecutor has finished his examination. Omoyeni was called upon for a cross examination.
"Miss Agedo, what is your relationship with the deceased brother?" Omoyeni asked
Miss Agedo started to stammer "he is my.. he is.."
"You are in love with him ain't you? And he doesn't want you, does he?" Omoyeni cut in "And you are aware the Accused and the brother of the deceased share something, a relationship perhaps?" Omoyeni added looking at everyone.
"Objection my Lord" the Prosecutor shouted
"Objection overruled" The Judge answered back
"But My Lord, Barrister Omoyeni is putting answers into the mouth of my witness and.."
"Barrister Emmanuel, what part of objection overruled don't you understand?" The Judge shouted.
"Please go on Barrister Omoyeni" the Judge said
"That will be all my Lord" Omoyeni went back to take her seat. Miss Agedo did the same.
Her face had changed.
The prosecutor went ahead to call Femi to the stand. After the oath, he began to ask Femi questions starting with if the deceased was homosexual? was he ever seen with a girl that he introduced as his girlfriend? Did he ever show interest in women?
Femi answered yes to the homosexuality question and no to the rest. I swallowed my saliva and blinked uncontrollably. For the first time since the hearing began, my heart actually skipped.
The prosecutor moved on "who is the accused to you?"
"She's my Assistant at work"
"Do you have any personal relationship with her?"
"Not really" he answered quietly.
The Prosecutor squeezed his face.
"Mr. Williams, can you give a straight answer?"
Femi cleared his throat "yes"
"What sort of relationship?"
"Friendship" he replied quickly. My heart sank.
He went on to ask him why I was in their house on the day Willie Willie was murdered. He replied that it was to celebrate a contract.
He concluded and Omoyeni was invited for a cross examination.
"What sort of friendship do you share with the accused?" Omoyeni asked
"Objection My Lord the question is provocative" the prosecutor shouted
"Objection sustained" the Judge said "Counsel rephrase your question" the Judge said to Omoyeni.
Omoyeni cleared her throat "have you and the Accused ever gone beyond platonic friendship, have you ever shared an intimate moment?"
"Objection my Lord" the Prosecutor shouted again
"Objection overruled, please carry on Counsel" The Judge said
"Not really" Femi answered
"Mr. Williams, can you kindly answer a yes or no"
"Yes" he said quietly.
"That will be all your Lordship, at least the Court can establish that Miss Agedo may have a reason to make up stories to incriminate my client, I rest my case"
The case was adjourned.
Omoshalewa Benson: Tales of a Lagos babe is written by Tobilola 'Bella' Agoro (@tobiagoro)
NaijaVibe HoT DOWNLOAD
👇