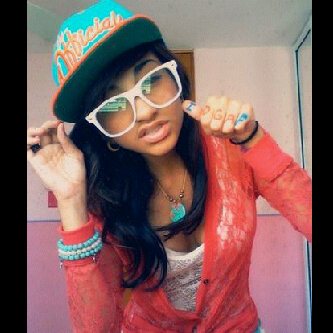 Her Long nails like Hawk, I'm afraid if she eyes you with those (original) lashes, she may Fly, Brazilian weave long like horse tail, Mary kay powder and foundation; Face like Clay. She's Yellow like sunshine (I'm not sure she fell inside bleach) Talking of her dressing; Bandage skirt, body wrapped like Lazarus, Colour blocking tins'.
LOL!! I really hate the word 'tins' well the Lagos big girl loves to use the word, so I love the word now; Ozone tins, Elegushi tins, wedding tins, burial tins, airport tins, Island tins even when she's eating; Shawarma tins, Arghhh!! WHAT IS WRONG WITH YOU!!!!! Oh, forgot to mention, the Lagos big girl doesn't eat at a bukateria o.. Ha! Infact, she shouldn't be seen there, all she does is KFC chilling, 'Chilling' another annoying word.. *shrugs*. Ehen sef, The Lagos big girl can like to form Miss independent ehnnn, chai (we all know where the money comes from but uhhm, nvm). Who is this Lagos big girl?
Typically, a Lagos big girls boyfriend is either a Car dealer, House Seller (hahaha, mind my English), Club Owner, Hotel owner, bureau de Change, electronic dealer (blackberry phones, laptops, iphone, ipad and iswear he is not a Yahoo boy :> ). By the way, she doesn't and Cannot have one boyfriend o.
The Lagos big girl would have;
1. Boyfriend (the one she loves)
2. Baby (the substitute of the boyfriend)
3. Uncle (of course her Fathers brother)
When she updates her PM like this "I love my boo" Don't be deceived brethrens, it is called 'Using one stone to kill several animals' the PM is for the various lovers she has.
The Lagos big girl has two birthdays, the one her 'Uncle' knows and the one her Boyfriend, Baby, Friends and Parents know as well. She loves Elegushi a lot though and she loves 'Aura' loading ('Loading' the 3rd annoying word) therefore, her birthday lasts for 2days; on the beach and in the club. Don't you just love the Lagos big girl? But we're still wondering who this Lagos big girl is.
When her BIS is about to expire, her PM becomes "BIS going off soon" (Miss independent!!! Of course she doesn't want you to send her credit for the renewal). She wants the new iphone 5 and she would get it before you (Miss independent tins), her Uncle would probably get it for her (Yes her Fathers brother is her uncle, she works in his Company :>)
My Lagos big girl can package for Africa, she can never be 'seen' on Okada in broad daylight, but at night, she dey fly bike die!!! DPMO!! Okada would reduce her bride price. Who are her parents though? (FAQ) they probably stay in the village, a bit laid back and believe she's doing well in Lagos. Ahen, she told them she's a Chattered accountant (Yes na, she works in her Uncles company, abi have you forgotten?) :p Oh well, as long as she sends money to them in the village, every other thing doesn't matter.
Sadly, if you don't drive a Range, LR or Mercedes no Lagos big girl for you. She loves to brag with her friends "my boyfriend drives a Range" (of course her father also drives a Range). Well me I'm still not sure if this Lagos big girl is a Yoruba or Igbo girl.. keep reading.
"Baby pls can you drop me at my friends place" oh yes!! Her baby is her driver. Who is the friend? It is the boyfriends SISTER!! (I'm sure so many of you guys have been driver zoned: '(My condolences to you Zoned people, Brother, Cousin, Friend, Pastor, Bestie e.t.c especially if you're not getting some :p ). So therefore (tautology, I know) you must have driven her to her friends place who is also Le Boyfriend 🙁
The Struggle to become a Lagos big girl bothers me though. Must you live on the Island??? Must your boyfriend live on the Island??? Must your workplace be on the Island??? Must you party on the Island??? "Island tins" =D. I guess eventually, her Uncle (Daddys Brother) would get her a house on the Island..
Mystery Question; What if she gets pregnant for her uncle (incest :>) that's the best part and when the money comes; Oh yes, her uncle would want her to be his 'small wife' She won't even agree to it, but instead request for a huge sum to take care of the baby (Lie) and then, Finally!!! *clears throat* she would use the Money to start business, go to Dubai to buy goods or Open a Beauty shop. Wow!!!!!! don't you want to be a Lagos Big girl?
(Pls drop your Comments)
NaijaVibe HoT DOWNLOAD
👇