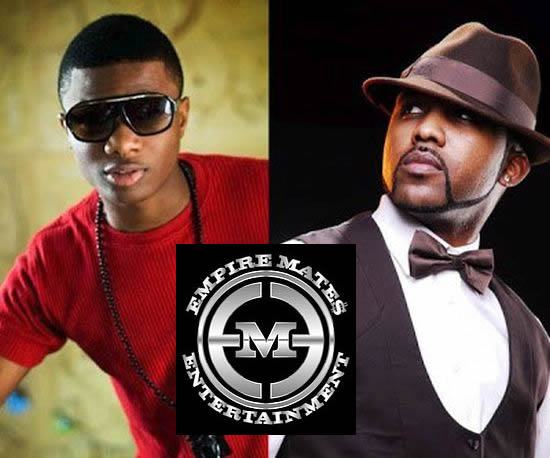 Facts have begun to emerge regarding the real story behind Wizkid and Banky is fallout. The reason is not unconnected with the rising sensational singer being made a cash cow for the EME label. An Insider opened up to Entertainment Rendezvous that Wizzy (his nickname) is at war with Banky W and EME because he wants a contract review which Banky W has refused to grant him.
The source pointed out that since Ayodeji Balogun known as Wizkid signed with EME, he has been getting just 25% from whatever he gets paid to perform at an event with Banky W. Empire Mate Entertainment EME is owned by Banky W and Segun Demuren,and Osagie Wizzy's ex-manager who introduced him to Banky after big record labels like Mo-Hits and Storm records rejected him, also gets 25% each from his hard earned money.
It is true they are having problems and this might just be the end of EME and Wizkid. When Wizzy signed a 2-year contract with EME late in 2009, he saw Banky as his messiah because he was nobody in the music industry. It was a 50-50 sharing formula.

Then Wizkid didn't mind because he was bent on building his musical career. In his contract, Banky W promised to take care of his accommodation, feeding and also his school and based on this fact, Wizkid accepted all the terms of agreement. Later, Wizzy sacked his manager, Osagie replacing her with Godwin because he felt she was getting too much. Wizkid was getting just 25% from every show because Banky W would take 50% while Osagie was taking 25%.

Wizzy sacked Osagie because she was not ready to receive 10% which other management companies were taking from artistes. This development obviously did not go down well with Banky W but because Wizzy was close to the end of his contract with EME, Banky gave in. When Wizkid's contract expired late last year, he wanted a contract review requesting the 50-50 sharing formula to be reviewed to 70-30 but Banky would not accept his proposal.

This issue had been dragging since September 2012 and that could have explained why Wizkid moved out of Banky's Ogudu GRA residence and got a new apartment in Lekki. What got Wizzy miffed was that he was making all the money for EME and was getting less. Also, the money being made was being used to finance the project of other EME stars namely, Niyola, Skales and Shaydee.
Apparently Wizkid's international fame gave him more confidence to stand out on his own. Riding on this platform, he signed a management deal with Disturbing London, an international management company. Right now, his second Album is ready and it is with Banky W. Wizzy is bent on leaving if they don't agree with his terms and float his own label STARBOI Records.
Banky W may not have given their side of the story but insiders noted that Banky has spent a lot to make Wizkid who he is now. He feels Wizkid is not grateful and has forgotten where he was coming from.
Share your thoughts
NaijaVibe HoT DOWNLOAD
👇