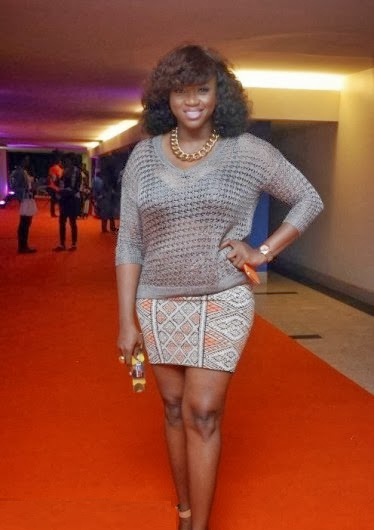 In a recent chat with NET, the 'I Wish' singer talked about her career and her life as a single mother.. enjoy!
Tell us what you have been up to lately?..
Well, it's always about the music. If I'm not performing, I'm recording so I'm basically doing music – that's what I do. Immediately my first album dropped, I started recording songs again. There are a couple of videos I plan to start working on. I'm also working with my NGO, Waje Safe House, on some projects apart from music..
Besides your NGO, we hear you have a record label too. Is that true?
I have always been on my own, doing my thing. Waje Music. It is not really a record label, it is a management company. I thought about it and I realised that it wasn't easy for me while I was an upcoming artiste. It was hard for me because nobody was really there to put me through on what to do. So that's what I will be doing now – guiding young artistes so they won't find it difficult like I did..
Tell us about your debut album W.A.J.E
It's my first album and my baby as well, as a woman, mother and sister to a lot of people. You can listen to 'W.A.J.E' and totally relate irrespective of demographic. You will always find something for you in that album and music in general..
How did music start for you?
I have always been a singer. Since secondary school when I knew I could sing, I was always in touch with my musical side. Professionally, I just started finding myself in one place or the other because there was never a time I sat down and said, 'I am now a musician'. My mentor Chris convinced me that I could do music professionally. I think I was 18 at that time. From there, I got into school where I started gate crashing gigs. It was at one of the shows I gate crashed that I met Psquare. It was just series of meeting people like that that started it all for me in music. It was actually Psquare that shot me into limelight with my feature in their hit song 'Do Me'..
How has your journey in the music industry been since then?
It has been challenging, based on the fact that I am a woman and there are other commitments we have as women – not just the music. The joy in all of this is not the destination, but the journey. It is the things I have learnt. I am a better artiste and person than I was two years ago because I have learnt so many things about myself. I have been able to search deep into my music and person to find out what I want to do. I have also come to understand that I am not just making music for myself, but I am making it for other people as well. Despite how I want my sound to be strictly my choice, there are also people that I would love to satisfy, so you have an obligation to please them and give them what they want. It has been challenging, because it is not everybody that can testify to have come this far like I have in this industry..
Tell us about your background
I am from Edo State, Sabongida Ora, Owan West Local Government Area. My mum is Igbo, from Onitsha. I also have a little bit of Yoruba in my blood, because my grandmother from my father's side is Yoruba so they just mixed me – I am like a salad. I was born in Akure, but after that we moved to Lagos and stayed in Maroko for two years before we moved to Benin. I left Benin City when I was 17 to Enugu and I stayed in Enugu till I graduated from the University of Nigeria, Nsukka, where I studied Social Works. After university, I came to Lagos. Growing up for me was an incredible experience. I had what I would call a very active and lovely childhood; I am the first of five children, followed by three boys..
What kind of a child were you?
I was a tomboy, a female child can't do some of the things I did – I was a big bully. The reason I got to fight always in school because I have always been busty, in school they called me 'Milk industry' and that got me into fights a lot. I remember passing the junior secondary school block and I heard somebody whisper 'Milk Industry', I went into every class as a senior to punish everybody..
Are you still a bully?
(Laughs) I don't think that will ever leave me. I am also a friendly person, which is why despite the fact that I am an artiste I would always say hi to you. It is just who I am but sometimes people don't understand that you are not in the mood. Like what happened one day in Shoprite; I just finished a movie with a friend of mine and as I was walking toward the car, I saw that my car had moved a little from where I parked it. I discovered that somebody had bashed it and I was angry. People around then told me the person had been waiting for the owner to apologise. The guy came out and was like he is sorry and all that, and I said, no problem, the next I heard was please Waje, can I take a picture, I was like okay, I was forcing myself to smile. DJ Caise was there too and said this is hilarious. Sometimes on Twitter I would see some comments and I would want to lash out at people, but that is not how I am. As a kid I was friendly as I am now and also very restless. I was a very active kid, too active to be a girl..
Who were your early musical influences?
As a child, I loved Whitney Houston a lot – she was like my godmother. I am sure she knew she had a daughter somewhere. Every time I get on stage, I would always do her version of 'Yes, Jesus Loves Me'; that was actually how they knew me in church. They knew me because I was the youngest on the stage and because of the things I liked to do with music. The late archbishop Idahosa's sons actually call me the Whitney Houston of Word of Faith, because they know how passionate I was about her song and music in general. Growing up as a 90s girl, I listened to 90s music from artistes like Monica, Brandy, R.Kelly and Mary J Blige. Every single year artistes were coming out with their own sounds. I think it is always best to take a little from everybody because when you sound strictly like one person, people stereotype you, but when you learn from everybody, you end mixing and coming up with your own style..
Describing her worst day ever
It was at a corporate event, and this was three or four years ago. I was to sing the National Anthem and I was scared. I had done it before at a show so they were impressed and they wanted me to come do it again. As I climbed the stage, Nomoreloss said, 'Don't forget the national Anthem oo', and that was it, my head was blank. The next day, the newspapers were filled with the news that Waje forgot the national anthem
You have always said you are single, why is that?..
I don't know why, but I just feel God has a way of doing things. I have so much on my hands now, let that matter rest now, let me not go and marry now before my husband will say he wants pounded yam, cooked by his wife, not by a maid. Then I will leave everything I am doing and I will be pounding yam. But when somebody who understand my kind of person and my job comes along, then it will be easier for me. After all the troubles of the day, the traffic, somebody getting you angry, there should be that one person who can calm you. Everybody would love to have somebody as a companion, so do I..
How is life as a single mother?..
It is beautiful, something a lot of people won't understand when I say it. They think I'm encouraging people to do it. It is beautiful, there are so many things that kid has done for me. I appreciate everything that God has given me..
NaijaVibe HoT DOWNLOAD
👇