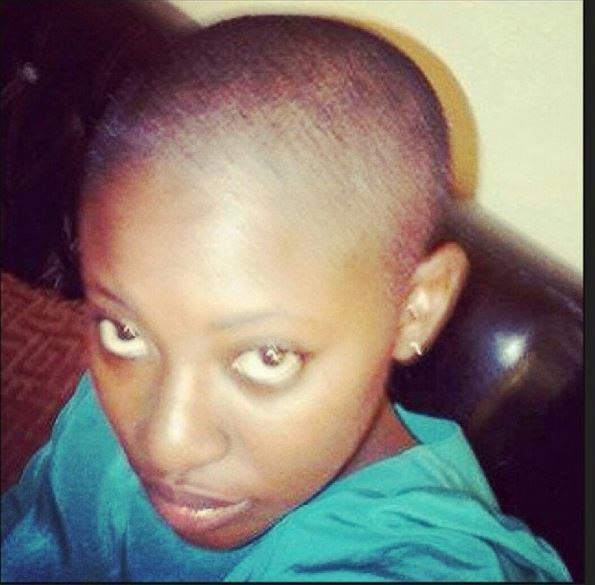 She was the hot girl on low cut in Tuface's 'African Queen' video.
In a new chat with the Vanguard, the busty Nollywood actress, Yvonne Jegede spoke about her relationship with Tuface Idibia, Yvonne Nelson and more.
Read excerpts from the interview below:
Is it true that you dated 2face?
I didn't date 2face. I only featured in his "African Queen" video. I have never kissed him before.
What can you not do without as a very pretty girl?
My eye pack because I love my eyes. I always like to make my lips look good. For the accessories, I can not do without my golden wrist watch. I wear it anywhere I go every day because it gives me good luck. I like big things and that's why I have to get a big wrist watch.
What does love mean to you?
I am a lover of love. I love to love. I love to be emotional. Love is something that I appreciate a lot. Trust me, I am a good lover. I love my fans, my folks, I love the people that matters to me. I love to have people around me.
What is an ideal man to you?
I don't even know what it is any more. But I think people at different ages have different perception in respect of what an ideal man is. He should be more intelligent than myself. I need somebody I can learn from him. He should also be able to take care of himself. That's an ideal man for me. He should not be ugly.
Which part of your body do you think is your selling point?
I think it is my brain. Talking about the physical things that attracts men to me, it depends. Some people say, it's my eyes, others prefer my lips and my b**bs. So, I do not know. When I love into the mirror, I love everything about myself.
How was your growing up like?
While growing up, I wanted to be a beauty queen. I just like getting attention. I was the first child. For the first five years of my life, I have the whole attention in the world. I am so used to people coming around me. As a child, I got everything I needed.
Tell us about your evolution into Nollywood?
As a child, I never dreamed of going into acting. I loved modeling, and how paparazzis run after models. I never had acting in mind until I met Charles Novia. When I saw him somewhere in Surulere, I was like; is this Charles Novia! And he turned around and looked at me and said, do I know you? I replied him, saying I saw you on the television yesterday. He quickly asked me if I wanted to become an actress? I replied in the affirmative. He later gave me his call card and invited me for an audition the following day. That was it. While I was still working on the set with Charles Novia, Uzodimma saw me and insisted that he would feature me in his music video. The next day, I featured in the African queen video. That was how I started my acting career.
Who are the actresses you look up to?
I love Genevieve Nnaji. I am also a fan of Omoni Oboli, and many others. Recently you featured in the music video of Sound Sultan.
Do you have passion for dancing?
Sound Sultan is a big brother. He called me and said, I am shooting my music video. Can you come around and give me your support. When I got there, I ended up featuring in the video. This is the third time, I would be featuring in a music video. I featured in African Queen video, Ego and now, Sound Sutan's video. Does that mean you are a dancer? I am not a dancer. I am not a video vixien. I can go and sit down and have a class cup and champagne. That is different from dancing. I am not a dancer.
What will you say fame has robbed you of?
The good and the bad. Good, in the sense that I can walk into anywhere and get favour, especially in the banking hall. Sometimes, I would be standing in the queue and somebody would walk up to me and asked me how much do you want? And the person would help me to make it faster. But the ugly thing is that, you will not live your life the way you would want to.
You attacked Ghanaian actress, Yvonne Nelson on your twitter handle last year. What triggered off the attack?
I am not going to comment on it. Everybody took side with Yvonne Nelson, including my friends. So, I am not going to say anything about it. The whole world was against me. I read the negative reactions of Nigerians online. I was not expecting anything less. Even my own friends who never had any encounter with Yvonne Nelson took side with her.
You have a penchant for revealing some part of your body, may be your b**bs. What happened today?
Well, it depends on the clothes. I have big b**bs, so, if the clothes are not big enough to cover my b**bs you would not blame me for that. I am not the person who made my clothes. I just put the clothes on. You have passion for revealing some part of your body? It depends on my mood. If I want to expose my back, I will do that. It goes with my mood.
NaijaVibe HoT DOWNLOAD
👇