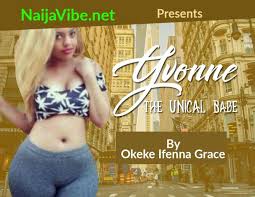 'Soo, my dad and mom just "retened" from Greece, you know, my dad has been soo engrossed "wif" mount Olympus for awhile now, it's just too bad I'm in this goddamned school.'
Yvonne babbled on and on, gesticulating excessively with her fiery looking long red nails, her eyes blinked spontaneously at several intervals, at a point I was scared for her eyes, I mean they looked like they would fall off soon, the artificial eye lashes were just too thick and long, It could have been my imagination but I know I felt as light breeze emanating from those lashes. I envied her greatly, I mean, everyone in school knew Yvonne, she was practically the richest girl on campus, everyone knew her family, even her family house in Ibadan, I heard each bathroom has a Jacuzzi.
Yvonne had traveled to several countries, and she did love the thrill of it, no wonder her parents' recent travel devastated her, she didn't go with them and it pained her greatly.
I watched her as she continued with her babbling
'. . Even when they retened from Greece they didn't even care to cal or..', 'Hian, "retened" kwanu, I heard it at first, I just thought she made a mistake. Is that the normal English that I know? and which one is "wif" again, I just hope, I seriously hope and I pray that it's not with she is trying to pronounce like that'. I was speaking to Olawunmi. Olawunmi had been my closest friend during our secondary school days, she gained admission into the university two years before I did, I just gained admission and so it was normal for her friends to be my friends. She introduced me to all her friends, Yvonne included.
Olawunmi eyed me with so much contempt, I feared I might have committed a huge blunder.
'you well so?
This is Yvonne we are talking about here o' she spoke in a very harsh whisper, the place was very quiet, but I still had to strain my ears just to hear every word she said
'anything and everything Yvonne does is right. Yvonne is always right, repeat after me!'
She snapped, I could literally feel my heart coming out from my mouth, me sef mumu-ishly repeated like a tamed, defeated puppy
'Yvonne is always right', I said, more to myself
she didn't care if she heard it or not, all she cared about was that my mouth moved and move, it did.
'hey boo boo darling what's your name?', Yvonne motioned towards me
I got confused, Yvonne, the great Yvonne was actualy asking me what my name was, at that instant it didn't matter that I had told her my name nothing less than fifteen times within the last few hours, it only showed that she was interested in me. I pulled my jacket, I wanted to show off my new vintage top, maybe she would pick more interest in me.
'I'm hot.', I said to no one in particular.
Yvonne kept staring at me, waiting for me to answer her question.
'Ehn? what did you say?'I asked, eyes widely opened, just to be sure the question was actually meant for me.
'Your name BOO BOO, your name' when she pronounced "boo boo" all I could see were big lips, painted a horrific black, pointing towards me, I shifted back abruptly, the lips scared me, everything about Yvonne "the great" scared me.
'Precious.. Precious, that's my name'. I don't know why I sounded so unsure of my own name again. I must confess Yvonne had this intimidating aura around her. She disregarded me as though I had not even said a word. Anyways, my life long plan of joining the biggest girls on campus was about to come to fruition.
Yvonne told us that her uncle was coming down from Abuja just to see us. He was on his way already, she had said. We were seated at the VIP section of Royal Suites Hotel, the pool was just behind us.
This was the biggest and most grand hotel in Calabar.
Me, Precious Emordi, VIP. In my old life, those three words could never have been used in a single sentence, now here I am, drinking a strange tasting drink of which I had no clue what the name was, but Yvonne and Wunmi were drinking it and they seemed to enjoy it. I wasn't enjoying it, but I just had to force myself to.
If and when I eventually meet Yvonne's uncle, Ogbuefi Chukwuneke, my life would begin to change for the better. Who knows he might just fling money in the air, ah the way I would dive and collect the money Ehn, even if say na only 2k. I flashed a megawatt smile, I was beaming gloriously when my thoughts were cut short by Wunmi's harsh voice. Wunmi always sound harsh, even when she joked, everything about her just screamed "HARSH".
'Why is this one smiling?', she asked maliciously, I shifted uncontrollably in my chair.
'nothing', I managed to reply. She kept on staring at me suspiciously.
Yvonne's voice broke the tension between us
'what's keeping uncle c-neke?', apparently that was his name for short, c-neke.
She glanced rapidly at her gold plated wristwatch and was about to continue with her whining, when suddenly I heard series of gunshots. The thing went skrahh, pap, pap, ka-ka-ka Skidiki-pap-pap, andapu-pu-pudr-boom Skya,du-du-ku-ku-dun-dun Poom, poom."
It all happened so fast, Wunmi jumped right into the pool, Yvonne THE GREAT, laid flat on the floor, trembling and crying for her mother. Yepa! I don die today, if Yvonne could cry, who was I to form badoo.
I quickly took my jacket and covered my chest completely, probably it would miraculously serve as a bullet proof vest. That was when it dawned on me that man's not hot..
Then, I heard their footsteps, slow at first, then rapid, heavy and thunderous, they were running towards the VIP section which didn't seem so "VIP-ish" anymore.
Their thick black boots, which were distant, gradually came into clearer sight. Now they were closer. I looked up slowly and I saw three of them, all dressed in black overalls, heavily built, bloodshot eyes, gun in hands, they grinned wickedly as they flexed their arm muscles. My eyes locked with one of them and in those eyes, all I saw was DEATH.
by
Okeke Ifenna Grace
NaijaVibe HoT DOWNLOAD
👇