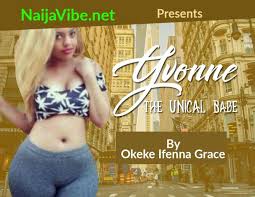 Apparently Olawunmi had over exaggerated Yvonne's no nonsense attitude where her uncles were concerned. The ride back home was fun, filled with hearty chatters. We had left uncle C-neke at the hotel, and were on our way back home.
Yes, I would call it a home because it was truly a home, a well furnished and beautifully designed four ensuite bedroom flat, which had two sitting rooms and a standard kitchen. Nothing was lacking in that house; oven, washing machine, flat screen television, there was even a Jacuzzi, in Yvonne's bathroom alone. I didn't mind. My bath tub served beyond a Jacuzzi to me, yes, I was that local.
We hadn't even left the hotel half way and my whatsapp was already filled with uncle C-neke's texts; "herro dear", "are you dear?"
"hiii Buriful misn u soonest", what did he mean by missing me soonest. Clearly his manner of speech affected his writing. We got home, I cooked, we ate dinner, plantain with fried eggs, we all went to our various rooms. Yvonne did not say a word about uncle C-neke. It could mean then, that Olawunmi was just unnecessarily paranoid.
The next morning, everything went as normal, Yvonne still had not said a word about her dear uncle. In fact I was surprised to a fault. I went out to the sitting room. I was welcomed by two loud shouts of "Happy Birthday". I had forgotten it was my birthday but they hadn't. Olawunmi cut a big piece of cake and forced it into my mouth
'smile joor', she said,
'or u think it was easy keeping this from you?. We ordered for the cake since two days ago, I could not bear looking at you while I lied to your face, you get', no I didn't get. I didn't get what she meant by "lie", as far as I was concerned, surprises and secrets were not synonymous to lies. I received a phone call; unknown caller ID, 'hello', the deep voice bellowed, I couldn't help but sharply pull the phone away from my ears
'it's Oseloka, I saw the notification on facebook, today is your birthday Shebi? Hahahahaha', he laughed, he always laughed unnecessarily in such an uneasy manner, as if he heard voices from the spirits. One day, during my second post utme period, I did write post utme twice, he invited me over, we were having a nice and easy going conversation until he placed his fore finger on his lips, and using his second hand, covered my mouth sharply with his large palms
'shhhhhhh, can't you hear them?, the spirits are passing', I was utterly dumb struck at the same time confused, then he began to laugh, his uneasy laughter
'I was joking jare.. You should have seen your face. It's funny right?', it wasn't funny, but I didn't tell him, I simply nodded and smiled. That day, I vowed never to visit again, but I still visited, anyway. He was strange, soo strange that he had five of exactly designed polos, blue, collared, "Lacoste" inscription on the left breast; and he loved to wear them everyday of the week.
'No, I…. I….., yes I have an arrangement this evening, with the girls', I replied after he had asked to take me out for my birthday
'it's not a date oo, Hahahahaha', he had said repeatedly while asking. I don't know why he laughed, because it was not funny.
'I'll call you later, bye', I hung up on him.
Yvonne and Wunmi exchanged knowing glances and burst out laughing at the same time, almost like they planned it.
'eet was that guy right? The one with the blue polo right?', Yvonne asked and burst out laughing again, this time around Wunmi joined few seconds later.
'I still don't know what that boy wants with you, you better dismiss him as fast as possible or stand the risk of being pushed out of this house', Yvonne said,
'dress up, we are going birthday shopping', she concluded and swiftly walked away.
Olawunmi gave me the "I told you so" look and followed suit.
Oseloka had been on my matter since my post utme days. He was quite a nice dude, always shy around me, and could hardly look me in the eyes while talking to me, his hands scratching his head and his head bent down. Apart from his unnecessary laughters and his hideous taste in fashion, he was…. manageable, I couldn't say, but one thing I knew, Oseloka had a nice heart.
Before my admission, he had warned me against associating with Yvonne and Olawunmi while at the same time chyking me, but I could not live a goalless life na, I could not date him and watch Olawunmi progress swiftly, ah, no o, not at all. I had joined the winning team, and it was clear that I was winning already, with uncle C-neke my potential maga, nothing could go wrong for me financially. Besides I was going birthday shopping. I never even knew such a thing existed. I was winning already. YAS!
We returned home quite late, both from the shopping and the party. Yvonne hosted a small get together for me at one of the best hotels. I did not know most of the invitees, but each came with very expensive gifts for me. Most of them said, 'any friend of Yvonne is our friend', then they smiled, hugged me tightly and winked at me. Some pecked me, on my cheek and even on my lips, some, on my neck, but they all winked after handing me the gifts.
We came back excited, high and tired. We left all the gifts in the car, our eyes were not "clear" enough to carry them in and place them down carefully. We all went into our various rooms.
The air tonight seemed misty, I had just left the bathroom, towel wrapped around my body, I sat in front of my mirror, and applied my face cream. I don't know why I wasn't as excited as I ought to have been. The shopping, the gifts, the party, they were all supposed to lift my spirits, but somehow, deep within me, I felt so empty. I began to imagine what it would have been like if I had accepted Oseloka's invitation. I looked in the mirror, 'Precious', I said, exhaling deeply, 'why did you keep visiting him even though you vowed never to?', he was strange, granted, but a part of me had become fond of him during those visits to his place before I joined the winning team. Hearing his voice today brought those memories back. It was 2:34am. I quickly put on my night wear, and crawled into bed. I prayed before I slept, I could barely recall the last time I prayed, but I prayed that night.
It seemed real. Everything. The sitting room, the cake, the sitting room was one I had not seen before, but the cake was the exact cake given to me by Yvonne and Olawunmi. Peach and chocolate coloured, "HBD PRECIOUS" was designed on it. I admired the cake greatly and was about to have a taste of the icing with my fore finger when the cake began to turn into worms. Suddenly, a wrinkled hand with very dirty and brown long nails gripped my hand, it gripped my hand so tight I began to bleed. I looked up, she was old, her face wrinkled and part of it was rotten, her head bald, her hair falling off, some lay on her shoulders, broken hair, her eyes had no white, all black, and she had no teeth
"GET OSELOKA OUT OF YOUR HEAD!!!'.
Her voice hoarse. It echoed till I woke up abruptly, my heart beating fast, my palms sweaty. My eyes moved to my wrist, the one gripped by the old woman, I was shocked, there were scars, and it bled lightly. I checked the clock, 3:00 am. I was under attack.
Read Yvonne the Unical Babe Episode 2