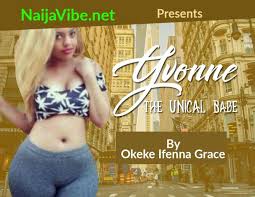 'Ah! Precious, your parents said you were a student at UNICAL. I just did not know that this was the kind of student they meant.. So you now school in a hotel and at night for that matter eh?', Uncle Alfred asked mockingly.
Of course he would mock my parents and I.
Ever since I gained admission, no one in our compound had heard of nothing else. My mother would go around telling everyone that I was a First Class material already. I wasn't even done with first semester year one yet. She would call me on the phone and giggling like a young school girl, she would say, 'I told them that you are a First Class o. Uncle Alfred's wife is jealous o. Hmmm. You know the twins are older than you and dem never even enter school. Dem just dey shake their nyash for street anyhow. Mtchwwww. Abegi make e pepper them jare', and she would end with a very hysterical laughter as though she had won a lottery ticket for millions of dollars.
I stood still, frozen to my bones.
'this.. this is a wrong room' I said, stuttering. I fluttered with the door handle as I tried to get away quickly from the tensed room. There was full blown Air Conditioning, but I sweated profusely still. Uncle Alfred left the bed and walked straight to me. He eyed me from head to feet. How could I escape this now. I was clearly dressed in a very seductive manner. Just then it clicked, I feigned the brightest smile the world had ever known
'uncle Alfred, Ha! You sef what are you doing here? Hope your wife and children know you are here?' I teased him and continued, 'anyway, I'll be off now, this clearly is the wrong room. I was on my way to my friend's bridal shower. I'll tell your wife and the twins that I saw you. Ciao'. Phew!!
I let out a huge sigh of relief, this escape was quite too easy. Uncle Alfred did not know what to believe, he stood, looking confusedly at me. I opened the door about to leave and was welcomed by exquisitely white set of teeth and big lips painted purple, Yvonne stood smiling broadly, 'it seem you are stalking my thoughts', she said pointing suspiciously at me in a teasing manner. Her long sharp nail extensions glittered in the light.
She continued 'I just recalled, that, you, did, not, take, your .. Drum roll please…. ', then, she made a horrible replica of what she believed was a drum roll, as if the unnecessary commas in her sentence weren't enough, 'your candams Mon Ami, your candams, how could you forget them. I mean Uncle Alfred here looks like a sharp shooter', she licked her lips while looking enticingly at him.
It was obvious she was trying to say condoms. I was already used to Yvonne's "phonetic" manner of speech. She hastily put the condoms in my hands, and ran off.
Then, she paused, 'and oh.. don't forget to have fun tonight', she winked and blew a kiss at me. She left finally. I looked away from where Yvonne stood not few seconds ago and raised my head to a widely grinning Uncle Alfred.
'Hmmmm' he shook his head, 'did you say bridal shower? Well welcome to the bridal shower'. He dragged me into the room, and locked the door behind us.
Our legs were entwined in bed. I and Oseloka's.
We were partly dressed. I still did not understand how this came to be; Oseloka and I.
The frequent visits to his place had gradually evolved into something.. something beautiful. He sat up, 'So you have fully quit that your runs. I'm so glad and happy', he cupped my face with his hands and looked deeply in my eyes. I felt my heart melt.
I had never felt my heart this way. 'I love you' he said, and laughed one of those his unnecessary laughters, I had become accustomed to it already, and ironically, the laughters had begun to make me smile. Sometimes I would say, 'laugh na, if you don't laugh I would cry o' after he ended a sentence without laughing unnecessarily.
See Also:
Yvonne the Unical Babe [Episode 2]
I had become more frequent in school, and a little bit more serious. He got up from the bed, into the bathroom. Everything seemed to be going fine.
I and Yvonne were still in talking terms.
That uncle Alfred's incident was the last straw. It was a pure evidence from the cosmos that this runs thing was not meant for me. I scrolled through my phone, a message notification came in. It read; don't forget tonight, our usual place. Usual room too. Dress more sexy than you did the last time. I would prefer red underwear. G-string with push up bra to be specific. So that I can view your voluptuous boobs clearly. I can't wait to squeeze them", it was from uncle Alfred. I felt so bad now, lying to Oseloka, without exiting from the message, I tossed my phone angrily away.
It was our agreement, that I would be at his beck and call each time he needed me, failure to do that, he would tell. I was sure everyone would believe him. Holy uncle Alfred, chairman disciplinary committee church of praise international Lagos. While I, Emordi Precious, stubborn, wayward daughter, who don tear eye tey tey since primary school. I had no other option but to agree. This newly gained admission was the only reason my parents were happy with me. Besides he had pictures of me taken when I was not aware, nude pictures, so he said. 'you know, I could simply send it to some guy, pay him off, and tell him to spread it round social media.. There are lots of hungry young boys who could do it for a token of Fifty thousand Naira only, you know that don't you?', he said it as though he was sharing a bright idea with me on how I would progress in life, as though I would be genuinely interested in knowing how someone was planning to destroy my reputation.
The worst part of all this was that he wasn't paying me a dime. So I was his call girl, without a kobo payment. Oseloka got out of the bathroom, looking all fresh and clean, just then I recalled I had tossed my phone away without exiting from Uncle Alfred's message. I quickly dived to get the phone, but Oseloka was more swift.
'You this girl what are you hiding?' he asked jokingly and laughed as usual.
He unlocked the phone, and stared at the screen in disbelief, then he stared at me.
Shock clouded his eyes. My heart thumped loudly. I had barely begun to enjoy love, and now this..
What had I gotten myself into?
Read Yvonne the Unical Babe Episode 6
NaijaVibe HoT DOWNLOAD
👇