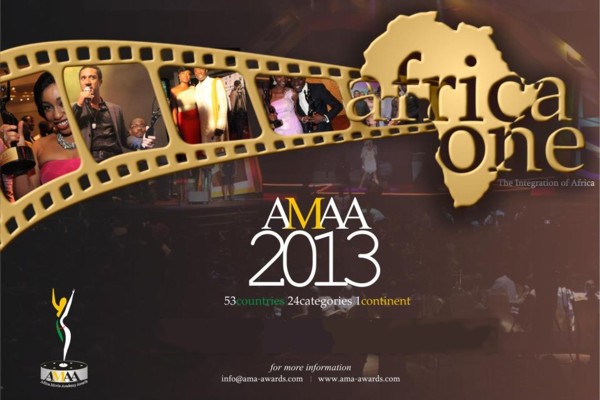 Charles, you know you have to write a review about this year's AMAA or you will be seen as biased, not after you have reviewed the AMVCA' a prominent Film Maker said to me as we arrived Yenogoa by road.
I had already made up my mind weeks before to do such, even if I was in a somewhat precarious position; my movie 'Alan Poza' was nominated in two categories . If we didn't win anything (and eventually we didn't) some might misconstrue my review as 'sour grapes' rather than the honest and unbiased opinion I have chosen to write.
'Frankly, my dear, I don't give a damn', says Clark Gable in the movie 'Gone with the Wind' and I align with his phrase.
With all sense of propriety, I will not in anyway compare the two awards. That is left for the viewers and readers to do but I will only make appropriate objective commentaries as witnessed by me.
The show started with a group of dancers who gave a good account of themselves in their choreography of the AMAA theme song. The dancers captured the essence of Africa in their dance and the theme song itself had a pulsating multi-African feel to the mix. This was followed by a brief reel of late Nollywood actors who passed on in the last year.
The compere of the night AY, the stand up comedian, made an entrance in a Power Bike and cracked our ribs with a few hilarious jokes. It was a good thing that AY was on board for the show as an otherwise lukewarm event would have turned out to be tepid if not for his rib-crackers.
There were a lot of the 'Notice Me' people, especially the ladies in their evening gowns, strutting all over the hall, much to the amusement or annoyance of many people. I don't know if they were looking for seats or if they were all over the place, ensuring that we all got a glimpse of their evening outfits. Of course, some of the outfits were eye-popping or head-shaking, depending on one's point of view. I remember AY threw a barb at one of the actresses from the 'Asaba Nollywood ' slant, when he called her 'Lady Gaga' because of the huge, screaming mop of coloured wig she had on. The actress in question, either good-naturedly or daftly, waved at the recognition.
'Who's that Lady in the glittering pink gown?' asked one of the foreign visitors who sat behind me. 'She should sit down a bit! Blimey!' He was pointing to Ibinabo Fiberisima, the Actors Guild President, who seemed to be all over the place. She wasn't the only one. Others with a sense of self-importance equally struggled for strutting space.
The Executive Governor of Bayelsa State gave the opening speech. I thought the Federal Government in the 'Rebranding Nigeria' campaign had jettisoned all the protocol recognition intros by Government officials? His Excellency spent about ten minutes 'recognizing' those present in the hall, that it was a wonder he didn't acknowledge the presence of the hall cleaners!. And his accompanying speech was so long that it was more of a drone after a while. In the speech which took the better part of thirty minutes, he made some good points about encouraging the film industry and also building a Film City Centre in Bayelsa to boost the Tourism Potentials of the state. Governor Dickson has an authoritative booming voice and boring aspects of his speech were made up with his style of speaking, which some people found fascinating.
If the Governor's speech seemed drone-like, then the next speech by the South African High Commissioner takes the biscuit for 'boring'. Whoops! There goes my SA visa, I am sure! The diplomat just kept talking and talking, sometimes in inaudible or inarticulate tones, that a lot of us in the hall mercifully found solace in our smart phones for company. He spoke for about twenty minutes and just as we all were heaving a sigh of relief, yet another Speaker climbed the podium! Chai! We wan die!
It was the Culture and Tourism Minister, High Chief Edem Duke, who is a very powerful speaker. This night was no exception but he must have been bitten by the 'long speech' bug and spoke ex tempore for close to twenty minutes as well.
Could someone please tell the AMAA Producers that next time, speeches by government officials should not be more than five minutes per person and not more than two, if it comes to that?
Peace Anyiam Osigwe gave her own speech in subdued tones and the reason for that became clear when she asked us all to observe a minute silence for the late entertainment lawyer, our dear good friend and brother, Efere Ozako who passed on a couple of days before AMAA. That brought tears to the eyes of many in the hall who knew and loved Efere.
The co-compere, Ama K Abebrese came up on the stage to join AY. Her voice was hoarse and grating on the microphone and she apologized for losing her voice to the audience. It was difficult to judge her outing as a compere because of her lost voice but one would give her kudos for the bravery of carrying on, despite this setback.
The performance by a South African flute-blowing group, though interesting, was marred by annoying technical issues which was intermittent the whole night for many performing acts. One of the flute artistes got the hall reeling in laughter when he said he learned a new dance called 'Azuntu', a mis-pronunciation of 'Azonto'. !
The special guest of AMAA this year was acclaimed Hollywood Black director and actor, Mario Van Peebles. I am one of those who grew up inspired by Mario's movies and he came on stage dressed in a white Kaftan ,all hyper and warm. He gave a great, motivating speech which stirred a lot of hearts. AY took a jibe at him for wearing odd green sneakers with his Kaftan!.
There were performances by Waje, who has improved tremendously in her stagecraft and Timi Dakolo who was the star of the night. My God! There isn't a voice in Nigeria like Timi's and there isn't an inspiring singer and performer in his class like him! Timi had the crowd clapping on and on and got both visitors to Nigeria and citizens all up, all our hearts swollen with pride, as he rendered a special song of his for Nigeria. Timi Dakolo is good! An ace singer.
Funny Bone, the comedian was quite hilarious. He was followed by the 'son-of-the-soil' comedian, G-Bones, who also maintained the comic tempo.
Dakore Akande came up on stage as the third compere of the night. She was elegant in her looks and tried to make the most of the glitches in the programme with her Ghanaian male co-compere. And there were glitches! Microphones going off, sound systems and teleprompters messing up, and other avoidable impediments.
One commendable innovation AMAA brought this year, was the introduction of many of the new, promising actors of the so-called 'new Nollywood' school, as award Presenters. To me, that was quite symbolic. A perfect suggestion that as Nollywood loses its old guard, a fresh and vibrant pool of new talents are in the wings, carrying on with the dream. It was heart lifting to see the likes of Beverly Naya, Belinda Effah, Omoye Uzamere, Kemi Lala Akindoju, Wole Ojo, Ivie Okujaye, Uti Nwachukwu, OC Ukeje an many others up on the podium.
The last performance for the night was by Flavour who got the crowd dancing with his hit songs. Curiously though, he strode off stage abruptly as his song was coming to an end as if to say 'I don do wetin una pay me for. I don go'. That was the cue many in the hall needed to also take their leave and the last two categories had a half-empty hall as many tired guests had left.
The show ended at a few minutes past four in the morning! A seven hour event, which with proper planning, could have been wrapped up within three hours! There's still a lot to be done in that regard by the AMAA producers. There were needless pauses and long waits in between presentations and a few people were nodding off to sleep in the hall when the show dragged on and on.
There's a feeling of déjà vu one gets each time one attends the Africa Movie Academy Awards in Bayelsa State. The State has no airport and so, the guests are transported by road from the Port-Harcourt airport to Yenogoa in a two hour journey. I would advise AMAA to contract a central logistics company or directorate to handle the grueling logistics for future events, instead of the weary-eyed officials we see yearly who run helter-skelter to sort out logistics issues, to their credit.. It is about time to outsource that department and that's all I would say about that, with all brotherly love to Peace Anyiam-Osigwe, my good friend and sister, whose vision for AMAA has been sustained for almost a decade.
It is heart-warming to note that Bayelsa State has built more hotels since the first edition of AMAA held in Bayelsa nine years ago, with most of the hotels built as a tourism boost to AMAA. The brand image of Bayelsa State is majorly intertwined with the AMAA brand but there seems to be a major disconnect between the organizational organs of both parties. There is a lot of work to be done in that regard but I must commend Bayelsa State for being a faithful host of the event these past years, even though there's much to be desired. Building an airport in Yenagoa, for starters, is long overdue. Mercifully, The Governor promised that it would be done by next year, in his speech.
If AMAA aspires to be a world class award ceremony tailored after the Oscars, as most of its screening and jury processes are, then it should ensure that the stage management, logistics and event production for AMAA must be at per with its aspirations. Next year, AMAA will celebrate ten years. A ten-year old organization such as AMAA cannot be taken lightly anymore. It is an institution and can only get better if many of its activities are properly outsourced to the right people or companies. The movie industry in Nigeria and parts of Africa have supported AMAA wholly these past few years and will continue to support it but its about time AMAA takes a long look at itself and surpass our expectations. AMAA is no longer a solitary, annual event for the African Film Industry. It has competition; and one which went all out to make a point in their first outing too! Very soon, we all would either be looking forward to 'AMAA-zing' awards or one with a touch of 'magic' which could polarize our loyalties if we all don't get it right.
We would love to know your thoughts on this post. Drop your comments
NaijaVibe HoT DOWNLOAD
👇