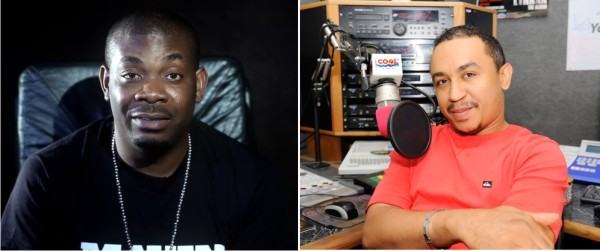 Ace Producer DonJazzy recently accused Top Radio Personality 'Freeze' of being against him and disrespectful to his person via the social site 'twitter'.
Donjazzy tweeted 'Uncle @Freeze_Coolfm if to say na you be God ehn, there will be no Nigeria. Respect is reciprocal o. If u hate me that much #CallPolice abeg'.
A few hours later that night, the light skinned OAP 'Freeze' expressed his disappointment in Don Jazzy for dissing him publicly.
He replied
'Uncle Jazzy, I can't believe u would stoop so low as to diss me on Social media'.
I guess you are wondering where this all started from? well in case you don't know READ ON
A few weeks ago, COOL FM hosted D'banj on Freeze's his 'Road Show' which usually kicks off around 4pm daily and ends around 9pm during weekdays. During the interview, Freeze frequently took some quick shots at at DonJazzy and joked about D'banj not giving out free airtime on Twitter and how Donjazzy got famous by doing so, Dbanj Responded 'By saying he would rather give money to charity. Freeze didn't stop there he also teased Dbanj about buying a Bentley for Donjazzy.
From Don Jazzy's statement we could gather that Donjazzy felt Freeze was just taking sides with Dbanj. Well Freeze doesn't seem to care what Donjazzy think! does he?
what do you think?
Do you think Freeze is amongst #TeamDbanj???
I even heard someone say he is on Dbanj's payroll??
lol! well what do you think?
comments
Diva
NaijaVibe HoT DOWNLOAD
👇