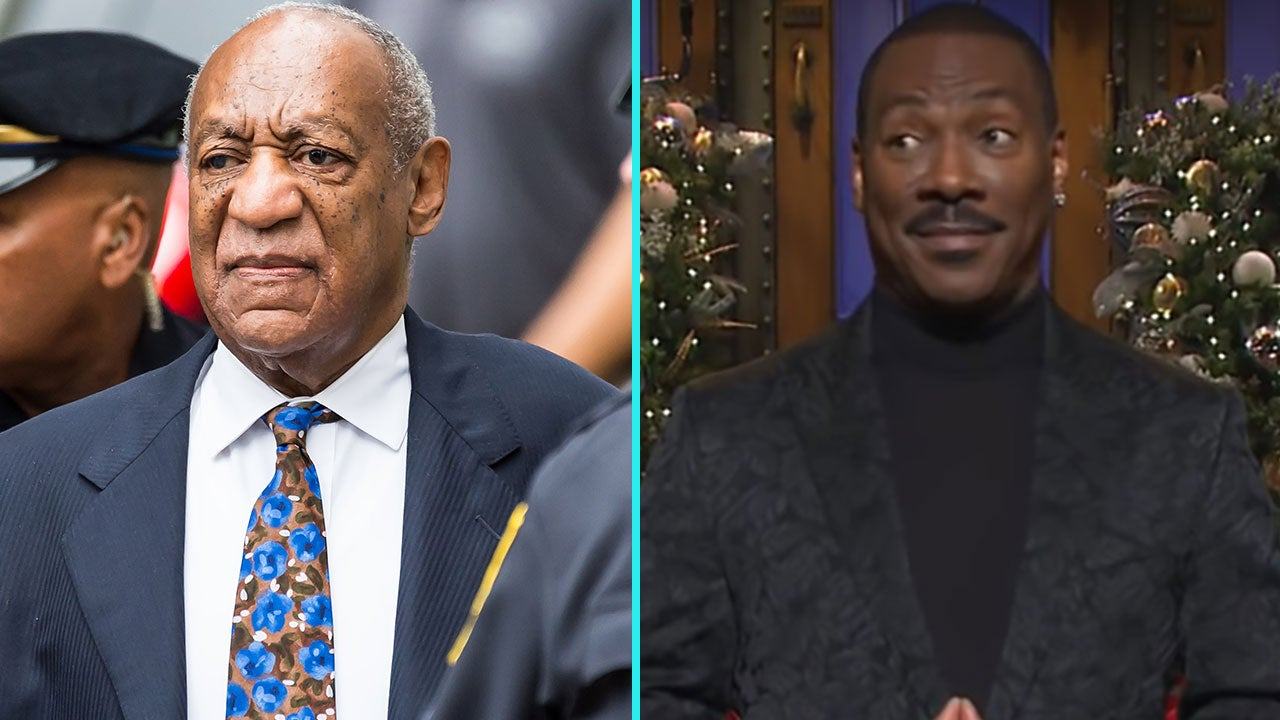 Bill Cosby has blasted Eddie Murphy for the comments he made during his return to Saturday Night Live.
Bill's publicist, Andrew Wyatt in a statement released recently said it is disheartening that Eddie would make disparaging remarks against Mr. Cosby.
He added that Eddie only sold himself as a Hollywood slave with his comments.
It read, "Bill Cosby's Publicist, Andrew Wyatt, responds to Eddie Murphy's SNL Monologue: "Mr. Cosby became the first Black to win an Emmy for his role in I Spy and Mr. Cosby broke color barriers in the Entertainment Industry, so that Blacks like Eddie Murphy, Dave Chappell, Kevin Hart, and et al., could have an opportunity to showcase their talents for many generations to come. It is sad that Mr. Murphy would take this glorious moment of returning to SNL and make disparaging remarks against Mr. Cosby.
"One would think that Mr. Murphy was given his freedom to leave the plantation so that he could make his own decisions, but he decided to sell himself back to being a Hollywood Slave. Stepin Fetchit plus cooning equals the destruction of Black Men in Hollywood. Remember, Mr. Murphy, that Bill Cosby became legendary because he used comedy to humanize all races, religions, and genders; but your attacking Mr. Cosby helps you embark on just becoming clickbait."
What do you think?
William Henry Cosby Jr, born July 12, 1937) is an American stand-up comedian, actor, musician, author, and convicted sex offender. He held an active career for over six decades before being convicted and imprisoned for sex offenses in 2018.
Cosby began his career as a stand-up comic at the hungry i in San Francisco during the 1960s. He then landed a starring role in the television show I Spy, followed by his own sitcom The Bill Cosby Show, which ran for two seasons from 1969 to 1971. In 1972, using the Fat Albert character developed during his stand-up routines, Cosby created, produced, and hosted the animated comedy television series Fat Albert and the Cosby Kids which ran until 1985, centering on a group of young friends growing up in an urban area. Throughout the 1970s, Cosby starred in about half a dozen films, and occasionally returned to film later in his career. In 1976, he earned his Doctor of Education from the University of Massachusetts Amherst. His dissertation discussed the use of Fat Albert and the Cosby Kids as a teaching tool in elementary schools.
Beginning in the 1980s, Cosby produced and starred in the television sitcom The Cosby Show, which aired from 1984 to 1992 and was rated as the number one show in America for 1985 through 1989. The sitcom highlighted the experiences and growth of an affluent African-American family. Cosby produced the spin-off sitcom A Different World, which aired from 1987 to 1993. He also starred in The Cosby Mysteries from 1994 to 1995 and in the sitcom Cosby from 1996 to 2000, and hosted Kids Say the Darndest Things from 1998 to 2000.
Cosby was born on July 12, 1937, in Philadelphia, Pennsylvania. He is one of four sons of Anna Pearl (née Hite), a maid, and William Henry Cosby Sr., who served as a mess steward in the U.S. Navy.
NaijaVibe HoT DOWNLOAD
👇