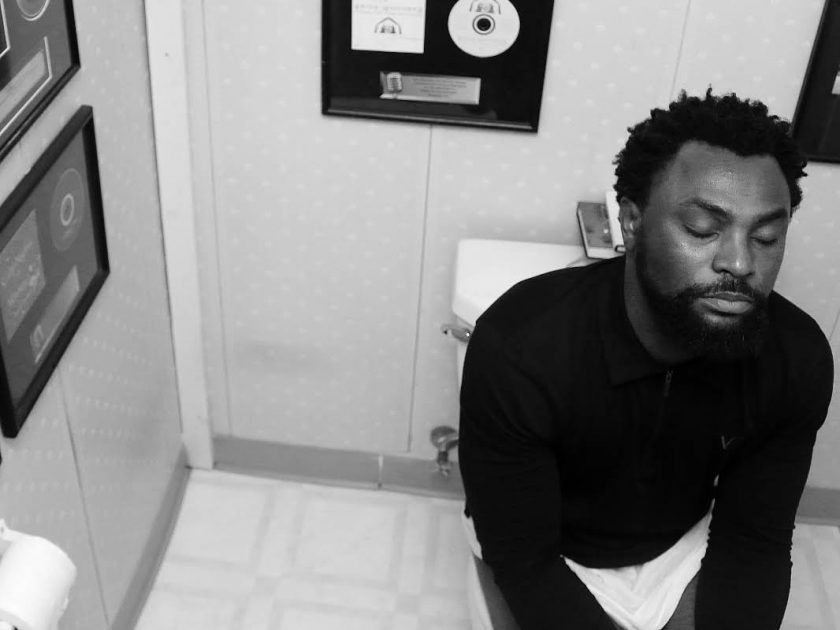 Etcetera in this new article explained how he lived in Kirikiri town with few celebrity friends with whom they all engaged in one 'crime' or the other.
Read His Article Below:
Sometime during the week, I paid a visit to Kirikiri Town after a very long time. I grew up there as a little boy and it was there I had the fondest memories of my life. As soon as I got into town, word went round and friends started calling to find out where I was. I hooked up with my childhood best friend, Patrick, and we decided to take advantage of the beautiful weather by going for a walk through the town to recall some of our funniest memories from childhood.
The first thing we laughed about was how Bright Okpocha, the comedian known as Basketmouth, took us along to steal his father's fowl. We were four very close friends who practically did everything together. I lived in the prison barracks and I was always telling them mouth-watering stories of how those of us who lived there regularly made chicken pepper soup and plantain porridge with fowls in the barracks. I never knew Basketmouth was licking his lips to my stories all along until he called us one very beautiful morning to steal his father's fowl. We got to his family house the next morning and executed the fowl like trained assassins. Basketmouth and myself were assigned to cook the jollof rice while Patrick and Godwin (Basketmouth's immediate older brother) kept watch in case their mum got back from the market earlier than anticipated. After cooking, Basketmouth, thinking because he had the biggest eye balls among us demanded to be given the best part of the chicken.
We wasted no time in reminding him of his age compared with everyone else's. We ate everything and thought that we had rid the house of any evidence that could have incriminated us. We didn't realise that Basketmouth forgot to throw away the feathers of the fowl. Later in the day when we were gathered at another friend's place recounting our exploits for the day, Basketmouth's little brother walked up from nowhere and said their father was calling all of us. See gobe! We knew instantly that we had been caught and it was due to Basketmouth's negligence.
The first thing the old man said when he saw us was "O Bright, you have eaten my heart". We fought back laughter, fearing a double dose of whatever punishment we had coming. Oh! We teased Basketmouth and his brother Godwin with that line afterwards. We escaped without punishment. Thank God for his beautiful mum who pleaded on our behalf because she loved us all like her own. Patrick and I strolled further down town to the secondary school we attended and had a good laugh imitating Daddy Showkey, who was our senior in school and was always walking around the school premises, wearing bathroom slippers. His uniform was never tucked in but he was always punishing us for 'flying' our uniforms. The junior students dreaded him like hell. We talked about how the late Evangelist Sunny Okosuns was said to have been a very playful boy in one of the public primary schools in the town. On our way to the prison yard, we passed by the house where Rev. Kris Okotie grew up.
We talked about life in the prison barracks and how being the son of the chief warder of the maximum security prison gave me the opportunity to meet very influential Nigerians in the prison yard. I remember my dad taking me to say hello to General Shehu Yar'Adua one evening after his lawn tennis game. I watched him play lawn tennis almost every evening in the yard in his impeccable white shorts and T-shirt. And there were always a handful of prisoners helping with the stray balls. I witnessed the General yell at an overzealous prisoner who dashed into the court unnecessarily to retrieve a loose ball.
I also told my friend how Major Al Mustapha jokingly asked me what crime I had committed to be in the yard. I quickly informed him that I was the son of the chief warder. Till date, Major Al Mustapha is regarded as the best thing to have happened to the inmates of Kirikiri Maximum Security Prison by the inmates. He uplifted the spirits of the inmates by sponsoring various activities in the prison yard. He sponsored the prison football team and helped so many of the inmates gain their freedom. I always saw him seated by the side of the field cheering the players. Sometimes in the company of General Bamaiyi and Colonel Gwadabe, who were also inmates at the time. Other high profile inmates in the yard at that time were Fred Ajudua and Ade Bendel. Ade Bendel also rocked the prison yard with his swag. While other inmates wore ordinary prison uniforms, his was made of jeans and a well tailored shirt to match. They loved him like crazy for his benevolence. He built a hall for the prisoners and invited Basketmouth to perform. Basketmouth was scared to go alone and he asked me to accompany him, which I did.
We talked about life outside the barracks when my dad retired. How Yakubu Aiyegbeni moved in with a friend living in my compound. We always 'yabbed' him as he walked about the compound with his big 'yansh'. Till date, we are still amazed how he played so brilliantly and effortlessly with such a body size. Sunday Oliseh was a member of our senior football team. Members of the junior team were made to pick balls while the senior team trained. Coach Fanny Amun came to town at different times to plead with the father of a member of our senior team to play for him. That happened after a game the senior team of the town played against the national under 17 team, coached by Fanny Amun.
We also talked about how Victor Okechukwu Agali, who was known in Kirikiri Town and Satellite Town as "Okey Banana" made it from hawking bananas in the streets to playing football for Schalke 04 in Germany. And how happy we were collecting tips from Samson Siasia to watch over his car whenever he visited his brother who was doing time in prison. We talked about how we used to listen to team mates laugh about how they tortured Osaze Odemwingie while they played football at the Pepsi Academy. Back then, every player in our team had a crush on Ann Echiejine, the first goalie for the Falcons. She was a member of the town's female football team. She joined us in training regularly and she became better for it. It seemed training with the male team improved her skills tremendously. We were always very happy to have body contact with her on the pitch.
I got back home that night, played a compilation CDs of old Nigerian reggae music and slept with the thought of how Victor Essiet got married to the late Becky Umanah, a girl from Kirikiri Town and they both became The Mandators.
Follow NaijaVibe

NaijaVibe HoT DOWNLOAD
👇