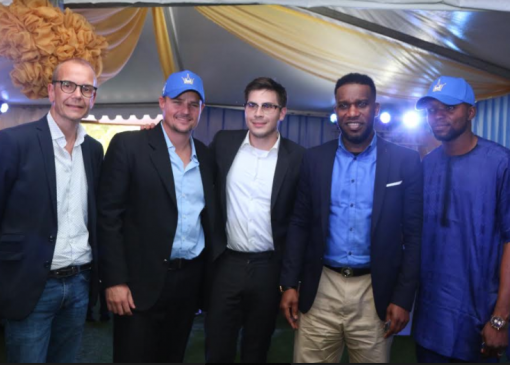 A punter who played for the first time on the fastest growing sports betting platform, BetKing has recently won a huge sum of N7.7million using the platform.
The winner who goes by the name of Prince Chukwuemeka shared his excitement over the weekend as he was contacted by representatives in Anambra state. According to Kingmaker, Sam Eze who manages agent shops in the region, the win was a major milestone in the history of the brand. "This is only the beginning of the great things that will be achieved by BetKing in Nigeria in time to come." He said.
Prince Chukwuemeka indicated that it was his first time playing on BetKing and he was glad that he played without any doubts. He narrated the story stating he was on his way to another betting shop when a BetKing agent (also known as a Kingmaker), engaged and convinced him to try BetKing. The decision proved to be fruitful as he ended up winning N7.7 million.
The winner attributes his success to his fearless prediction, which is a major distinguishing attribute of punters on Betking. In his words, "My mind told me to play straight draw, and I never doubted".
Sharing his joy, he further stated that he never thought he could win that much from betting and expressed his appreciation to BetKing for giving Nigerians the opportunity to win like true Kings. He believed the winning would help improve his life in numerous ways and stated his desire to continue to play on the platform.
"I have even started inviting my friends to BetKing," he commented, when asked if he would readily recommend the platform to other punters.
BetKing is a sports betting company that launched on February 22, 2018 in Lagos, offering online services Nationwide and agency services in 5 states within the Nigeria. With headquarters in Lagos state, BetKing is working towards a nationwide expansion that places several physical shops across all states in Nigeria. Among the offerings of the company's services are sports betting, not restricted to football, hockey, cricket, tennis, basketball and more, customized state-of-the-art virtual games including the exclusively designed sports Kings' League.
To join the playground for kings, users can visit www.betking.com to sign up. Users who prefer physical shops can simply walk into any agent shop across Lagos, Anambra, Oyo and Osun. You can also follow BetKing on Instagram, Twitter and Facebook with the handle @BetKingNG.
NaijaVibe HoT DOWNLOAD
👇