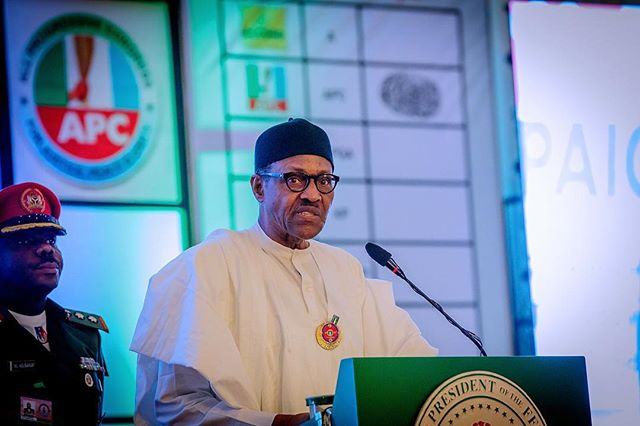 President Muhammadu Buhari has praised the Supreme Court for its courage and perseverance to name Sen. Hope Uzodinma of the All Progressives Congress (APC) the winner of the March 9, 2019 governorship election in Imo.
According to PMB, the road to justice might be lengthy, it remains the best way for anybody that wants it.
He believes under Uzodinma's government, a new Imo State would be built and a new energy will emerge.
He added that the people of Imo State should be congratulated.
"The road to justice may be long and tortuous, but it is the best path for anyone aggrieved.
"Under the new administration, a new journey to build a new Imo with new energy is about to begin. In this outcome, it is the people of Imo State who have emerged victorious."
Do you agree?
Muhammadu Buhari GCFR (born 17 December 1942) is a Nigerian politician currently serving as the President of Nigeria, in office since 2015. He is a retired major general in the Nigerian Army and previously served as the nation's head of state from 31 December 1983 to 27 August 1985, after taking power in a military coup d'état. The term Buharism is ascribed to the Buhari military government.
He unsuccessfully ran for the office of president of Nigeria in the 2003, 2007, and 2011 general elections. In December 2014, he emerged as the presidential candidate of the All Progressives Congress for the March 2015 general elections. Buhari won the election, defeating the incumbent President Goodluck Jonathan. This marked the first time in the history of Nigeria that an incumbent president lost to an opposition candidate in a general election. He was sworn in on 29 May 2015. In February 2019, Buhari was re-elected President, defeating his closest rival Atiku Abubakar by over 3 million votes.
Buhari has stated that he takes responsibility for anything over which he presided during his military rule, and that he cannot change the past. He has described himself as a "converted democrat".
Muhammadu Buhari was born to a Fulani family on 17 December 1942, in Daura, Katsina State, to his father Hardo Adamu, a Fulani chief, and mother Zulaihat. He is the twenty-third child of his father. Buhari was raised by his mother, after his father died when he was about four years old.
Follow NaijaVibe


HoT DOWNLOAD
👇