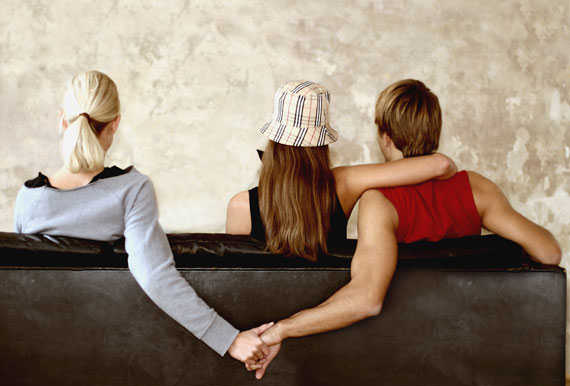 Relationships throughout history have been arbitrary bonds, often bound by financial means or contractual obligations, but rarely are they Disney movie ethereal ties that transcend life and portray an 'ever-lasting' love.
For the realistic, 'I love you' means absolutely nothing anymore, and, worse yet, millions of men sacrifice a stress-free life when they get caught in the Hindenburg flames of an uncovered affair. To have a faithful relationship is a thing of the past as the currents of time are pushing us forward.
All men cheat, whether with time, money, flirtation, true emotions, or sex, a man can devote his person elsewhere in a plethora of ways, all to avoid the relational strains he no longer wants to be a part of. There is just something within a man's mind telling him not to stay with the same girl for a long time. That, coupled with Attention Deficit causing us to look for bigger breasts and the fact that the same girl gets old faster than stale bread, men are compelled into cheating. The grass is greener on the other side, gentleman.
Because of the recent influx of men getting caught,i have decided to put together a disaster proof guide: How To Get Away With Cheating On Your Girlfriend. Follow this guide rigorously, then sit back and reap the benefits of your successful endeavors.
Stealth
First and foremost, the most gruesome mistake possible is also the simplest: Getting too comfortable. Stealth is one of the biggest factors when it comes to cheating. This means: A password on the phone and computer, always logging out of Facebook and changing all passwords biweekly, if not weekly. Girls are like detectives, and will always be on the lookout to gain access to any and all information possible. Stealth is key here. Move in silence and make sure you have covered all ends.
Start lying, early
Of course, when you are cheating there are going to be several spontaneous lies to come out of your mouth. The place where most men go wrong is that their lying comes out sporadically at the last minute, without any plan or reasoning. To be safe, when you know you are going to be cheating on your girlfriend, start the lying the week before. It is as simple as saying, 'Hey, I just landed a big project, they need me in late for the next few months.' This way she will not think anything of it because the plan is long term and solidified.
Contact information
This second rule is just as important as the rest. You are mostly going to communicate with your mistress via your cellphone; Thus, it is imperative that you alter her contact information on your phone. Be sure to put her under a guy's name, so in case your girlfriend does happen upon a message she will never suspect the name 'Steve Intern' written there.
Excuses
One thing may lead to another and you may end up falling asleep in your mistresses house; so you are going to need an excuse. Be sure you have a rebuttal to every single thing she could possibly accuse of you of. You never ever want to stutter or be stupid when she begins lightly interrogating you. Coming off as nervous, or simply unprepared will stir suspicion that you have something to cover up.
Do not show guilt
Like most men on this planet, here and there you may start to experience pangs of guilt. If you do feel guilty you should understand that this is something you wanted in the first place, and wanted for a reason. Do not ever show your guilt. She knows just as well as you do that guilt stems from wrongdoing. Just go along your business with that same poker face you have always shown.
Always wash your nine
This may be the one rule that makes you laugh, but it is to be taken jsut as serious as everything else. A fellow was once caught by his girlfriend because he smelled like latex, and him and his girlfriend did not use condoms.
Yes. You get the point. Always wash up well after any meet up with your mistress, your body is the crime scene.
PRINC3TON
Twitter – @icepwinzeeleke
29F5027B
Drop Your comments
Follow NaijaVibe


HoT DOWNLOAD
👇