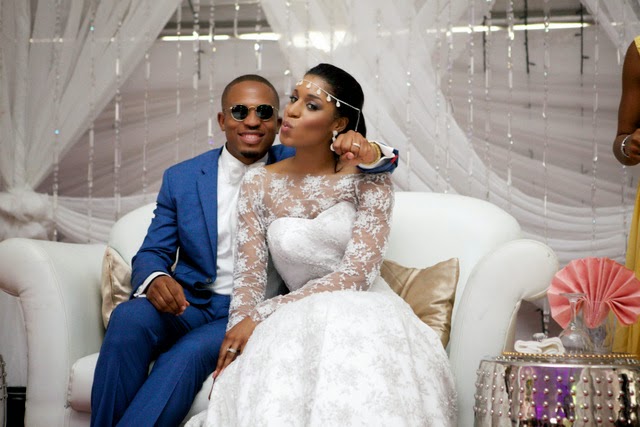 In a recent chat with Saturday Beats, popular rap artiste, Naeto C, explained that one of the reasons he married when he did was to avoid having a baby outside wedlock.
Naeto C said,
I cannot speak for another man but I know sometimes people intentionally want children out of wedlock while other times, it is accidental. Part of the reasons I decided to get married when I did was because I did not want to become a 'baby daddy'. I did not want to raise a kid out of wedlock because it is not easy. If I was not married, I would have been more concerned with settling down as opposed to getting a girl pregnant out of wedlock.
The fair-skinned rap artiste seized the opportunity to refute claims that marriage affected his career negatively. On the contrary, he believes that marriage brought out the best in him.
There is no way my marriage affected my music career. I got married in 2012 and that same year, I released my hit song, Tony Montana. The song did a lot for my career. I have released songs with heavyweights like Flavour and Phyno. I release songs every year that top charts. The truth of the matter is that I am a Nigerian artiste and not a Lagos artiste. We have fans all over Nigeria and the thing with music is that a particular song can be big in the East but it may not be that big in the West and vice versa. Because of this, if you ask a journalist in the West about a song that is big in the East, he may not know much about the song.

We need to have a holistic view; some songs that are big in Lagos may not be big in Abuja; some songs that are big in Imo may not be the favourite of those in Ibadan. I would like to point out that it was when I got married that I became a Glo ambassador for two years, I am a Yudala ambassador now. I think that when people say that marriage affected my career, what they are really trying to say is that ever since I got married, I have not done another song like Ten over Ten.

The truth of the matter is that, I cannot do a song like Ten over Ten again the same way Tuface cannot do another song like African Queen; Wande Coal cannot do Bumper to Bumper again and MI cannot do Safe again. That is the way music works. I am happy that the song, Ten over Ten, had a huge impact on my career and my fans
he said.
The singer told Saturday Beats that when he announced his intention to get married, he got a lot of messages from ladies who expressed their disappointment about his decision to get married.
When I wanted to get married, I lost some fans and at the same time, I gained some fans. Some fans like the fact that I am married and responsible; they like the fact that I am a one-man-one-woman kind of guy. Other female fans don't like that because they want to keep fantasising about the possibility of becoming my woman one day. I got married because I found a companion, a friend, and someone I want to spend the rest of my life with and raise a family. Marriage made me a better person. The most you can do for your female fans legally is to take pictures with them and keep making hit songs. Anything outside that would be inappropriate.
Naeto C said that the main reason he married his wife was because he wanted a happy future and he believes he can only get it from his wife, Nicole.
Follow NaijaVibe


HoT DOWNLOAD
👇



In life, there are only a few people you feel you can get things like this from. If I did not make that decision when I did, maybe today I would still be a bachelor. It is just the same thing with my Master's degree; if I did not study for it when I did, I probably would never get it. Life is about making decisions and securing a future of happiness is the main reason I got married to Nicole.