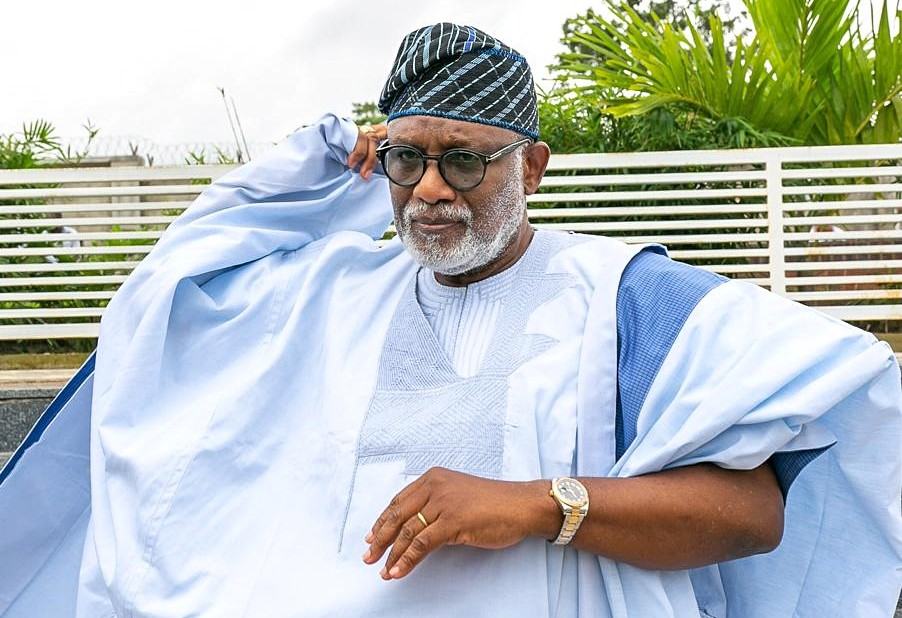 The Ondo State Governor, Rotimi Akeredolu has come out to reiterate his commitment to pursuing policies and programmes that will accelerate economic development and progress of the people.
He recently revealed this via a press statement, and Nigerians have been reacting.
According to him, his administration would continue to work in tandem with the aspirations and yearnings of the people for the overall development of the state, so citizens under his care can rest assured.
He added that several bold steps have been taken in the journey of redeeming the state and restoring its lost glory in the last six years.
His words, "Six years have flown by with astonishing speed. Our mission to redeem the state has been marched with courage and determination. We have made remarkable progress in our resolve to make life better for the people and make our state an enviable destination."
"Our commitment to industrialisation and massive investment has yielded enduring fruits. In our first term, we facilitated industries both at the industrial park and the Ondo-Linyi industrial hub in Ore. We kept our promise of putting a stop to the carnage at the cross-section of the Lagos- Benin Expressway in Ore by constructing the first-of-its-kind flyover, christened, 'The Redemption Bridge.'"
"Our infrastructural drive has been phenomenal. In the last six years, over 294.11km of roads have been completed while a little above 100km are ongoing across the state. Our determination to leave the state better than we met it and bridge the infrastructural gap has yielded impressive results."
"Despite the giant stride recorded on road construction in our first term, we didn't rest on our oars as we are still dotting the landscape and initiating new road projects. For instance, we have commenced work on Igoba township road. Similarly, work is about to start on Ajagba – Iju Osun – Akotogbo road. The Agadagba – Pereama road is completed and awaiting commissioning, same as Igbobini – Igbotu township road. We have also concluded arrangements to commence work on the Agerige road."
"In pursuance of our commitment to the REDEEMED agenda of our administration and our desire to leave a good legacy, we commenced the construction of a betting Governor's Lodge in our second term. Today, the lodge is near completion and it is our hope that the laudable project will be commissioned in a few months' time."
"In the last six years, we have made bold footprints in the infrastructural sector. Another landmark testimony of our commitment to infrastructural development is the 250 – bed hospital we are building in each of the Ondo and Akure complexes of the University of Medical Sciences Teaching Hospital."
"We are also set to build an ultramodern and befitting Judiciary Complex in Akure, the state capital. The new complex will house twenty different court buildings from court one to court 20. That is aside from the Chief Judge's Court. The ground – breaking will be performed soon at the existing court complex."
"Also, in our resolve to accelerate development and provide a new lease of fiscal autonomy, we have tremendously improved on our Internally Generated Revenue (IGR) from the paltry N700 Million inherited in 2017 to an average of N2 Billion. This we achieved without burdening our people."
"When we assumed office in 2017, the workers were owed seven months' salary arrears and their morale was low as the situation could be better imagined. We promised to give priority to their welfare, and today, we have offset six out of the inherited seven months arrears. As regards workers' salary, we have paid up till date. Just yesterday, I approved the payment of the February 2023 salary."
"We understand that no meaningful development can take place in the State without adequate security. That is why we have continued to strengthen the Amotekun corps and other security agencies in the State. It is our resolve to give our best to protect the lives and property of the people of the State."
NaijaVibe HoT DOWNLOAD
👇