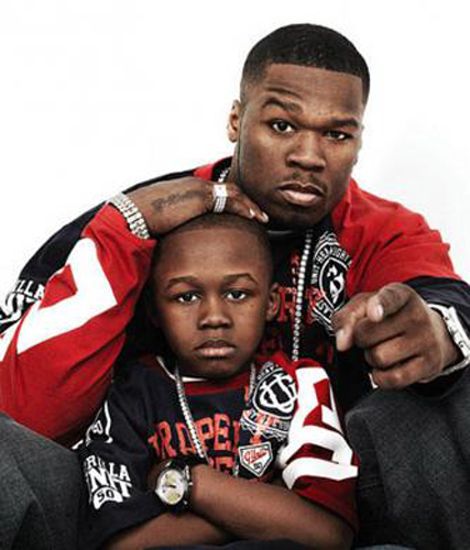 Wow! 50cent is at it again. This time, he unleashed his anger on his 16 year old son, Marquise – in a series of text messages calling him calling him a 'sh*t head', 'motherf***er' and 'f***ing stupid' The messages, obtained by Radaronline, show 50 demanding a paternity test from his son.
Read the messages below …i must confess very funny. the 16year old boy is funny…
Marquise: Lol u fronting hard body now, how u going to see me when I'm in the basement lmao
50 Cent: F*** you
50 Cent: You are your mother child
Marquise: Lol why would u lie about that lol
50 Cent: I need a blood test cause that d*** sucking b***h you call mom was f***ing the hole time
50 Cent: I don't think your funny at all. I drove out here for nothing.
Marquise: Pops ur trippen now, why u won't been get one u had 16 years lol, I know u lying bc u didt even call me too go outside
50 Cent: Are you f***ing crazy I don't have time to play boy. I told you I would come see you. I came motherf***er start turning lights out and looking threw the blinds.
50 Cent: Are you f***ing stupid. You had me drive over there why do you think I needed a address sh*t head. I saw the lights go out then some one playing in the blinds and there no party going on. F*** you too
50 Cent: You your mother and your sister f*** all of yal.
Marquise: I might dumb, come thru then, no need to get upset
Marquise: Stop by and say hello too ur son
50 Cent: What the f*** are you taking about I'm not f***ing with you after this I leave Atlanta in the morning.
Follow NaijaVibe

NaijaVibe HoT DOWNLOAD
👇