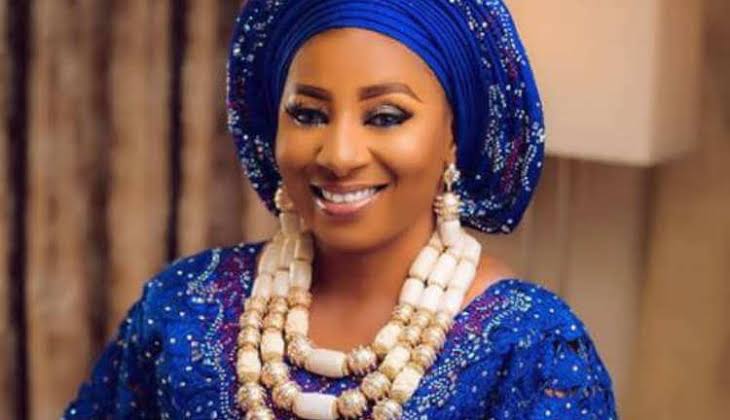 Nollywood actress, Mide Martins has talked about how her mum's sudden death 17 years ago pushed her into acting.
According to her, her mother was her only friend and she even knew when she had her first boyfriend.
Mide said when her Mum died, the surname "Martins" was already on everybody's lips so she had to take up acting full time for the name to not fade away.
Mide added that she hopes with what she achieved today, her mum would be super proud of her.
Her words, "Well, it's been God. It's not by my own doing, but by the special grace of God. Seriously, I don't even know how it all happened, but God has been on my side. He's been so faithful to me. There is nothing I will lay my hand on that I will not put God first. I'm still a small girl I don't know how to do anything. But once I put my God first he will surely put me through. He is the one guiding me all these years. So I will give all the glory and adoration to God, for everything He has done for me. And I also say a very big thank you to my husband. He's my pillar. Ever since my mum died he has been the only one till now and I pray till forever. He's my support system and I'm very grateful to him."
"My strength, my energy, my efforts, sleepless night, sacrifices. This job is something I never thought I could do until my mum died and I felt I should take it up so that the name, Martins, will continue to be on fan's lips. Ever since then, God has been awesome. This little girl you are seeing here has been through a lot and has worked extra hard to be where she is today. To the glory of God, I have been able to achieve my goals."
"I later fell in love with acting, and it has now become my passion. I love my job so much. I can't do without it. Even sometimes, when I decide to take a break, probably to rest or something, I still find it very uncomfortable. I will not be myself. I always want to be on set, always want to be acting. I want to be among my people. I want to go to the location. I want to drive up and down like I'm used to every day. The job has become part of me, I can't do without it. Maybe when I grow older I can decide to rest (laugh)."
"I missed like 50 billion things. My mom was the only friend I had. I grew up under her care, even when she had already separated from my dad. She nurtured me. She knew when I had my first boyfriend."
On how she has managed her fans thus far, "Actually, love is something I don't even know how to appreciate. It feels so good when you get to a place and you see the admiration in the eyes of many people; people who want to play with you, people who want to hug you and take photographs with you. You can see that the love is there. So I always feel so happy, I feel privileged. Honestly, I am privileged to be one of the few people God loves. So, I'm honoured. All that I am today, I owe it to God, to my husband and to my fans."
NaijaVibe HoT DOWNLOAD
👇