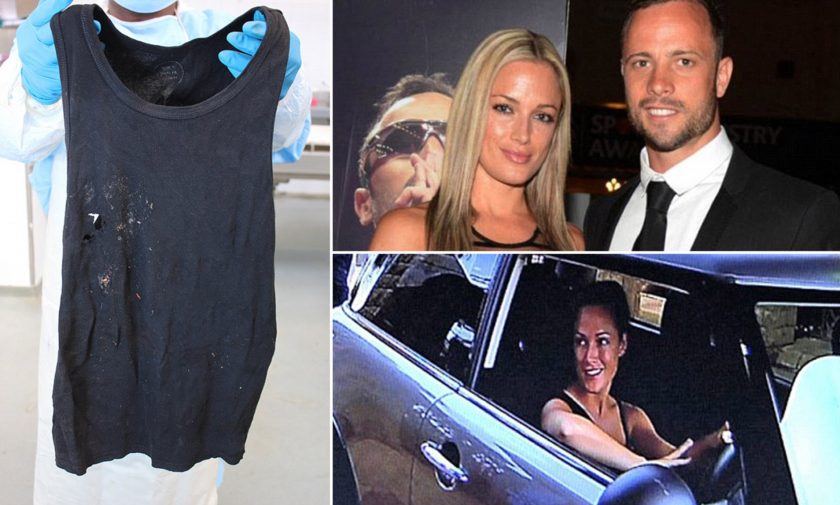 Smiling and looking relaxed, this is the last picture of Reeva Steenkamp alive. It was taken from a leaked CCTV footage and it shows Reeva arriving at Oscar Pistorius's house the night she died.
The CCTV footage emerged as her best friend's father, Mr Myers, claimed Miss Steenkamp did not originally plan to stay with Pistorius the night she died, but changed her mind because it became too late for her to drive home safely.
Mr Myers told South Africa's City Press:
Then Reeva sent the [text] message, 'Hi guys, I'm too tired. It's too far to drive. I'm sleeping at Oscar's tonight. See you tomorrow'.
Tomorrow never dawned for her I have nightmares at night thinking how frightened she must have been.
In the interview, Mr Myers claimed Pistorius subjected Miss Steenkamp to such intense emotional pressure in the early days of their relationship that he was forced to warn him to "back off".
Mr Myers said he had found Pistorius to be "very moody" as he wooed the young model, who felt caged in by his attentions.
He was very nice and charming to us when they started dating
Mr Myers said.
Then he always came in to say hello. But when they began to date steadily, he just dropped her and picked her up.
He kept pestering her, phoning and phoning and phoning her.
Oscar was hasty and impatient and very moody – that's my impression of him.
She told me he pushed her a bit into a corner. She felt caged in. I told her I would talk to him. I told him not to force himself on her. Back off.
He agreed, but his face showed me what he was thinking, 'Oh, this guy is talking nonsense'.
Mr Myers said he had decided to talk to South Africa's City Press newspaper because,
everywhere you go, it's just Oscar, Oscar.
But Reeva was the victim, her voice must be heard too. People must know who Reeva Steenkamp was.
Meanwhile, Reeva's parents have revealed how they were first told of their daughter's death on St Valentine's Day.
According to her mum,
I had a phone call at 7.30 that morning and the man said to me.. do you have a daughter, and I said yes, and he said is that Reeva, and I said yes, and he said there's been an accident and she's been shot.
I said all I want to know now is she alive or is she dead. The man said I don't want you to have to go and read it in the paper but she's dead.
Mr Steenkamp, who was "not coping at all" with his daughter's death, repeated calls for Pistorius to tell the whole truth.
It's only Oscar [and] Reeva that know the true story and all I want is that he must just come out with the honest truth
he said.
Police asked Mr Myers, his daughter, Kim, and his son, David, formally to identify Miss Steenkamp's body on the morning that she was killed.
We looked at her through a glass window. She was the way someone looks who has been shot. The police tried to make it easier for us
he said.
We would love to know your thoughts on this post.
Drop your comment
Follow NaijaVibe


HoT DOWNLOAD
👇