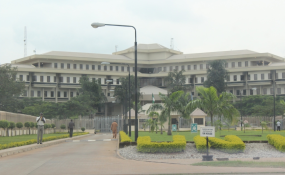 In the early hours of Friday panic gripped the people of Maiduguri, Borno state, as they woke up to the information that soldiers invaded a United Nations building. The soldiers believe there were arms smuggled into the UN building by an official.
This building has UN personnel living in it and was a property of a former Borno governor. At 2:00 a.m, soldiers secured all routes leading to the building, one of the inhabitant of the building said the soldiers acted upon receiving information from the SSS that they observed menacing ongoing within the premises, this was after rumors of the Boko Haram leader Abubakar Shekau was being accommodated in this building.
Access was denied to the soldiers till about 7:00 am and after searching the entire building, nothing was found, the soldiers withdrew from the area.
People are agitated due to this and they have wrong sensitivity about the humanitarian and rumors has it that all UN flight has been cancelled into Maiduguri.