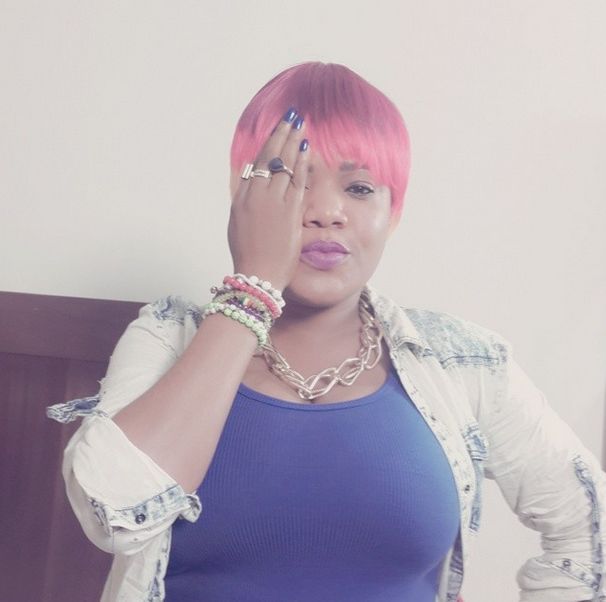 Responding to the allegations, she sent this mail below to SDK.
Hi Stella, I'm responding to this cos of my fans And nothing more And after this I won't respond to you or anyone again.. Let me address what I feel is important.
The person that sent this to you is only jealous And nothing more, but I will soon shock them as usual (Lol). The person is either a close friend or a close colleague who can't handle my success Cos nobody can ever spell my surname right, so it's obviously someone close..
Now let me go straight to the point, please Stella if I slap my husband in public I'm sure you know it will be a trending thing for months? since when does having a misunderstanding with ones husband privately become people's business? A saying goes 'a wise man lets his wife control the home'.. okomi, olowo ori mi, Adeniyi mi will always be the head and God will not put such habit in my life, so that one is no issue.. I do not control my husband, God is the controller.
2ndly, that I'm broke, have I ever said to anyone that I'm rich? or have I ever put Gucci or LV bag on my Instagram?.. my father is not rich, so why would I want to marry a rich man by force.? We moved to Lekki county homes. I'm starting My life with My Man, or which successful man in Nigeria or all over the world does not have a grass to grace story?
About marijuana, who ever says such woo betide the person And God will show himself to the person. I used to smoke cigarettes and I never hid it for once, you can ask around but I have stopped smoking a lot (But I still hide and smoke cos of my hubby Lol)…
Sleeping around? the day that I start it may God take my life.. Am so content cos I wasn't born with a silver spoon, grew up in the village, I don't know any monarch they are talking about, sometimes you think you have friends and you gist them that a particular person toasted you and they advice you wrongly hoping you will follow the advice..
My mum and god mother said tell people What they want to hear, most times I lie to people around me about stuffs cos I don't want them to know… I have the best husband in the world, so when they complain about theirs I just complain about mine too.. is this what they called scandal?
Is it not obvious the person is just jealous?.. happiness is within, if you are not happy you can't fake it.. like I said I got a Deal with Vas2net, Jlinks, tell the person to go and hug a transformer.. it's my Life and I decide what to do and Mr and Mrs Johnson are not complaining.
Our marriage will last and be a good example to others.. thanks for your concern and to all my fans I love you all bajebaje.. your love and prayers keeps the Johnsons going and to you the traitor Mr Johnson sends his regards Buhahahaha!!
N.B: have you seen a married woman that would not want to get pregnant?.. Oh the car.. yes we have a car now and I prefer my husband to take it to location cos I hate when he's being disrespected on set cos of mobility.
if Niyi was maltreating me they will complain, now we dey in love na juju I do, if I marry old man they will say I married cos of money now I'm starting my life with my husband they said we are broke ..dont worry we will be fine..
To the frenemy may God forgive you and give you peace cos I've already forgiven you..to everyone else please beware of frenemies..
Thank you and God bless.
Pls #prayforkefee..
THESE ARE THE ALLEGATIONS MAILED TO HER THAT SHE RESPONDED TO
"All that glitters are not Gold.. According to inside sources it has been revealed that all is not well with Actress Toyin Aimakhu's marriage to her husband Adeniyi Johnson who is also an actor. Well, don't be deceived with everything our celebrities display cos Toyin and Adeniyi who are fond of displaying their affection in public as been tagged as "lies". According to an insider, it was disclosed that their marriage will soon pack up cos Toyin who is the bread winner of the marriage has been pointed as the reason why the marriage won't last. Toyin is also regarded as the controller of their home.
Toyin has been accused of insulting and disrespecting her husband in public, an insider claimed Toyin does not respect her husband at all. It was also revealed that sometimes back Toyin called her husband all sorts of horrible names just because he brought in a visitor to their home while she was in company of her friends smoking marijuana in their matrimonial home. It was disclosed that Toyin allegedly slapped her husband in public saying she controls him like she used jazz on him, while some are claiming the husband who is an upcoming actor is only enduring the marriage for his own benefit of becoming a star. Toyin has been accused of cheating on her husband all because of money, as she has been linked with one certain king in Lekki, she's been accused of sleeping with this king who lives in the same estate she was living before in Lekki. I was told the actress and her hubby are having financial problems, that is why they relocated to inside Ajah, claiming they couldn't afford their Lekki apartment anymore.
Toyin recently disclosed to her colleagues that she doesn't have a car; saying she gave her car to her husband, meaning she's the owner of the car her husband drives, she even lied that she's been endorsed by 3 telecommunication companies. The actress has been pointed out by many as a bad influence, as she smokes, flirts, lies, she lives a fake live, she's saucy and she's been regarded as a big time lesbian.
The husband Adeniyi, on the other hand is been accused of flirting with upcoming actresses asking for secret relationship saying he's enduring Toyin Aimakhu cos of his own benefits. Toyin who got married to Adeniyi last year has also been struggling with getting pregnant.
This story may sound too good to be true but believe me, there is an iota of truth in every story or rumour we hear. So many Celebrities are going through difficulties or problems but they keep faking up their lives just to make people believe all is well with them whereas all is not well.
NaijaVibe HoT DOWNLOAD
👇