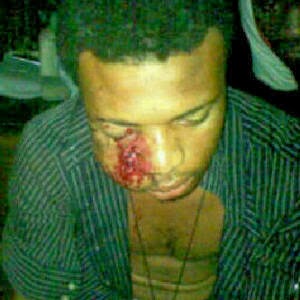 I could hear the nurses discussing about the soups they had prepared the other night while I lay there, losing blood. By then I had given the people around my sisters' number. They had called and soon after contacts had been made, the anti cult of both Unizik and ANSU had showed up alongside the police.
The money was paid and report given since they all confirmed that I was not a cultist. But all the hospital staff did was take an xray and wrapped my face in bandages. By this time I realized that I couldn't breath anymore, because my nostril had burst and breathing meant taking in bad blood into my mouth and system.
The x-ray showed that the shot gun bullet which consisted of an average of 40 pellets all got into my face. One made it to my brain through my right eye. But I was there, alive. It was impossible. God's mercy was overwhelming, God loves me!
4 hours later I was still losing blood. The hospital finally said I should be transferred to Nnewi because the case was complicated for them. By 8:00 am or so they moved me to NAUTH Nnewi. But on getting there I was forgotten in the ward due to the numerous patients. Finally with some contacts they came to attend to me. I was still losing blood by now, almost 8 hours. They came and finally stopped the bleeding partially. But said I had to be moved to Onitsha because of the eye had been injured and this left an open wound to the brain. On the way to Onitsha, (I was taken their by my university's dean of students affairs) I vomited blood for almost three minutes. It had gone into my system by way of my shattered nostril. It was until I got to Guinness hospital Onitsha that I got any real treatments. By then I had been in pain and loss of blood for over 10 hours. But to the Grace of God I was getting stronger, nobody could believe it. Neither could i. But when God works men marvels. I got treated and had 2 major surgeries the following day.
From the hospital bed I wondered how I had ever offended anybody in my life. I wasn't a cultist. I had never had girl issues with anybody. No fights. Or did the guy just decide to shoot me for fun? I wished I had chosen to grind and party instead of going home to read. But I knew better. God had a plan for me. The professor that operated on me said my case was like that of a Tv that was still working even when there was no power supply. Six days later by the grace of God and against doctors advice I decided to go write my degree exams. The bullets, 36 were still in my face, I could not open my mouth or eat. But in few days God worked wonders.
I showed up for my exams and wrote them and passed real fine amidst all the rumours going around. I graduated.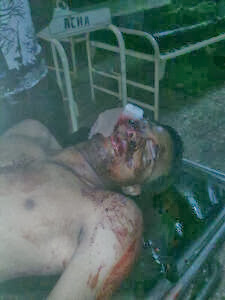 My birthday was the week after this.
IF YOU EVER WONDER IF GOD EXIST. IF HE LOVES YOU. GOD LIVES, IF YOU NEED A REASON I GOT SHOT IN THE FACE BUT AM STILL BREATHING.
NaijaVibe HoT DOWNLOAD
👇