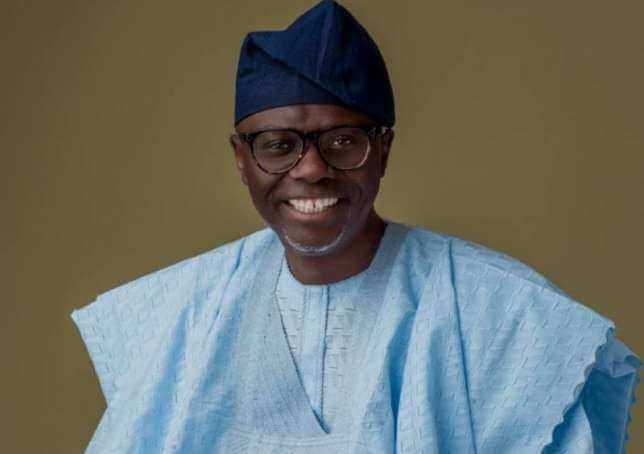 Lagos State governor, Sanwo-Olu has assured Lagosians that they are yet to see his best.
He said he knows he is yet to live up to the expectations of his people but he has reasons for his slow start, and the rain is one of them.
He disclosed this at The Platform; a talk-shop put together annually by the Covenant Christian Center.
His words, "Vehicular traffic in Lagos is about 240 cars or thereabout per kilometer. The national average is about 11 cars per kilometer.We are fully aware that there is a problem now in the short term and we are solving it.
"Once we finish the rainy season, extensive road rehabilitation will start to fix the roads as it were. Not that we will fix all the 6,000 roads in Lagos in one day, because everybody takes a snapchat or picture and sends to me. We are going to get there over time, but it won't be everything at once."
He also said the rain has not made it easier for him, "What are the problems of traffic gridlock? Potholes. There's a whole lot of potholes. I was sworn in at the beginning of rainy season. So, I have been in government for 4 months and rain hasn't stopped. It has started raining all throughout today and for your information if you are inviting me to any event, it will rain. I am a rainy person!"
"Two things don't work together. Bitumen don't like rain. Bitumen…they don't do very well with rain. Any contractor who takes a job during the rainy season, half of the client's money is going to go down the drain because the contractor isn't going to do anything.
"Whilst I'm not going to stand and give reasons why we have potholes, it's also about putting all of this in perspective and explain why we are where we are today.
"Traffic is caused by potholes and we are working day and night to remedy the situation by the palliatives we are bringing on board. I tasted New York traffic too for the first time…what it means to stay in a mega city. On a 20-block journey that is supposed to take us 7-10mins, and because of how New York is set up where you have a lot of no right turn, no left turn, so we took a 50mins journey and we had to walk 20 blocks back for a 7-10mins journey.
"But what does New York have that we do not have? They have a subway. So half the population is walking above the ground, the other is underneath", Sanwo-Olu said, before adding that Lagos is working to fix alternative means of transportation like the waterways, railway and mass transit buses because the city's water table would not allow for a subway. "
"We can do a lot more. A lot of the things that you would see backroom, we don't need to make a lot of noise about it. What Lagosians are looking for is results. For you to fix the roads, you have to be sure that the road likes bitumen. If it's at a time when the road doesn't like bitumen, don't put bitumen on it otherwise you are just going to waste money.
"I am not happy yet. I believe that Lagos can achieve a bit more. I have been in office for 125 days, I do not have absolute control over the legislature for instance because the legislature is independent and has to remain so.
"You will never know the real finances of any state until when you are the chief executive. Nobody will tell you what it is. You don't have a right to see. It was when I got in that I realized how long out we are in terms of liabilities, in terms of our commitment to local banks, in terms of our commitment even with the federal government bonds that we were issued. These are real issues that have constricted us in terms of our finances."
"What I will say is that governance is a marathon, not a sprint. I can assure you that Lagos will not only be greater (with me as governor), Lagos will see a level of development it has never seen before."
Follow NaijaVibe


HoT DOWNLOAD
👇