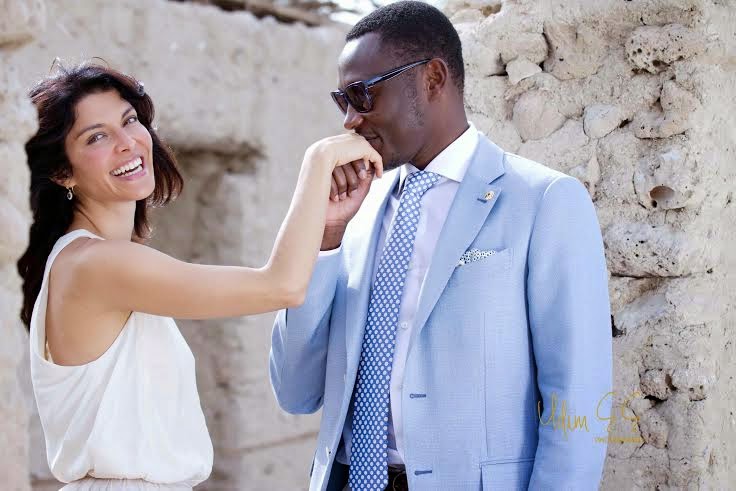 You have all heard that Abba Atiku Abubakar – son of former Vice President Atiku Abubakar, is getting married to his American boo today in Dubai. The wedding reception will hold in Jada, Adamawa State in few weeks.
Atiku Abubakar has explained why they had to go all the way to Dubai for the wedding, see his concise article below:
Sometime in January, I was in London on business, and my children quickly arranged a trip to the Emirates Stadium for me. It was to emerge later that it was not a hastily arranged event, but a well planned outing, put together by children of a businessman and politician.
It turned out that my son, Abba, who was appointed to be my escort to the event, was the primary reason why the event was set up in the first place. Abba had a major announcement to make, and it was that while he was away from home in America, he had found a lady he loved, and would love to bring her home as wife. I thought that was great news.
But on our way home, Abba subtly mentioned that they would like to get married as soon as possible, and that he and his fiancee would like a rather small wedding. At that point, I began to realize why I had been taken to the match, and smiled.
Parenting in the age of democracy is not easy. In my time, I remember that even as a strong willed child without a father figure, my mother, Kande, would put her foot down whenever she needed something to be done, and no child could argue with Kande when she had put her foot down. But in my time, we had learned to allow our children have a say in decision making, especially those which concerned them. It's what I have termed democratic parenting.
Education, for example, is where my children tend to have a 70% say in where they wanted to go. Some choose to study in Nigeria, and some went abroad. But even when they went abroad, it was mostly to Europe. But Abba decided he was going to America, and he came back with an intelligent, beautiful American lady, whom I have already accepted as a daughter.
But Abba was yet to reveal his hand. It was when we were discussing wedding logistics, when he mentioned that his wife's family wanted to hold the wedding in Dubai! I could smell an ambush coming, and the Nigerian parent in me was ready to argue.
"But Abba, you know I'm a Nigerian. We like doing these things at home.."
"But dad, you know the wife's family decides these marriage things"
"I see. But does your wife agree to this?"
"My wife loves it! She is completely in love with the plans"
"Oh, I see.." At that moment, I realized that my children had known I would prefer to host the marriage in Nigeria and had come up with, and knowing that I wouldn't have a choice, since the wife's family usually decides wedding plans, found a way to ambush any resistance I could have raised. It was a well executed plan, and I could see that there was no way I could argue. Of course no man would want to argue with his new in-laws at the first turn.
So I went back and put together a counter strategy. The next morning, I called Abba and told him I agree with the entire plan. We can hold a wedding in Dubai, and I will attend with my family. I could see a smile of satisfaction spread across his face, an unspoken "we've got the old man." I played along and discussed the plan with him in detail.
As we finished, and Abba was about the leave the room, I mentioned in an offhanded tone "Oh, Abba, I think after the wedding in Dubai, it would be good for your people in Jada to welcome your new wife to Nigeria. What do you think?"
Inside my heart, I smiled. Just like they had me a day earlier, I had had him too. He could not argue that it wasn't proper for his extended family and town to meet his new wife. Of course he knew that would be the event where all my family, friends and associates will be invited.
The Nigerian parent in me smiled. Even in the age of family democracy, we have learned to adapt. So all family and friends are welcome to Jada, to witness the marriage reception of my son, and his beautiful wife
NaijaVibe HoT DOWNLOAD
👇