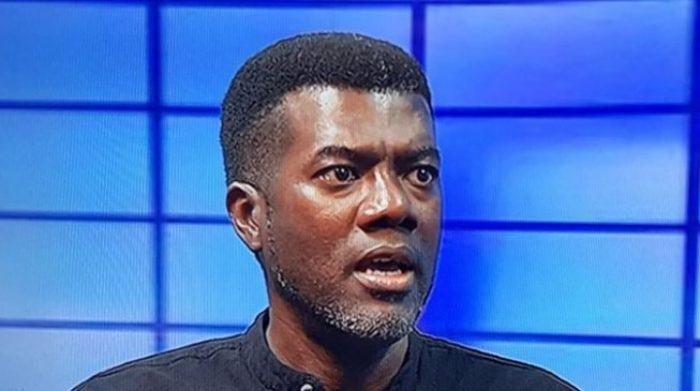 Reno Omokri has written on how feels about the inauguration of new security outfit in the SouthWest region of Nigeria, Amotekun.
According to him, the eventual impact of Àmọ̀tẹ́kùn will be to equate the Southwest with the Southeast in the eye of the average Northerner.
Reno believes Amotekun is a threat to the average Northerner because it is an answer to the dangerous herdsmen from the North.
He added that as a result, any political party that presents a Southerner in 2023 will automatically lose to any political party that is wise enough to field a Northerner, because emotions will come into play.
His words, "A lot has been written about the introduction of the region wide security outfit for the Southwest, known as Àmọ̀tẹ́kùn. Much of it is built around emotions. And as my readers may have noticed, I am not a NICE man. I am a WISE man. I deal with facts. I do not deal in emotions.
Nnamdi Kanu is only partly right. Nigeria is definitely not a zoo. But, I must confess that we live in a jungle, and if you do not understand how the food chain works in a jungle, you will soon find yourself at the bottom of that chain, and it is not a pleasant place to be.
When you live in a geography where might is right, and 5 percenters are treated like lepers, you cannot afford to be emotional. If a lion feels sorry for gazelles and antelope, it will not only starve, but its offspring will starve with it! So, wisdom is profitable. And more so when you are a 5 percenter.
If you are in a situation where you cannot compete on the basis of strength, then you are challenged to use your wits and outwit those who have out-powered you. That is how Israel, a tiny nation by land mass and population, has been able to dominate its much bigger neighbours.
So, I will now give my take on Àmọ̀tẹ́kùn. But, let me first warn you, it will not be what you expect. Far from it. Far from it. What Àmọ̀tẹ́kùn has done is not just an attempt to secure the Southwest. I try to be a deep thinker. I do not focus on the immediate impact of a stimuli.
I have disciplined myself to look beyond the immediate impact, to the eventual impact. In my opinion, the eventual impact of Àmọ̀tẹ́kùn will be to equate the Southwest with the Southeast in the eye of the average Northerner. We need to be realistic. The Edekiri (the real name of the people wrongly identified as Yoruba) are some of the most sophisticated people in Nigeria, and perhaps Black Africa.
Other Nigerians are not as politically sophisticated as they are. The Igbo of the Southeast are very astute in business, but are poor political strategists, who often dissipate their political power by engaging in too many political battles and opening too many fronts simultaneously.
Moreover, it is very hard to counsel Igbo leaders on how to be more strategic, because to a large extent, they will not accept the fact that they need to be more strategic and will often try to teach those who genuinely want to teach them. So what can you do? You just leave them to their 'wisdom'.
The Igbo man often feels that he is more intelligent than others, and he may very well be right. But the point is that in politics, unintelligent wise people are often more successful than intelligent not so wise people. That I stoop does not mean I have been defeated. It may just mean that I am playing to your vanity in order to conquer you.
The people of the North are very simple people. Easy to lead. The Fulani upper class are however very strategic and are masters of brinksmanship. The fatalism inherent in their Islamic faith helps them in their brinksmanship. However, their political sophistication does not permeate to their masses, unlike the permeation in the Southwest. It is top heavy. So, why have I gone to this length to make this distinction? The elite of the North, who at this time are mostly the Fulani and Kanuri intelligentsia, are aware that Àmọ̀tẹ́kùn is a spontaneous reaction by the Southwest to the existential threat herdsmen and other latter day insecurity issues pose to them.
They know it is not a secessionist agenda. Not so their people. The average literate, semiliterate or absolutely illiterate Northerner sees Àmọ̀tẹ́kùn as the Yariba (read Yoruba) version of IPOB. Even if the Southwest scraps Amotekun today and never speaks about it, that impression has been indelibly fixed in the consciousness of the average Northerner, and even Buhari and his Buharism, can't undo that impression. To the average Northerner, the Yariba have shown their hands and proved their suspicions right, that their commitment to Nigeria is not total.
That they only remain in Nigeria because they are afraid of the strong arm of the North. It does not matter that that is absolute bunkum. It is what they now believe and you ignore that at your own peril. So, why is this also important? 2023, that is why. In the eyes of the average Northerner, Àmọ̀tẹ́kùn has disqualified any Yariba person from being worthy enough to be voted for. It does not make sense. It makes emotion. As a result, any political party that fields a Southerner in 2023 will automatically lose to any political party wise enough to field a Northerner. And if the All Progressive Congress fields Bola Tinubu and thinks they can rig the election in his favour, they may find that the task would be almost impossible.
The average Northerner knows that the Oodua Peoples Congress does not represent the political leaders of the Southwest. This much is even made clearer by the fact that the head of the OPC and Aare Ona Kakanfo of Yorubaland, Chief Gani Adams, was not present at the launch of Àmọ̀tẹ́kùn. However, by seeing Governors Kayode Fayemi and Rotimi Akeredolu present at the event, and driving it, the average Northerner has seen all that he has to see to make his or her conclusions, however erroneous it might be. As far as as Fayemi and Akeredolu were there, then in the eyes of the average Northerner, Tinubu was also there. Going forward, there will be little distinction made between Nnamdi Kanu and Bola Tinubu, or any of his surrogates, in the eyes of Northerners.
It would have been far better, for their future political relevance, for the Southwest political elite to have surreptitiously funded OPC to take on herdsmen and other security threats to the Southwest that originate from out of the region. The OPC already have a structure, and name recognition. They are already in every local government of the Southwest. They could have been activated, just as Northern Governors have quietly and (to use a Nigerian slang) codedly activated and empowered hunters and under-unemployed youths into the so called Civilian JTF."
Follow NaijaVibe


HoT DOWNLOAD
👇