Nigerian artiste, Banky W who has been off social media and music for a while now has narrated how he went through 3 Surgeries over a rare strain of skin cancer tumours.
The singer has taken to his Instagram account to share some photos of himself been operated on and also shares his testimony after God healed him.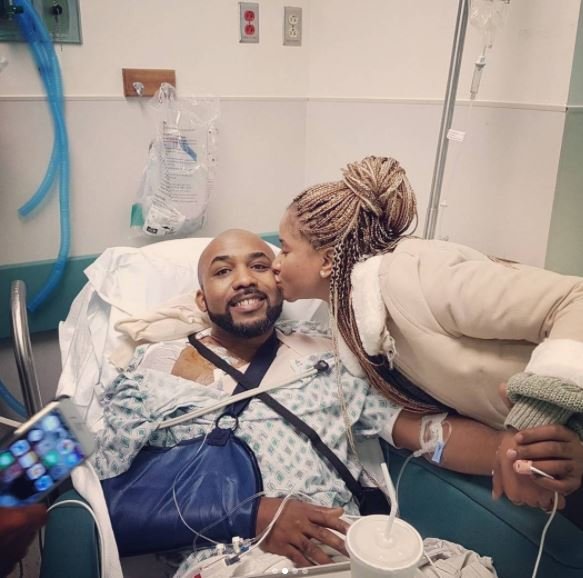 See what he shared below..
Follow NaijaVibe


HoT DOWNLOAD
👇



A wise man once said this: "Scars. A sign that you had been hurt. A sign that you had been healed." Scroll through the pictures to see mine.

I'm sharing these because they're proof of what God has brought me through. And because somewhere out there, I know there's someone who needs to hear this.

For those who've been wondering why I've been away so long.. I had my 3rd surgery on a rare strain of skin cancer tumours in my shoulder last month. The first 2 times were over 10 yrs ago, then it recently resurfaced. But this isn't a sad story as much as it is a reminder, and a testimony.

A reminder that you should never take life for granted. You only get 1 shot. Some people went to sleep and never woke up. Many others have lost the battle to cancer and other illnesses. Many are still fighting. U never know when your time will be up so don't waste another minute. It's also a testimony about the goodness of God. I think I had to go through this again to remember how merciful God is to me; Lord knows I don't deserve it but He saves me time and again anyway. I keep saying I need to write a book. I really, really do.

The past few weeks of recovery have been tough, but beautiful. I'm finally back on my feet, feeling stronger and ready to get back to life. I'm especially thankful to my Nurse Susu for loving me and being by my side every step of the way – I don't deserve U, my parents & siblings, in-laws & close friends for the love, support and prayers, my Pastors – Pastor Tony Rapu & Pastor Del Balogun of TPH, Pastor Taiwo Odukoya and Pastor Bayo Adeyokunnu – for constantly praying with and for me. And of course to Dr Wodajo & Dr Miralli & their teams – who God used to operate on me successfully.

I'm thankful for life, provision and healing. Pls dont feel bad, or msg me with any worries.. God has done it, just thank Him for me.

The pain will eventually go away but the scar won't – and I'm glad because it's a reminder to me of what God has done, and evidence to you of what He CAN do. I'm not stronger or better than anyone. I'm just a living testimony that no matter what u face, U can survive & thrive, by God's grace.

#TheBankStatements #nowplaying #BlessingMe"