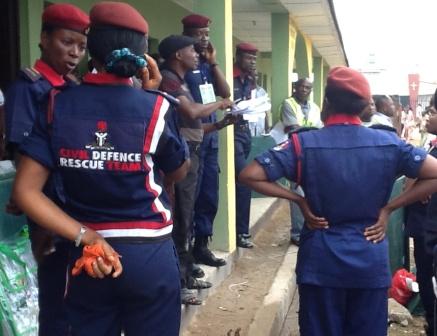 The Nigerian Security and Civil Defence Corps (NSCDC) has hailed the electorate in Bayelsa on the peaceful conduct of Saturday's governorship election.
NSCDC Assistant Commandant General (ACG) Mr. Ideba Pedro, who was the leader of a monitoring team for the election, dished out this praise in an interview with newsmen on Saturday at Fankuku Primary Health Centre polling unit in Epie III, Amarata, Yenegoa.
According to Ideba, his team visited several polling units and the reports received were impressive.
His words, "The electoral process today is very peaceful, if there is any rumour of shooting it is not to our knowledge.
"The turn out is very encouraging. As you see the crowd here and the electoral process is going on peacefully.
"The people of Bayelsa are exercising their franchise and there is no molestation. The roads are free because vehicular movement restriction is enforced by security agents on duty."
"For us as security agents, we have been moving round and we have not witness anywhere there is vote buying, except you have any to tell us."
Do you think it was really peaceful?
Bayelsa is a state in southern Nigeria in the core Niger Delta region, between Delta State and Rivers State. Its capital is Yenagoa. The main language spoken is Ijaw with dialects such as Kolukuma, Mein, Bomu, Nembe, Epie-Atisa, and Ogbia. Like the rest of Nigeria, English is the official language. The state was formed in 1996 from part of Rivers State and is thus one of the newest states of the Nigerian federation.
Bayelsa state was created out of Rivers state on October 1, 1996 by the Sani Abacha's military government. Its name was derived from the first few letters of the names of the major local government areas from which it was formed – Brass LGA (BALGA), Yenagoa (YELGA) and Sagbama (SALGA). Hence BAYELSA was derived from the letters BA + YEL + SA.
Bayelsa State has one of the largest crude oil and natural gas deposits in Nigeria. As a result, petroleum production is extensive in the state. However, the majority of Bayelsans live in poverty.
They are mainly rural dwellers due to the terrain and lack of adequate transportation, health, education or other infrastructure as a result of decades of neglect by the central governments, state governments, and petroleum prospecting companies. This has been a large problem in the state since its creation; successive state governments have not been able to address and repair the issue. The state, as a result, has an almost non-existent commerce. Successive state governments have embarked on industrial projects (even venturing into the oil and gas sector) and poverty-alleviation programs to reverse this situation. Some argue that there is nothing on ground to show for huge sums of money spent for development by successive and present state governments.
The local population engage in fishing on a subsistence and commercial level. The Bayelsa State government is otherwise the main employer in the state.
Follow NaijaVibe


HoT DOWNLOAD
👇