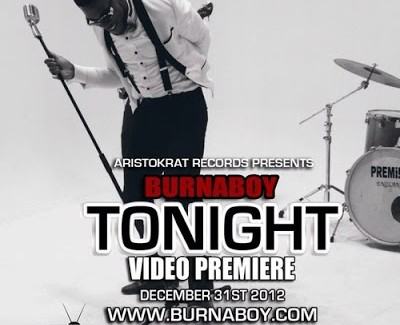 By Charles Mgbolu
This piece should have been written long before now but it was deliberately delayed by this writer with the hope this new single hits a connection, it did not, and this review can no longer wait.
Burna Boy is the young promising artist that brought us hit song Like to Party. He released Tonight in the last weeks of December 2012. Like almost every song on television airwaves, the video of Tonight directed by MEX is a classic. Every few seconds hits viewers with crisp, clear, digital shots; beautifully arranged, but the song was the problem.
If you weren't listening to Burna's low drawl, you would doubt this is the same artist who blew everyone away with Like to Party; earning him a performance slot at the Headies 2012 awards barely weeks after he stormed the industry – a rare feat we dare say.
In Tonight, he tried the creative stunt of switching quickly between Ibo and Yoruba languages but it wasn't strong enough to nail the song home.
Burna's lyrics failed to push in any direction; leaving an unclear message of what the song is really all about. He jumps quickly to a chorus which is supposed to be the high point of the song only to hit listeners with the same flat monotones.
The approximately four minutes song had a weak progression that raced no where; half way into the song and you could get bored with the endless 'ebelebe gbuoo'
If Burna had made Tonight his first single then he wouldn't have been where he is today in Nigeria's music space; perhaps there wouldn't have been any need to do this review because no one would know who Burna Boy is.
But Tonight can still be salvaged. A strong remix featuring a dynamic rapper; for example, MI, can inject life into the song. All that is needed is to raise pitch and perhaps tempo a bit and the song would get that bubbly flavour it badly deserves.
As earlier noted, Mex did a good job of feeding the eyes good pictures and helping to make the song at least tolerable, it was nonetheless, a poor shot from an artist who had set such a high standard with a massive hit as Like to Party. (Let's always stick to standards).
This review scores Tonight 3/10 and we hope Burna learns from the shortcomings of this song.
Well my dear readers do you agree with Charles' review and objectively tell us what you think.
Share your thoughts..
B3rrilyn
NaijaVibe HoT DOWNLOAD
👇