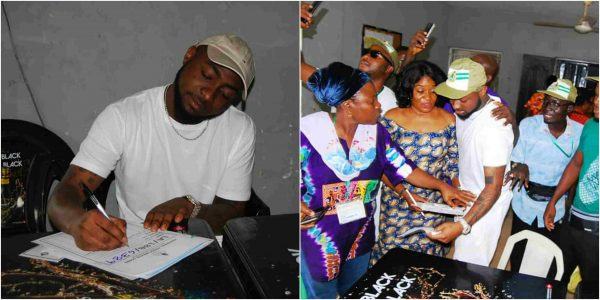 It is no more news that David Adeleke popularly known as Davido is "currently serving". When the news hit the internet, it was trending everywhere within a twinkle of an eye.
Everyone saw it as a welcomed development coupled with the fact it is going to be some sort of inspirations to the younger generation since many of them look up to him. But to everyone surprise, on the 1st of September, Davido was in the news again for jetting out of Nigeria to Boston for a show while others were in the camp doing their 3 weeks camp.
According to Schedule 1: 3b: "During the period of orientation, every member shall:
(i) Attend regularly, punctually and participate fully in all official engagements on the field, at lecture and all places of work;
(ii) Not leave the Orientation Camp or absent himself from any official activity without the written consent of the State Director or his representative;
(iii) When absent from his duties on account of illness ensure that such absence is covered by an "Excuse Duty Certificate" issued by a medical doctor then on duty at the camp."
The Bye-laws also state penalties for leaving the camp without the permission of the State Director.
According to Schedule 2: 1b states that:
"The following penalties shall be imposed in the following circumstances.
"Leaving the camp without permission of the State Director" will attract "extension of the service year by double the number of days for which the member was absent from his camp and forfeiture of his allowance for the same number of days of which he was absent."
You might really want to ask if we truly have laws in this country. I am not hating on davido. In fact he is my favorite after wizkid. But come to think of it , if it were to be the son of a carpenter or the daughter of a civil servant who had defied the NYSC law , it would have been a different case considering the fact that such person doesn't have the necessary connections.
I can remember vividly when I was serving in ilorin in 2016/2017, traveling home to attend to issues alone was a big deal. We were subjected to writing letters through this and that asking for permissions. Attaching some unnecessary documents.
Funny enough, Writing the required letter doesn't guarantee you the state coordinator approval.
We really need to get things right in this country and before we can actually do that, certain things has to put in place. Things such as checkmating issues like this.
You can't be serving and at the same time holding political rallies or attending shows here and there. In fact as a corper, you are not expected to be involved in politics.
NYSC as a scheme that should really be respected. In fact, the Lagos state coordinator should be either sacked or tried for his incompetence.
At any point in time if any corp member defy any of the rules Davido defied, I think none of them should be held responsible for their actions. No one should be above the law .
By Akinremi Abdul Raheem
Akinremi Abdul Raheem
For observations,mail via [email protected]
NaijaVibe HoT DOWNLOAD
👇